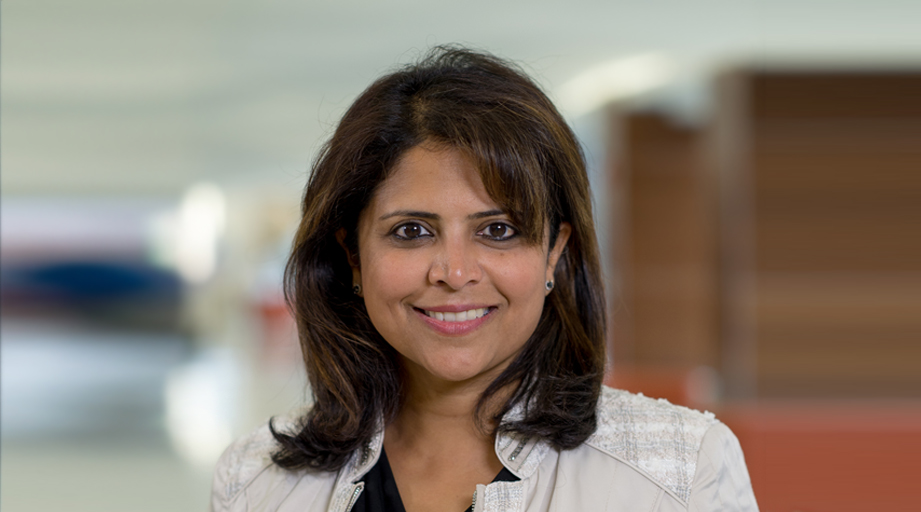 Nishaminy (Nish) Kasbekar is having an exceptionally eventful year. Less than four months after being installed as ASHP president, she was appointed to a systemwide position at University of Pennsylvania Health System, serving as Penn Medicine's inaugural vice president and chief pharmacy officer (CPO).
Penn Medicine reports that it owns six hospitals and operates or collaborates with outpatient practices and community health systems throughout 27 counties in Pennsylvania and New Jersey.
As a vice president, Kasbekar reports to Michelle Volpe, the health system's chief operating officer. Volpe said in a statement that Kasbekar will develop and execute strategies to "maximize cost-effective medication therapies, improve on already strong clinical outcomes, and ensure safe medication practices across all inpatient and outpatient facilities."
Kasbekar said she looks forward to using her new influence and her passion for pharmacy to advance the profession's scope of practice. And she will continue to work closely with her medical and nursing colleagues to help improve and streamline patient care.
"It's really challenging, because there are so many issues pharmacists can face in practice," Kasbekar said. "And we haven't consistently had a voice at the corporate table."
Kasbekar's appointment caps a distinguished career at the health system, where she started out in 1997 as a clinical pharmacy specialist in infectious diseases before moving into leadership positions. She was named director of pharmacy in 2007 and became CPO of Penn Presbyterian Medical Center in 2020.
She said her new position reflects Penn Medicine's awareness that having one central voice for pharmacy will better serve the health system and its patients.
"As we expand in the ambulatory setting, specialty pharmacy, retail pharmacies, there are a lot of silos that are created," she said. "And I think Penn Medicine saw what other health systems are doing and realized the way to break those barriers is to have a pharmacy executive who is responsible for medication safety and for aligning and standardizing efforts to decrease workplace inefficiencies."
Her first priority is to align information technology (IT) and automation across the system and to strategize on how artificial intelligence (AI) tools can help advance pharmacy practice.
"I think the biggest thing right now is the digital infrastructure — finding ways to potentially automate functions through machine learning or AI in ways that allow the pharmacy teams to go to the floors and be providers," she said. "That will help us work closely with patients, providers, and nurses and to transition out of functions that we really don't need pharmacists doing."
Kasbekar also envisions automation and AI as tools that have the potential to allow pharmacy technicians to step into advanced roles, strengthening the pharmacy workforce.
Her other initial priorities are to improve corporate contracting and to bolster regulatory and safety practices that make care safer and more efficient.
When interviewed, Kasbekar had just returned home from two weeks in Brisbane, Australia, where she represented ASHP at the 2023 International Pharmaceutical Federation World Congress. She said the first half of her presidential term, coupled with her new responsibilities at Penn Medicine, has been exhilarating.
"There's so much energy and enthusiasm in the people that I am meeting — students, clinicians, leaders, residents," she said. "Learning about what people are doing, how they're advancing practice in their facilities; it's been really exciting for me."
Posted October 18, 2023