 As they wrap up their final year of pharmacy school, students in hurricane-ravaged Puerto Rico remain committed to their community and determined to apply what they've learned to improve patients' lives.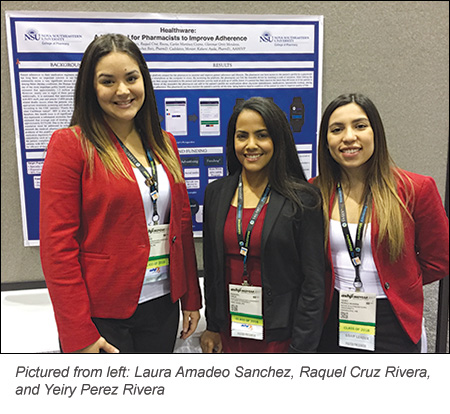 "I'm not going away, I'm not moving to mainland USA. I'm going to be here for my patients," said Laura Amadeo Sanchez.
Amadeo Sanchez is one of several fourth-year students at Nova Southeastern University College of Pharmacy's Puerto Rico campus who visited Orlando, Florida, to present posters at ASHP's Midyear meeting in early December.
She and classmates Raquel Cruz Rivera and Yeiry Perez Rivera are part of a team that developed Healthware, a pharmacist-managed technology platform to improve the care of patients with HIV infection.
Patients connect to Healthware through a smart watch or other smart device that communicates with a pharmacist, Cruz Rivera said. The technology facilitates the exchange of information about medication adherence and medical appointment and refill reminders and also provides health tips for patients. Healthware also has reporting functions to help the pharmacist track each patient's progress.
"We selected [HIV-infected] patients because this is a big population" in Puerto Rico, Cruz Rivera said. "And this is a way to expand the pharmacy's growth and have an active participation" in managing drug therapy.
More than 16,000 people in Puerto Rico had HIV infection in 2016, according to federal data. The estimated rate of infection, 564 per 100,000 population, is one of the highest in the nation.
Cruz Rivera said pharmacists have responded positively to Healthware, and she is hopeful that HIV clinics will adopt it.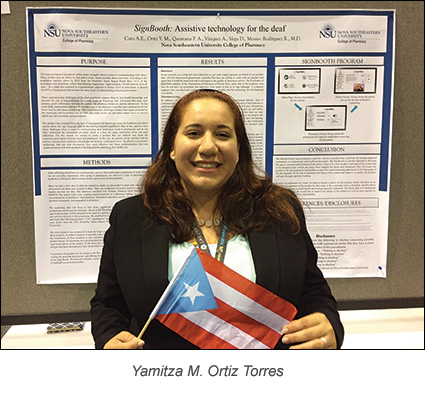 Fourth-year student Yamitza M. Ortiz Torres also presented a poster on a pharmacy-related technology product—SignBooth, a system that helps pharmacists communicate with deaf patients. Signbooth translates the pharmacist's spoken words into American Sign Language and displays the result visually to the patient.
Ortiz Torres said the assistive technology product is intended to help patients use their medications safely and to improve adherence. She and the codevelopers of SignBooth hope to patent the product and adapt it for use in hospitals, schools, and other settings.
Also presenting at a poster session were Julia N. Gonzalez and Zaret Velez Estremera, whose project involved a feasibility study for establishing a multidisciplinary, hospital-affiliated, transitional care anticoagulation clinic in Puerto Rico.
Aside from Department of Veterans Affairs facilities, Gonzalez said, there are no anticoagulation clinics on the island.
"Our project was developed around trying to meet that need. And pharmacists can really step in by following up with patients on warfarin or different anticoagulants and seeing how they're doing," especially between visits to a healthcare facility, she said.
The project would require physician support, the establishment of a collaborative practice agreement, and a mechanism to fund the pharmacists' work.
"We don't have provider status, and so we're trying to figure out some type of billing and compensation environment," such as billing incident to a physician's service, Gonzalez said.
All of the students said they were excited to be finishing their last year of pharmacy school and pursuing jobs or residency opportunities.
Their final year has been made memorable by Hurricane Maria, which devastated the island on September 20.
Nova Southeastern halted classes in advance of the hurricane—the second to strike the island in a short time span. Classes at the Puerto Rico campus resumed on October 16.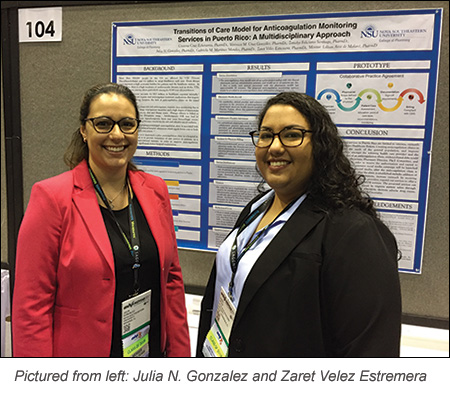 Pharmacy students on the island were given the option to continue their studies at the school's Florida campuses, ASHP News previously reported. A small number of students have done so, according to the university.
All of Puerto Rico was reportedly without electrical power after Hurricane Maria hit, and the students still reported difficult conditions during the first week of December.
"I have no power or water," said Velez Estremera, who lives in a rural area of the island.
Gonzalez said the lack of electrical power for an extended period of time means more than the inconvenience of not being able to charge a cell phone. Her grandmother, she said, has asthma and has been relying on generator power to maintain an environment that prevents exacerbations.
Ortiz Torres has been working with community pharmacies and said they have reduced their hours of operation, which affects the livelihoods of the pharmacy technicians who work there. And she said patients who don't have electrical power can't safely store life-saving medications, such as insulin, that require refrigeration.
About 30% of the island's utility customers remained without power and 10% lacked water service on December 18, according to the Commonwealth of Puerto Rico's hurricane update website.
The students said Puerto Rico, like the U.S. mainland, has drug shortages and other issues that affect pharmacy practice and patient care. Hurricane-related effects—including heavy traffic, damaged roads, and the lack of basic supplies—have added to those problems.
Nevertheless, Amadeo Sanchez said, "we are in our rotations, and we keep traveling to our place of work, and we do our best."
"We are very strong, and we are working to finish the year," added Cruz Rivera.
[This news story appears in the February 1, 2018, issue of AJHP.]
Posted January 17, 2018