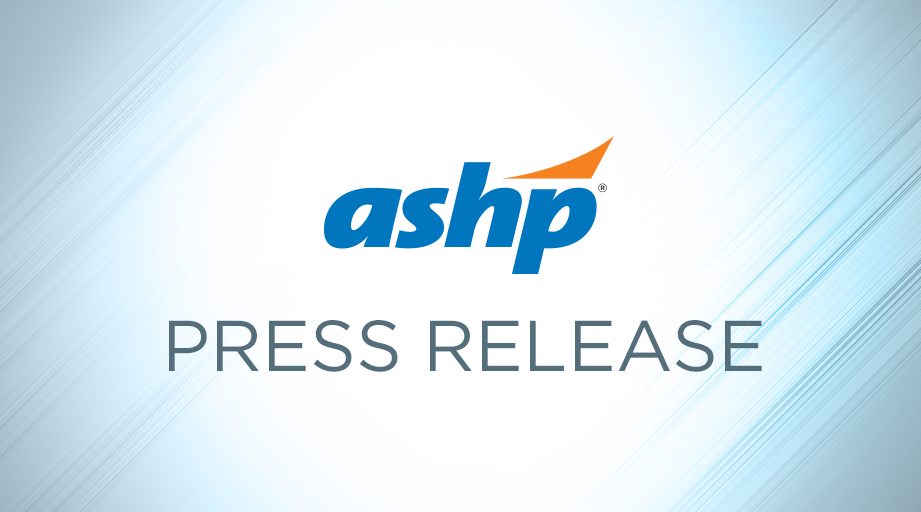 Program Trains Healthcare Professionals to Be Leaders in Opioid Stewardship
ASHP (American Society of Health-System Pharmacists) today launched its newly created Pain Management Certificate Program to equip pharmacists with the skills to provide optimal pain management for patients suffering from chronic pain. This self-guided, online continuing education program is the latest offering from ASHP's Professional Certificate line.
Available now, the Pain Management Certificate Program is comprised of nine modules designed to increase the knowledge and skills necessary to provide patient-centered pain management. The curriculum addresses basic principles associated with pain pathogenesis and assessment, effective pharmacologic and non-pharmacologic treatment options, and appropriate therapeutic regimens. The course further concentrates on acquiring advanced knowledge about managing pain associated with the specific disease states most often encountered in practice in hospitals and health systems.
"The Pain Management Certificate Program covers many important educational domains, including the concept of opioid stewardship and how institutions can leverage quality metrics to improve patient outcomes," said ASHP CEO Paul W. Abramowitz, Pharm.D., Sc.D. (Hon.), FASHP. "ASHP maintains a strategic focus on the interface between pharmacy practice and the abuse or misuse of opioids, and this new program guides pharmacists on the ethics of handling the opioid crisis while maintaining optimal care for patients."
The Pain Management Certificate Program covers the decision-making process required for recommending appropriate pharmacologic and non-pharmacologic regimens for acute and chronic pain management, safe and appropriate opioid prescribing in all patients including those with tolerance or substance use disorder, and pain management for specific disease states and in special populations.
The Pain Management Certificate Program includes the following nine modules, all of which offer continuing education credits from the Accreditation Council for Pharmacy Education:
Pathogenesis and Assessment of Pain
The Role of Analgesics in Managing Pain
Acute Postoperative Pain
Neuropathic and Functional Pain Syndromes
Musculoskeletal Pain
Autoimmune, Headache, and Sickle Cell Disease Pain
Special Considerations in Pain Management
Managing Patients on Opioid Therapy
Optimizing Pain Management for Patients
Participants in the Pain Management Certificate Program can earn up to 22 hours of pharmacy continuing education credits. To earn the professional certificate, participants must finish all of the modules in the program and successfully complete a case study analysis demonstrating skills learned and competence gained through the program.
Upon completion of the program, participants should be proficient in assessing pain and identifying pharmacologic and non-pharmacologic treatment options based on disease states and other patient-related factors.
For more information about the Pain Management Certificate Program and other ASHP professional certificate programs, visit www.ashp.org/certificate-programs.
About ASHP
ASHP represents pharmacists who serve as patient care providers in acute and ambulatory settings. The organization's 45,000 members include pharmacists, student pharmacists, and pharmacy technicians. For more than 75 years, ASHP has been at the forefront of efforts to improve medication use and enhance patient safety. For more information about the wide array of ASHP activities and the many ways in which pharmacists advance healthcare, visit ASHP's website, www.ashp.org, or its consumer website, www.SafeMedication.com.
Posted March 19, 2018