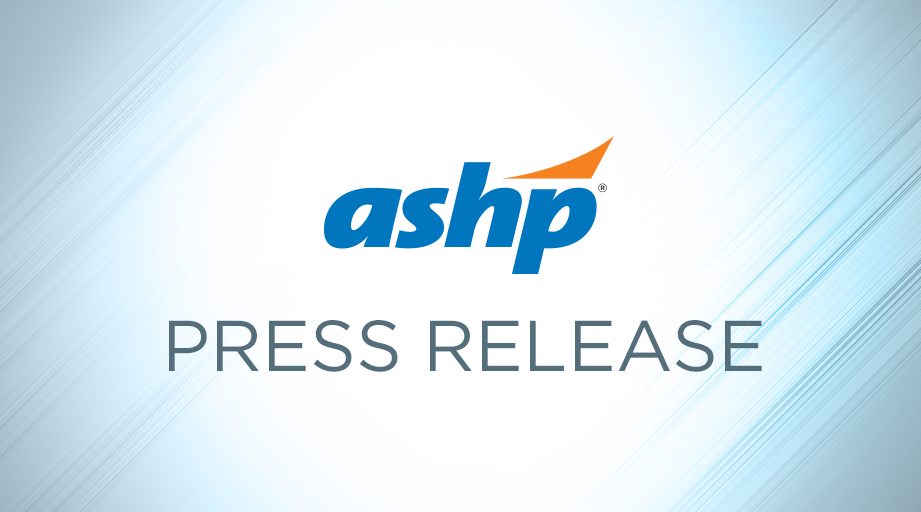 Pharmacist Group Pushes for Congressional Hearings on Drug Shortage Crisis
ASHP (American Society of Health-System Pharmacists), the 45,000-member national association representing pharmacists who serve as patient care providers in acute and ambulatory care settings, is calling for swift action from policymakers to address the persistent shortages of critical medications in hospitals and health systems. Survey results released today by ASHP reveal the extent to which limited inventories of injectable opioids, small-volume parenteral (SVP) solutions, and other critical medications dangerously interfere with patient care and place a tremendous strain on daily operations in most hospitals across the country.
"The ongoing shortages of these vital lifesaving medications are overwhelming the resources of our nation's hospitals, placing our healthcare system on the brink of a public health emergency," said ASHP CEO Paul W. Abramowitz, Pharm.D., Sc.D. (Hon.), FASHP. "Congress must act now to implement remedies that will address the underlying causes of drug shortages and ensure that patients have access to the medications they need."
ASHP supports amending the 2012 Food and Drug Administration Safety and Innovation Act (FDASIA) to require additional information — including the cause, duration, and expected timeline for resolution — when manufacturers report a drug shortage to the FDA. The association has asked Congress to require manufacturers to develop production contingency plans when there are fewer than three manufacturers producing a medication.
Three hundred forty-three pharmacists responded to the online survey, fielded by ASHP to its members in April 2018. The results illustrate the significant demands placed on healthcare providers as they attempt to manage the extreme challenges arising from multiple shortages. Nearly all of the respondents (98.4 percent) indicated that their hospital has been affected by shortages of the injectable opioids morphine, hydromorphone, and fentanyl, and almost 70 percent called the shortages "severe."
Shortages of injectable opioids — most commonly used with surgical, trauma, burn, or oncology patients — can cause patients to endure suboptimal pain control or sedation and may force healthcare providers to delay treatment. At the time of the survey, the shortage of injectable hydromorphone was most severe: 19.6 percent of respondents had none of the drug on hand, and 38.9 percent had only seven days' supply or less. Access to injectable fentanyl was least impacted, with nearly 50 percent of respondents indicating that they had greater than two weeks' supply available.
Healthcare providers also continue to be challenged by shortages of SVP solutions, which are used in nearly every hospital to dilute intravenous medications. The SVP shortage is primarily a result of hurricane-related damage last September to pharmaceutical manufacturing plants in Puerto Rico. More than 85 percent of survey respondents reported that their hospitals are still feeling the effects of the SVP shortage, and 34 percent characterized the shortage as severe.
Survey respondents also reported dealing with shortages of sterile water for injection (85.7 percent), potassium chloride premix bags (74.6 percent), emergency drugs used in cardiac arrest (65.6 percent), and ketamine (59.8 percent).
Last month, ASHP initiated a congressional call to action, urging the association's members to contact their members of Congress to ask for a hearing on the impact of drug shortages. ASHP also recently petitioned officials at the Drug Enforcement Administration (DEA) to use drug shortages as a factor when setting and adjusting aggregate production quotas (APQ) for opioid manufacturers. APQs are set by DEA to safeguard against the diversion of controlled substances. In November 2017, the association hosted a roundtable discussion where participants identified 11 recommendations to address the ongoing patient-care challenges associated with drug shortages.
For nearly 15 years, ASHP has led efforts to find solutions to minimize and prevent drug shortages. The organization works closely with officials in the FDA's Drug Shortages Program and collaborates with the University of Utah Drug Information Service to track drugs in short supply. The ASHP Drug Shortages Resource Center features recommendations for managing current inventory and, when available, recommendations for alternative therapies.
The full text of the survey report is available here.
About ASHP
ASHP represents pharmacists who serve as patient care providers in acute and ambulatory settings. The organization's 45,000 members include pharmacists, student pharmacists, and pharmacy technicians. For more than 75 years, ASHP has been at the forefront of efforts to improve medication use and enhance patient safety. For more information about the wide array of ASHP activities and the many ways in which pharmacists advance healthcare, visit ASHP's website, www.ashp.org, or its consumer website, www.SafeMedication.com.
Posted May 23, 2018