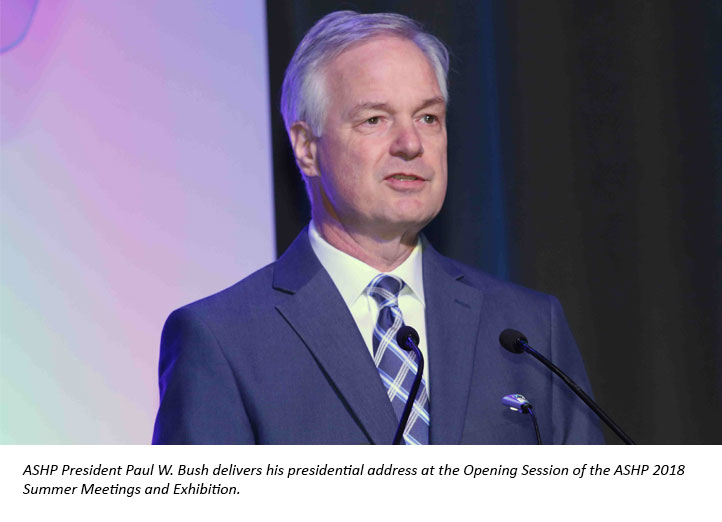 High drug costs, opioid misuse, drug shortages.
"It's been quite a year for our profession," declared ASHP President Paul W. Bush at today's Summer Meetings Opening Session in Denver.
Pharmacists across the United States, he said, showed remarkable leadership during 2017–18's public health crises by identifying lower-cost drugs, fighting opioid misuse, and navigating drug shortages.
Bush said ASHP responded quickly to these crises by providing the latest information to the organization's members, implementing advocacy efforts, and spearheading initiatives with like-minded groups to develop recommendations and identify actionable solutions.
ASHP also responded to the important issue of resiliency and burnout, he said.
Bush, during his inaugural speech a year ago, introduced the idea of pharmacy leaders caring for both patients and the front-line staff.
ASHP has cosponsored the Action Collaborative on Clinician Well-Being and Resilience since its mid-2017 launch by the National Academy of Medicine and remains the only pharmacy organization participating.
In the months since becoming an inaugural sponsor of the collaborative, ASHP launched the Clinician Well-Being and Resilience community on ASHP Connect and the organization's journal, AJHP, published a series of articles focused on the well-being of pharmacy residents.
Bush last year also urged his audience to commit to educating, training, and developing its pharmacy technicians.
Today he told his audience, "I am proud to announce that, a few months ago, ASHP launched the Pharmacy Technician Forum, which provides education and other resources to support our pharmacy technicians."
The forum's Executive Committee held its first meeting in Denver.
ASHP's Summer Meetings and Exhibition continues through Wednesday.
Posted June 4, 2018