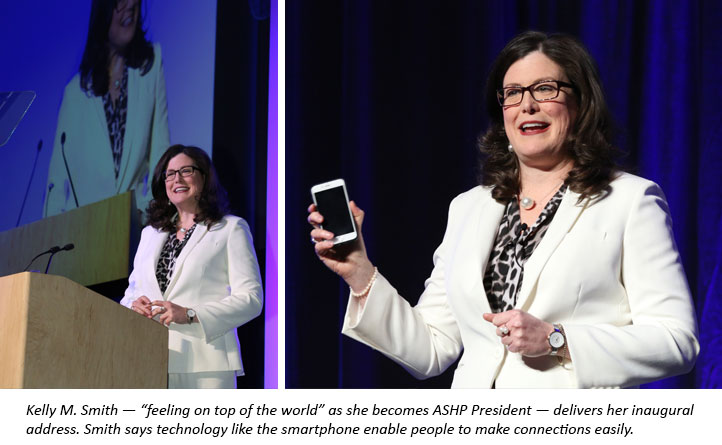 By the time Kelly M. Smith entered pharmacy school, "I was all in for pharmacy," the 2018–19 ASHP President said on Tuesday during her inaugural address at the Summer Meetings and Exhibition in Denver.
Smith shared that she was attracted to pharmacy as a career in which she would solve problems, help people, and make a difference in peoples' lives. Her remarks focused on the value of personal connections in her personal and professional development. Standing before an audience of her peers, Smith shared a number of personal anecdotes from her own journey, noting that both her election as ASHP President and recent appointment as the first female Dean at the University of Georgia College of Pharmacy had her "feeling on top of the world."
The theme of Smith's remarks emphasized the importance of commitment and connectivity, as well as the critical role ASHP plays in shaping pharmacy practice, practitioners, and leaders.
She referenced the football team from a favorite TV series, "Friday Night Lights," admiring how they were "all in" — collaborating, sharing, supporting each other, and working together. Likewise, she said, pharmacists need to be all in for their patients, colleagues, and the profession of pharmacy.
During her remarks, Smith acknowledged the value of technology in pharmacy practice, while stressing the critical need for personal connection to ensure optimal health outcomes for patients as they move between healthcare settings.
Toward the end of her remarks, Smith acknowledged the many individuals in the audience who had made personal connections with her, helping her advance her career and engagement with ASHP. She gave special recognition to her parents and was joined on stage by her mom.
In conclusion to her remarks, Smith invited audience members to stand, turn on their phone flashlight, and hold it high. With the house lights on dim and hundreds of phone lights twinkling, she asked audience members, "Will you commit to connecting others? Will you be all in?"
Posted June 7, 2018