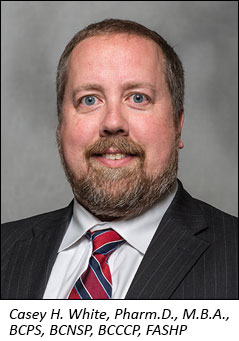 Casey H. White was installed as the 2018–21 Chair of the ASHP House of Delegates on Tuesday after winning election to the office during the group's second meeting in Denver, site of the ASHP Summer Meetings and Exhibition.
White is Director of Pharmacy at Cookeville Regional Medical Center in Cookeville, Tenn.
He is also a clinical instructor for the University of Tennessee, Lipscomb University, and Union University, all of which are in Tennessee.
White has served ASHP in various capacities.
He was the 2016–17 Chair of the Section of Clinical Specialists and Scientists, a member of the Council on Therapeutics, and a Tennessee Delegate to the House of Delegates for the past 10 years.
White is a past president of the Tennessee Society of Health-System Pharmacists (TSHP) and the Tennessee Pharmacists Association (TPA). He has received TSHP's Pharmacist of the Year and Innovative Pharmacy Practice awards and TPA's Young Pharmacist of the Year award.
White received his Pharm.D. degree from the University of Tennessee and M.B.A. degree from the University of Memphis. He completed a residency training program at the Veterans Affairs Medical Center in Memphis.
Posted June 7, 2018