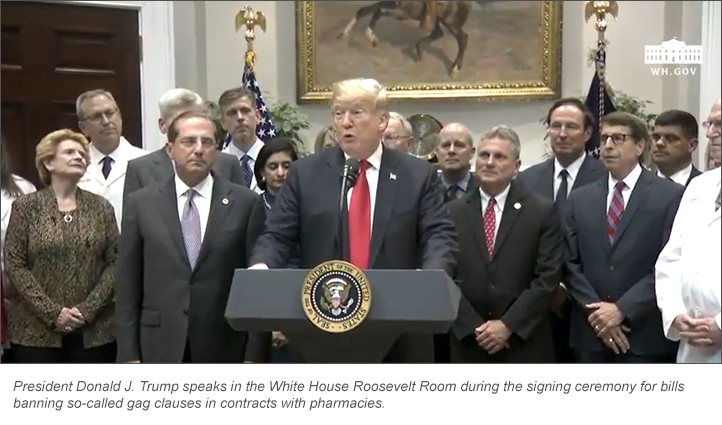 President Donald J. Trump today, in a ceremony attended by ASHP CEO Paul W. Abramowitz, signed legislation outlawing the insurance clauses that have been preventing pharmacists from telling patients whenever they can pay less for a prescription medication by buying it on their own.
Trump signed two bipartisan bills into law: "Know the Lowest Price Act of 2018," S. 2553; and "Patient Right to Know Drug Prices Act," S. 2554.
S. 2553 applies to Medicare prescription drug plan sponsors and Medicare Advantage organizations, starting with plan year 2020.
S. 2554 pertains to group health plans and to insurers that sell health coverage policies to groups or individuals.
"These clauses prevent pharmacists from telling patients about more affordable options for prescription drugs," Trump said in describing the subject of the bills. "Today, Congress is building on my administration's actions with legislation — very strong legislation — to completely end these unjust gag clauses once and for all."
Passage of the bills, said Department of Health and Human Services Secretary (HHS) Alex M. Azar II, shows that the two major political parties can act in a bipartisan way "to get drug prices down."
Both bills were introduced on March 14 and passed by the Senate in September. The House of Representatives, by voice votes, passed both bills on September 25.
S. 2553 goes a step further than the action proposed by HHS in American Patients First: The Trump Administration Blueprint to Lower Drug Prices and Reduce Out-of-Pocket Costs, released in May.
In the blueprint, the department stated it may prohibit "pharmacy gag clauses" in Medicare Part D prescription drug program contracts. Less than a week after release of the blueprint, Centers for Medicare & Medicaid Services Administrator Seema Verma issued a memo telling Part D plan sponsors that her agency "finds any form of 'gag clauses' unacceptable and contrary to our efforts to promote drug price transparency and lower drug prices." The law signed by the president today also applies to contracts by Medicare Advantage organizations.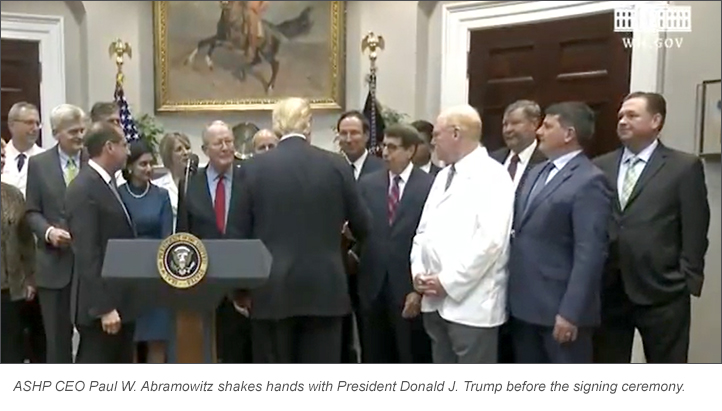 Posted October 10, 2018