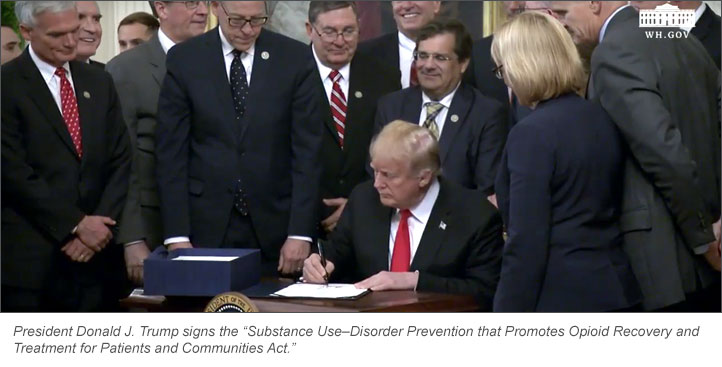 One year after declaring the nation's opioid crisis a public health emergency, President Donald J. Trump on Wednesday signed the "Substance Use–Disorder Prevention that Promotes Opioid Recovery and Treatment for Patients and Communities Act."
The bill, widely known as the "SUPPORT for Patients and Communities Act" or H.R. 6, is "landmark legislation to defeat the opioid epidemic," Trump told a White House audience that included ASHP Chief Executive Officer Paul W. Abramowitz.
H.R. 6 was introduced in the House of Representatives on June 13 by Energy and Commerce Committee Chairman Greg Walden (R-OR).
Nine days later, House members voted overwhelmingly in favor of the bill.
Senators passed an amended bill on September 17 by a vote of 99-1 and, after negotiation with House legislators, cleared the final version on October 3.
The massive bill, with 215 sections, had bipartisan support from the start. Walden's committee and its subcommittee on health held a series of hearings in the spring to examine legislative ways to combat the opioid crisis. Senate committees held hearings as well.
ASHP on Monday released an issue brief summarizing provisions in the bill that the organization specifically supported.
"H.R. 6—specifically its provisions aimed at opioid abuse treatment, recovery, training, and education—helps to fulfill a public health imperative to address the opioid crisis," Abramowitz stated in the ASHP press release issued on Wednesday.
The new law directly refers to pharmacists several times:
Section 1011, Assessing Barriers to Opioid Use Disorder Treatment — A study on the barriers in the Medicaid program to providing buprenorphine, naltrexone, and buprenorphine–naloxone for the treatment of substance use disorders will include an analysis of pharmacists' dispensing of these medications. Also to be analyzed are Medicaid providers' purchasing, storage, and administration of these medications and providers' on-demand ordering, prescribing, and acquisition of the medications from specialty pharmacies. Options for removing or reducing the barriers will be evaluated as well.
Section 2003, Every Prescription Conveyed Securely — Pharmacists do not have to verify that healthcare practitioners electronically transmitting prescriptions for Medicare-covered controlled substances are using a program that meets the law's requirements for e-prescribing.
Section 3002, Evidence-Based Opioid Analgesic Prescribing Guidelines and Report — Pharmacists may be among the stakeholders consulted by FDA as it develops guidelines for the prescribing of opioids to treat specific types of acute pain for which guidelines do not already exist. FDA may hold a public meeting obtain this input.
Section 3012, Notification, Nondistribution, and Recall of Controlled Substances — Pharmacists and other members of the supply chain can be ordered by the Department of Health and Human Services (HHS) to immediately stop distributing a controlled substance that is found to have a "reasonable probability" of causing "serious adverse health consequences or death." Failure to comply with such an order would be a violation of the Food, Drug, and Cosmetic Act.
Chapter 2, Empowering Pharmacists in the Fight Against Opioid Abuse — HHS will develop and disseminate programs and materials to inform pharmacists how to decline to fill a prescription for a controlled substance that seems fraudulent, forged, or questionable. Pharmacists will also be informed about what to do after declining to fill such a prescription and how federal requirements apply to partial fills of prescriptions for certain controlled substances. HHS will develop related information for other healthcare practitioners and the public.
Section 5042, Medicaid Providers Are Required to Note Experiences in Record Systems to Help In-Need Patients — States will have to report whether pharmacists must check Medicaid-covered patients' prescription drug history in the state-administered prescription drug monitoring program.
Section 7051, Inclusion of Opioid Addiction History in Patient Records — The importance of pharmacists, when dispensing opioid-containing medications, having access to patients' self-reported history of opioid use disorder will be considered by HHS as it facilitates the development of best practices for the display of this history in medical records.
Section 7162, Prescription Drug Monitoring Program — Pharmacists are among the dispensers who should use federally supported, state-maintained prescription drug monitoring programs before delivering controlled substances to the ultimate users.
Posted October 25, 2018