 Former ASHP Chief Executive Officer (CEO) Joseph A. Oddis was recently honored by the International Pharmaceutical Federation (FIP) during a ceremony naming him a fellow of the organization.
"It was very kind of them," Oddis said of the recognition.
This year's fellows also included Abdul Latif Sheikh, president and CEO of the Pakistan Society of Health-System Pharmacists; Dieter Steinbach, former head of the Central Laboratory of German Pharmacists; James Stevenson, professor at the University of Michigan College of Pharmacy in Ann Arbor and vice president for medication systems strategy at Omnicell Inc.; and Toyin Tofade, dean and professor at the Howard University College of Pharmacy in Washington, D.C.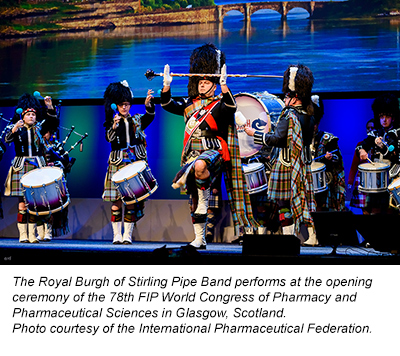 The FIP fellows were recognized on September 2 during the opening ceremony of the 78th FIP World Congress of Pharmacy and Pharmaceutical Sciences in Glasgow, Scotland. ASHP CEO Paul W. Abramowitz accepted the award on behalf of Oddis, who was unable to travel to the event.
"Dr. Oddis has held numerous national and international leadership positions with healthcare organizations, bringing to those roles a goal of advancing pharmacy practice," Abramowitz stated in a September 6 press release. "His legacy for expanding pharmacists' roles as direct patient care providers cannot be overstated, and his efforts have unquestionably transformed patient care around the world."
FIP fellowship honors members of the organization who have "exhibited strong leadership internationally, distinguished themselves in the pharmaceutical sciences and/or practice of pharmacy, contributed to the advancement of pharmaceutical sciences and/or practice of pharmacy, and who have served FIP," according to the organization.
Oddis, reached in mid-September, reminisced about his long association with the international pharmacy organization.
"I just joined them in 1962, wanting to learn about FIP—and I got involved," he said. At the time, Oddis was 2 years into his nearly 4 decades of service as CEO of what was then the American Society of Hospital Pharmacists. He said he soon realized that the pharmacy profession as a whole could benefit from expanding ASHP's involvement outside of the United States and widening FIP's focus beyond Europe, where the group primarily operated.
Oddis said that after he became active in FIP's Hospital Pharmacy Section, he was approached to run for election to the board of trustees and, later, for the office of president of the organization. He served as FIP president from 1986 to 1990 and was instrumental in transitioning FIP from a volunteer-run organization to one with a dedicated staff that can focus on priorities important to the pharmacy profession worldwide.
"Pharmacy is international. And pharmacy practice is becoming more and more international in terms of function," Oddis said. "It's really important, because what we're doing, if we're having success, we should share with others—and others with us. That's important. And FIP is really doing that."
In addition to recognizing this year's FIP fellows, attendees at the 78th World Congress elected officers to represent FIP's professional sections.
The Hospital Pharmacy Section elected Ryan Forrey, senior manager of market development for hazardous drug safety for BD in Atlanta, Georgia, to his second 4-year term as treasurer. John B. Hertig, associate director of the Purdue University College of Pharmacy Center for Medication Safety Advancement in Fishers, Indiana, was chosen as the section's vice president for the Americas.
The World Congress also featured professional sessions for attendees, including a September 6 series of presentations on the training of competent clinical pharmacists.
Douglas J. Scheckelhoff, senior vice president of the ASHP Office of Practice Advancement, was one of the featured speakers for this series. He gave a presentation on the role of pharmacy residencies in developing clinical competencies.
Scheckelhoff, in an interview after the meeting, noted that the methods of postgraduate training for pharmacists vary among countries but have some common themes.
"Generally, it's to have that time after completing their pharmacy school curriculum where pharmacists can further develop communication skills, problem-solving skills, clinical decision-making, and those types of things," he said.
Scheckelhoff said the room was near capacity during his group's session. Attendees posed questions about exchange programs, residency funding, identification of ways to develop advanced training, and adaptation of existing residency training models to the needs of different countries.
Next year's FIP World Congress will take place September 22–26 in Abu Dhabi, the capital of the United Arab Emirates.
[This news story appears in the December 1, 2018, issue of AJHP.]
Posted November 15, 2018