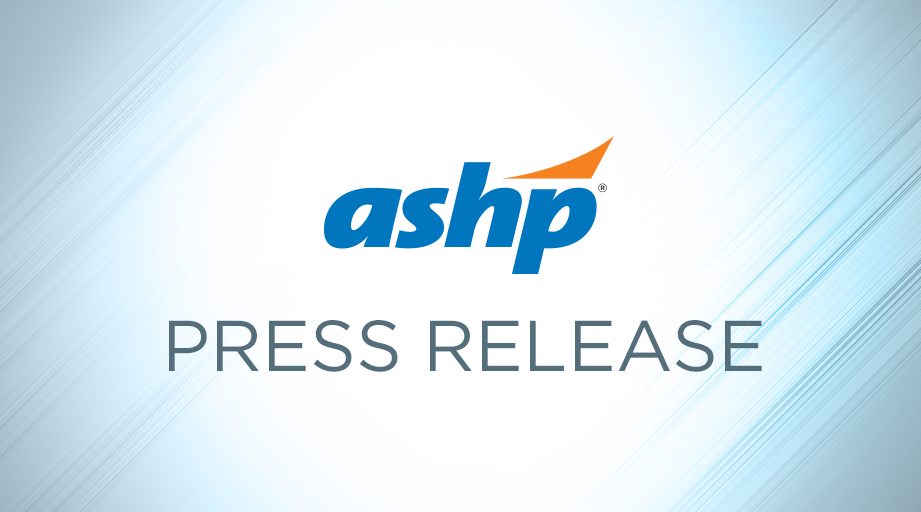 Six Teams Honored for Innovative Approaches to Patient Care
ASHP recognized six pharmacy teams with its Best Practices Award during the 53rd Midyear Clinical Meeting and Exhibition in Anaheim. The award, which is sponsored in cooperation with Amgen, was established in 1999 and recognizes pharmacists who demonstrate leadership and innovation in enhancing patient care and other areas of pharmacy practice.
"This is a wonderful recognition of some exceptional pharmacy leaders and patient care providers," said ASHP CEO Paul W. Abramowitz, Pharm.D., Sc.D. (Hon.), FASHP. "The forward-thinking tools and diverse solutions developed by these talented teams are setting the pace for advancing patient care services and expanding the pharmacist's role on the healthcare team."
This year's winners are as follows:
Decreasing 30-Day Hospital Readmissions and Enhancing Transitions of Care Through the Introduction of an Electronic Medical Record-Integrated Hospital Readmission Calculator, Detroit Medical Center, Detroit, Mich.

Joshua N. Raub, Pharm.D., BCPS; Raymond Yost, Pharm.D.; Sean M. McConachie, Pharm.D., BCPS; Taylor M. Franckowiak, Pharm.D.; David Trupiano, Pharm.D.; Kenneth Risko, R.Ph., M.B.A.

Implementation of a Novel Clinic with a Pharmacist Improves Access and Outcomes with Long-Acting Injections in Psychiatric Patients, SSM Health DePaul Hospital, St. Louis, Mo.

Ann Dickherber, RN; Erika Gibson, M.H.A.; Anthony Lucido, Pharm.D.; Danielle Moses, Pharm.D.; William Wang, M.D.; Jessica Wells, LPC

Innovation in Training: Transformation Through a "Flipped" Approach to Residency Research, University of North Carolina Medical Center, Chapel Hill, N.C.

Kamakshi V. Rao, Pharm.D., BCOP, FASHP; Nicole R. Pinelli, Pharm.D., M.S., CDE, FCCP; Ashley L. Pappas, Pharm.D., M.H.A., BCPS; Kathryn A. Morbitzer, Pharm.D., M.S.; Kalynn A. Rohde, Pharm.D., BCCCP; Emily A. Durr, Pharm.D., BCCCP; Said M. Sultan, Pharm.D., BCCCP; Stephen F. Eckel, Pharm.D., BCPS, FASHP, FCCP; Denise H. Rhoney, Pharm.D., FCCM, FCCP, FNCS; Rowell Daniels, Pharm.D., M.S., FASHP; Scott W. Savage, Pharm.D., M.S.; UNC Medical Center Residency Research Oversight Committee

Integrated-Comprehensive Medication Therapy-Chronic Disease Management Model for Optimizing Short- and Long-Term Health Outcomes in a Community Hospital System, Memorial Hospital, Marysville, Ohio

Britt A. Cummins, R.Ph., M.S.; Craig Baker, Pharm.D.; Memorial Medication-Disease Management Center Team

Medication Use Improvement Through a Team-Based Approach to Opioid Stewardship, Kaiser Permanente Northwest, Portland, Ore.

Elizabeth Bentley, Pharm.D., MSJ; Traci Hamer, Pharm.D., MAT; Katherine Reese, Pharm.D.; Andrew Vidaurreta, B.S.; Taben Main, Pharm.D., M.S.; Steven Piscoran, B.S.; Bryan Ing, Pharm.D.; Darlene Marsh, Pharm.D.; Jeannette Zimmer, Pharm.D.; JJ Johnson, Pharm.D.; Mindee Dewitt, Pharm.D.; Sara Westby, Pharm.D.; Johanna Heymann, LCSW; Christopher Matthews, DO; Support Team Onsite Resource for Management of Pain (STORM)

Pharmacists Led Emergency Department Opioid Task Force: 50% Reduction in Overall Use, University of Rochester Medical Center – Strong Memorial Hospital, Rochester, N.Y.

Nicole M. Acquisto, Pharm.D., BCCCP, FCCP; Rachel F. Schult, Pharm.D., DABAT; Colleen Davis, M.D.; Rebecca Dolce, M.S., RN, CEN; Nels Grauman, DO; Michele Handzel, Pharm.D.; Courtney Jones, Ph.D.; Michael Kamali, M.D.; Molly McCann, M.S.; Aekta Miglani, M.D.; Marcy Noble, RN; Mandy Oplinger, Pharm.D.; Blake Porter, Pharm.D.; Sandra Sarnoski-Roberts, M.D.; Monica Seaman, M.S., RN; Heidi Springer, NP; Rebecca Stott, RN, BSN; Shawntia Washington, M.S., RN; Timothy Wiegand, M.D.; Jaclyn Wilmarth, M.S., RN, CPPS; Maryam Zaeem, Pharm.D.

Visit ASHP Best Practices Award for more information.

About ASHP

ASHP represents pharmacists who serve as patient care providers in acute and ambulatory settings. The organization's 45,000 members include pharmacists, student pharmacists, and pharmacy technicians. For more than 75 years, ASHP has been at the forefront of efforts to improve medication use and enhance patient safety. For more information about the wide array of ASHP activities and the many ways in which pharmacists advance healthcare, visit ASHP's website, www.ashp.org, or its consumer website, www.SafeMedication.com.
Posted December 3, 2018