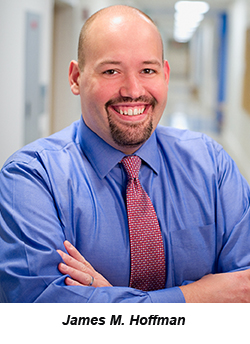 Thanks to a boost in federal funding, the Clinical Pharmacogenetics Implementation Consortium (CPIC) is developing new tools to help clinicians factor their patients' genetic information into medication therapy decisions.
"We're very excited," said James M. Hoffman, Chief Patient Safety Officer for St. Jude Children's Research Hospital in Memphis, Tenn., and co-leader of CPIC's informatics working group.
St. Jude and its partner, Stanford University in California, in September were awarded $5 million in National Institutes of Health (NIH) grant funding to support CPIC's activities into 2023. Mary V. Relling of St. Jude and Teri E. Klein of Stanford are leading the project.
Since its inception in 2009, CPIC has used NIH grant funding to develop evidence-based guidelines that help clinicians incorporate the results of pharmacogenetic tests into patient care. More than 50 clinical practice guidelines were freely available at CPIC's website in December.
Hoffman said the new funding will allow CPIC to provide its drug–gene data in formats that can be readily incorporated into electronic medical record (EMR) systems.
One of CPIC's key resources has long been a spreadsheet with what Hoffman called "sample alert language" that users can copy, modify, and paste into their EMR system and other electronic platforms.
Now, he said, much of this process can be automated.
"What the grant funding will allow us to do is to create a database as well as an API — an application programming interface," he said. "We'll build the database with the CPIC knowledge, and then the API will [output] it to a variety of different resources."
Hoffman said the CPIC team has reached out to drug information providers — including ASHP's AHFS staff — as well as academic researchers and other potential users of the consortium's data.
"We see a variety of applications for this," he said. "People will likely find ways to use the content that we didn't anticipate."
Seth Strawbridge, Clinical Informaticist with ASHP's eHealth Solutions group, plans to assist the CPIC team by providing feedback on the API and helping to test the interface before its launch.
Strawbridge stated that the API, when finalized, "will allow us to directly incorporate the CPIC guideline recommendations into our AHFS drug information products ... in a timely, consistent, and comprehensive manner. AHFS users will have access to these authoritative pharmacogenetic testing resources right within our products."
Hoffman said CPIC's federal funding helps ensure the objectivity of the group's clinical guidelines and related work.
"We put a lot of attention on remaining impartial and carefully managing any conflicts of interest, because the guideline information does get used widely, including by commercial laboratories," he said.
Hoffman called pharmacogenetic testing a good investment for healthcare organizations. St. Jude uses the technology for the hospital's PG4KDS program, through which patients are preemptively screened for gene variants that affect drug metabolism.
According to St. Jude, health records for nearly 4,500 patients had been updated to include pharmacogenetic test results through November of 2018.
More than 200 drugs, biologics, and combination products have FDA-approved labeling that describes genetic biomarkers that may affect the patient's response to therapy, according to a database maintained by the agency.
Hoffman said healthcare organizations sometimes find it challenging to embrace routine pharmacogenetic testing to guide decisions about therapy.
"I think there's still a hesitancy at times because of reimbursement considerations. I continue to hear that a lot," he said. "One thing that helps is the testing continues to get less expensive."
Hoffman said CPIC's work wouldn't be possible without the efforts of the "many volunteer contributors" who develop and review the organization's clinical practice guidelines.
He also acknowledged ASHP's support of CPIC.
"ASHP was the first professional organization to formally endorse the guidelines, and ASHP continues to do so," he said.
ASHP Chief Operating Officer Kasey K. Thompson provided a letter of support that was submitted with CPIC's NIH grant application.
In the letter, Thompson stated that working with CPIC constitutes "a major component of a portfolio of ASHP activities that support implementation of pharmacogenetics and solidify the vital roles pharmacists play in leading implementation across the health system."
Thompson also affirmed ASHP's continued commitment to the endorsement of CPIC's guidelines and support for additional educational activities.
[This news story appears in the February 15, 2019, issue of AJHP.]
Posted December 19, 2018