 "Never settle."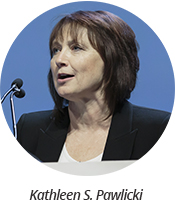 That's 2019–20 ASHP President Kathleen S. Pawlicki's simple but powerful message for ensuring the continued advancement of pharmacy practice.
If pharmacists had never looked beyond medication preparation and dispensing, she said, the profession wouldn't have embraced the clinical activities that make today's pharmacists the medication experts on patient care teams.
"This all happened because we didn't settle," Pawlicki said during her inaugural address on Tuesday morning at ASHP's Summer Meetings and Exhibition in Boston.
Pawlicki, pharmacy director for Beaumont Health in Michigan, recounted an experience with a state legislative proposal that caused her to take action instead of settling.
A bill to regulate sterile compounding was moving through the state legislature, and the proposed record keeping requirements would have crippled compounding operations at Beaumont Health's 1,100-bed hospital.
Pawlicki worked with her government relations colleagues and state hospital association and eventually spoke with the bill's sponsor. Because of the team's advocacy, the final bill exempted hospitals from the burdensome recordkeeping requirements.
She said the group continues to work together to influence the content of new state legislative proposals.
During her remarks, Pawlicki praised her Beaumont Health colleagues and other pharmacy professionals whose refusal to settle has improved medication safety and made patients' lives better.
She also acknowledged the resolve of ASHP and its members — pharmacists, student pharmacists, and pharmacy technicians — to never settle in their commitment to optimal patient care.
Pawlicki highlighted the accreditation of pharmacy residency and pharmacy technician training programs as part of ASHP's support for advancement of these essential members of the pharmacy profession.
And she encouraged the audience to champion state legislative initiatives that establish accredited pharmacy technician training programs as the basis for minimum standards of competency for practicing technicians.
"The future of our profession is tied to the strengths and abilities of our pharmacists and technicians," she said.
Posted June 12, 2019