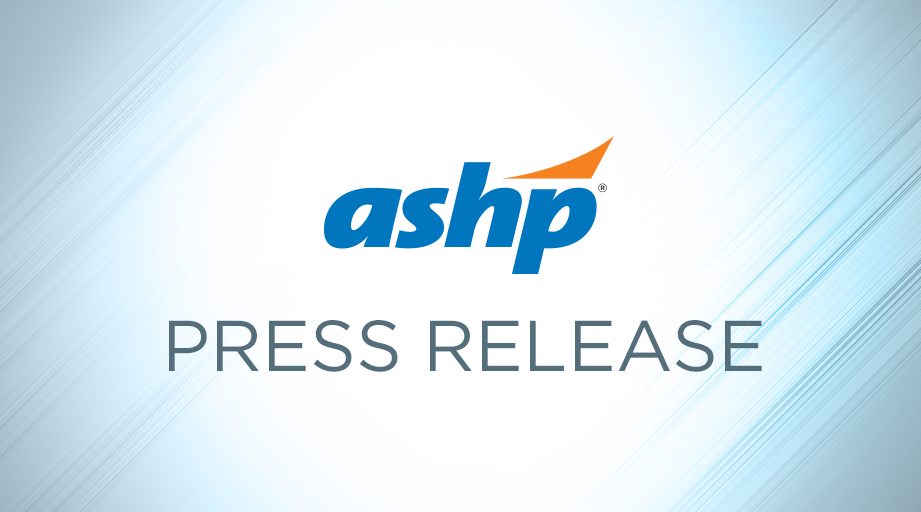 Prominent Pharmacy Director, Author, and Practice Leader Recognized for
Outstanding Contributions to Pharmacy Practice

Sara J. White, M.S., FASHP, today received the ASHP Board of Directors' Honorary Membership Award for her scholarship on the future of health-system pharmacy and efforts to champion leadership development for pharmacists at all stages of their careers. White received the award during ASHP's 2019 Summer Meetings.
The ASHP Board of Directors' Honorary Membership Award recognizes individuals who have made outstanding contributions to pharmacy practice. Honorary members are elected for life by unanimous vote of the ASHP Board of Directors.
White has more than 30 years of experience in pharmacy practice leadership. She retired in 2003 after 11 years as Pharmacy Director at Stanford Hospital and Clinics and 20 years as Associate Director of Pharmacy at the University of Kansas Medical Center. During her tenure as a pharmacy leader, she developed and implemented many innovative pharmacy services, made strides in staff development, and nurtured positive relationships with nurses and physicians.
Since her retirement, White has focused considerable attention on issues affecting the profession's practice leaders. As the ASHP Foundation Scholar-in-Residence in 2004, White explored a variety of areas of concern, including the shortage of younger leaders, the impact of changes to pharmacy school curricula, the turnover of current leaders, and the need for postgraduate training for aspiring managers. She is co-editor of the Letters series — four books offering advice to early career pharmacists on career and life — and a co-author of Wisdom from the Pharmacy Leadership Trenches.
An enthusiastic supporter of the ASHP Foundation, White has served as a lead faculty member of the ASHP Foundation Pharmacy Leadership Academy since its founding in 2007 and is a featured speaker in the foundation's Visiting Leader Program. In addition, she curated a video series, "Conversations with Health-System Pharmacy's Most Influential Leaders," and a podcast series on women in pharmacy leadership.
White served as ASHP President from 1996 to 1997. She has held numerous other elected positions, including Chair of the House of Delegates and member of the Board of Directors, and has served on five ASHP task forces and six committees and councils. A former member of the editorial board of AJHP, White has authored more than 100 papers in the pharmacy literature.
A Fellow of ASHP, White is also the recipient of many awards and honors for her service to the profession, including the Clifton J. Latiolais Award from the Ohio State University College of Pharmacy, the John W. Webb Lecture Award, and ASHP's Harvey A.K. Whitney Lecture Award — the highest award in hospital and health-system pharmacy.
About ASHP
ASHP represents pharmacists who serve as patient care providers in acute and ambulatory settings. The organization's nearly 50,000 members include pharmacists, student pharmacists, and pharmacy technicians. For more than 75 years, ASHP has been at the forefront of efforts to improve medication use and enhance patient safety. For more information about the wide array of ASHP activities and the many ways in which pharmacists advance healthcare, visit ASHP's website, www.ashp.org, or its consumer website, www.SafeMedication.com.
Posted June 11, 2019