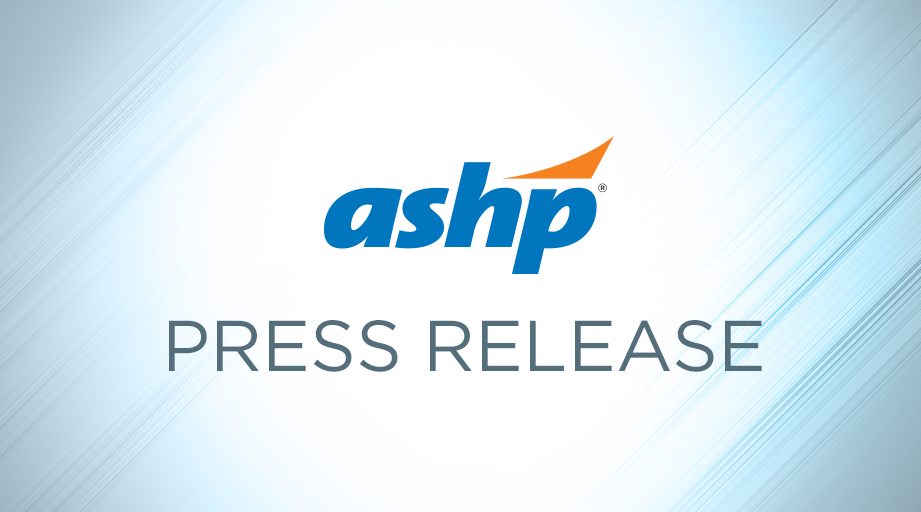 ASHP's Highest Honor Recognizes Contributions of Influential
Pharmacy and Health-System Administrator

Bruce E. Scott, M.S., FASHP, a pharmacy leader noted for his efforts to expand patient access to pharmacists' services, commitment to developing future generations of pharmacy leaders, and active service to the profession, is the recipient of ASHP's 2019 Harvey A.K. Whitney Lecture Award. Scott received the award last night during ASHP's Summer Meetings.
ASHP has administered the Harvey A.K. Whitney Lecture Award, established in 1950 by the Southeastern Michigan Society of Hospital Pharmacists, since 1963. Harvey A.K. Whitney, ASHP's first president, was an editor, author, educator, practitioner, and leader in hospital pharmacy. The award recognizes significant contributions to the advancement of pharmacy practice. Nominations for the award are made by past recipients and ASHP members. The winner is selected by a majority vote of past honorees.
Until his recent retirement, Scott served as President of EnvisionPharmacies, serving patients treated with traditional and specialty medications. He previously served in executive roles at Medco Health Solutions as the President of Accredo Infusion Services, President of Critical Care Systems, and Chief Pharmacist and Senior Vice President of Professional Practice.
Before joining Medco, Scott was Chief Operating Officer of McKesson Medication Management. He also has more than 25 years of experience in hospitals and health systems, including senior leadership positions at Allina Hospitals and Clinics and Assistant Director of Pharmacy at Kansas University Medical Center.
A longtime member of ASHP, Scott served on the ASHP Council of Legal and Public Affairs and the Council on Educational Affairs and as a Minnesota delegate to the ASHP House of Delegates. In 1995, he was elected to a three-year term on the ASHP Board of Directors and, in 1998, was elected as ASHP President.
Scott is also a Past President of the Minnesota Society of Health-System Pharmacists and the Ronald McDonald House Charities of Minneapolis and St. Paul. He is a board member of the Utilization Review Accreditation Commission and the Board of Visitors at the University of Wisconsin School of Pharmacy. He has also served on the University of Minnesota College of Pharmacy Deans' Board of Advisors and the faculty of the ASHP Foundation Pharmacy Leadership Academy.
He is the recipient of numerous awards for his service to the profession, including the Hugh F. Kabat Award for Service to Pharmacy in Minnesota, the Harold N. Godwin Leadership Legacy Award, and the John Webb Lecture Award.
Scott earned a Bachelor of Science in Pharmacy from the University of Wisconsin School of Pharmacy. He received a Master of Science degree in Pharmacy Administration from the University of Kansas where he also completed an ASHP-accredited pharmacy residency.
About ASHP
ASHP represents pharmacists who serve as patient care providers in acute and ambulatory settings. The organization's nearly 50,000 members include pharmacists, student pharmacists, and pharmacy technicians. For more than 75 years, ASHP has been at the forefront of efforts to improve medication use and enhance patient safety. For more information about the wide array of ASHP activities and the many ways in which pharmacists advance healthcare, visit ASHP's website, www.ashp.org, or its consumer website, www.SafeMedication.com.
Posted June 12, 2019