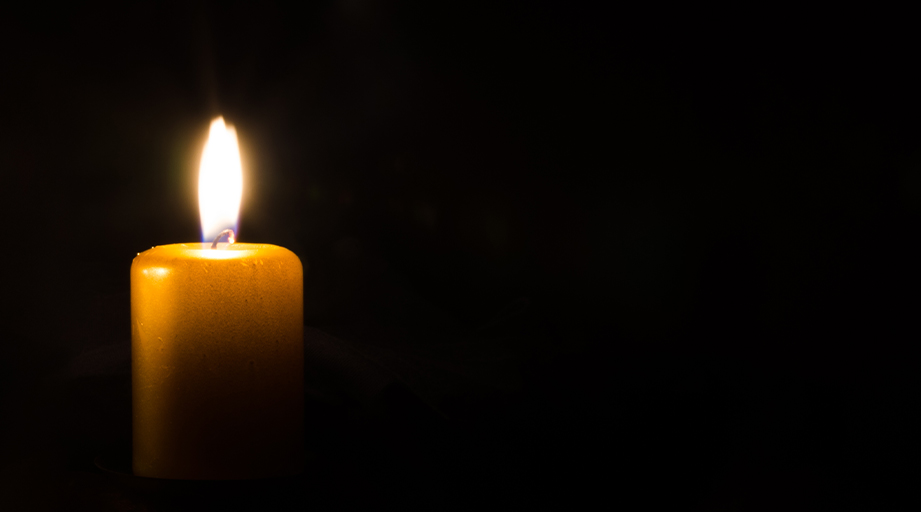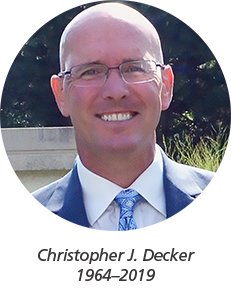 Christopher J. Decker, inaugural Executive Director and Chief Executive Officer (CEO) of the Pharmacy Society of Wisconsin (PSW), died July 30 from glioblastoma. He was 54 years old.
"We are all deeply saddened by the loss of our longtime friend and colleague, Chris Decker," said ASHP CEO Paul W. Abramowitz. "Chris leaves behind so many friends and family who admired and loved him and a legacy of meaningful contributions to the advancement of pharmacy practice in Wisconsin and beyond. We will all miss Chris very much."
Steven Rough, Senior Director of Pharmacy at UW Health, called Decker "one of my closest colleagues and best friends."
"He served as an inspiration for so many people on the right way to live life and what it takes to lead. And he did this effortlessly and with a special grace that may never be matched," Rough said.
Rough said his friend was widely known throughout Wisconsin pharmacy for his upbeat motto: "Let's keep making a difference together, while enjoying every bit of sunshine along the way."
Those who knew Decker said that in addition to his love of pharmacy, he was passionate about great food and wine, friends, golf, and, above all, his family.
Decker was born Sept. 6, 1964, in Cedar Rapids, Iowa, and he received a Bachelor's degree in pharmacy from the University of Iowa in 1988.
After graduating, he completed an executive internship at the Iowa Pharmacy Association (IPA) and then worked for two years as the organization's Director of Professional Affairs.
He left IPA in 1990, at the age of 26 years, to serve as Executive Vice President of the Wisconsin Pharmacists Association (WPhA). His early work at the association focused on promoting leadership roles for young pharmacists and underrepresented practitioner populations in the state.
Decker was instrumental in shepherding the 1998 joining of WPhA and the Wisconsin Society of Health-System Pharmacists to form PSW, the first merged pharmacy association in the United States. He led the association through the remainder of his professional career.
Rough said Decker transformed PSW into an organization that members aspired to serve.
"He was part of PSW, and PSW was part of him," Rough said. "He inspired and built a culture of excellence, innovation, collaboration, mutual respect, and giving boldly that will transcend for decades into the future. His smile and laughter provided a comfort that for people to come together, to work together, and to celebrate together. He always let others shine, it wasn't in his nature to take the credit, ever."
In a typically lighthearted 2014 autobiographical post for PSW's website, Decker stated that his decision to become a pharmacist was influenced by summers spent working in the heat in a tire shop. A family friend owned a pharmacy, and it was air conditioned, Decker explained.
He also stated that he learned years after starting at PSW that his colleagues had expected their youthful new leader to either fail at the job within two years or use it as a steppingstone to bigger things.
Decker stayed, he stated, because "we haven't been doing the same thing ... year after year."
"We have had a consistent goal — to advance pharmacy practice in the state — but PSW's programs, services, and activities have evolved each year. PSW is an organization with a culture of collaboration and progressive action. We strive to do BIG things while making sure we pay attention to the little details critical to the success of any organization. That's inspirational work," Decker added.
Decker's accomplishments at PSW include securing a $3 million grant from the Centers for Medicare and Medicare Services (CMS) in 2008 — a first for a pharmacy association — to support the newly established Wisconsin Pharmacy Quality Collaborative. PSW obtained an additional $4.1 million CMS award for the project in 2012, and the collaborative continues to serve as a statewide resource to help pharmacists provide comprehensive medication therapy management services.
Decker also served terms as chairman of the Wisconsin Patient Safety Institute and president of the Wisconsin Pharmacy Foundation and the National Council of State Pharmacy Association Executives. His excellence was recognized with numerous awards, including the 2018 Certificate of Merit Award from the University of Wisconsin–Madison School of Pharmacy and the 2016 University of Iowa College of Pharmacy Distinguished Alumni Award.
Sarah Sorum, Acting CEO for PSW, called Decker "a mentor and friend to many."
"Chris built a strong culture of leadership and strong leaders. It will be these leaders that will carry us forward, and Chris will always be with us in that way," she said.
Mike Gillard, PSW President Elect and Inpatient Pharmacy Manager at Ascension Southeast Wisconsin Hospital in Franklin, first met Decker about 26 years ago while on a pharmacy school rotation at PSW, and the two worked together over the years as Gillard remained involved with PSW.
Gillard said his life "is better personally and professionally because of Chris."
"I have seen the growth of PSW and how a person like Chris had direct impact on its success," Gillard said. "Chris always demonstrated his positive, passionate and affirming outlook on the profession and life. He will always be remembered as a shaker and a mover, a game changer, an influencer, and so many more positive things."
Decker had been living with glioblastoma since 2016, and he used the Caring Bridge platform to chronicle his treatment experiences and his optimism.
"A dire prognosis does not constitute reason for waving of the white flag of surrender. There are lots of reasons to be undaunted and resilient. One is love. Another is commitment to something bigger than oneself," he wrote on January 23, 2018.
Six months later, Decker described himself as the luckiest man in Wisconsin pharmacy.
"I have been able to do what I love with people who I care about for nearly 30 years. We have made memories and we have made a difference. The good will and the good people within PSW is remarkable. I'm grateful to be a part of it," he wrote.
The Wisconsin Pharmacy Foundation has collected more than $80,000, including a contribution from ASHP, in Decker's honor to create a new patio space at PSW headquarters that will be christened "The Deck." The foundation describes The Deck as a both social space and a place to foster a culture of collaboration for the future of pharmacy practice.
Decker is survived by his children Joe, Mary Catherine, and John; parents Richard and Patricia; brother Todd and sister Laura; and numerous aunts, uncles and cousins.
[This news story appears in the December 15, 2019, issue of AJHP.]
Posted August 18, 2019