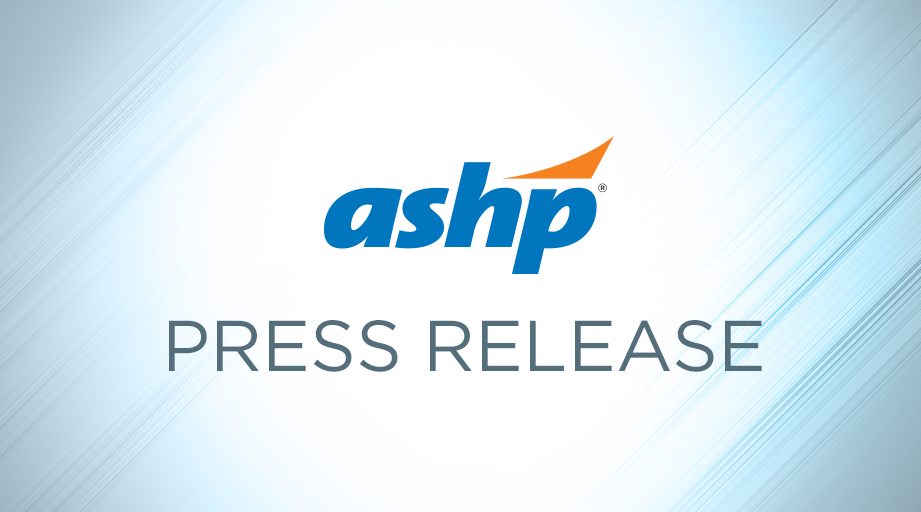 Pharmacists Play a Critical Role in Coordinating Adoption of Evidence-Based Methods
With more than 50 million Americans undergoing surgery each year, the nation's healthcare system must adopt a coordinated, evidence-based framework to reduce the post-surgical over prescription of opioids that contributes to the "most pressing public health crisis of our time," according to a literature review published today in AJHP, the journal of ASHP (American Society of Health-System Pharmacists).
"Never before has it been more urgent to use sound evidence to increase consistency for prescribing and to optimize pain management after surgery," said Suzanne Nesbit, Pharm.D., a Clinical Specialist in pain management and palliative care at the Johns Hopkins Hospital Department of Pharmacy and an author of the paper.
The comprehensive literature review, conducted by researchers from Johns Hopkins, Harvard Medical School, and Weill Cornell Medicine, found that pharmacists play a critical role in reducing overprescribing and the related risks. Pharmacists take on significant responsibility for opioid prescribing and pain management in care team models. Their activities include promoting access to opioid safety initiatives such as naloxone to reverse overdose, checking state prescription drug monitoring programs to prevent overlapping opioid prescriptions, and using partial fills upon discharge to reduce days of post-operative treatment and prevent the dangerous diversion of opioids to other household members. Longer courses of opioid treatment are associated with increased addiction.
Researchers stressed the need to develop evidence-based multidisciplinary approaches that involve pharmacists, patients, and the perioperative team composed of nurses, surgeons, anesthesiologists. The attitudes and beliefs of the perioperative team were found to greatly impact patient expectations and increase the adoption of non-opioid and non-pharmacological treatments.
Well-meaning clinicians wishing to reduce pain and accelerate a patient's recovery after surgery have facilitated the oversupply of post-operative opioids, researchers said. Excessive post-surgical opioid use can be curbed through multiple approaches, including greater use of non-opioid analgesics such as combinations of nonsteroidal anti-inflammatory drugs (NSAIDs such as Advil and aspirin) and acetaminophen (Tylenol), and a wide variety of non-pharmacological techniques ranging from ice, heat, and exercise to various forms of behavioral therapy.
The literature review suggested the value of managing patient expectations about post-surgery pain, providing partial fills of opioid prescriptions upon discharge, educating patients about safe storage and disposal, and identifying patient history of opioid exposure as well as genetic influences on individual patient's response to the drugs.
Further research is needed to determine which educational programs could be most effective in shaping patients' expectations, which practices within the perioperative teams could foster greatest accountability for opioid stewardship, and which overall approaches can reduce excessive use without compromising analgesic quality, the study said.
About AJHP
AJHP is the official publication of the ASHP (American Society of Health-System Pharmacists). It publishes peer-reviewed scientific papers on contemporary drug therapy and pharmacy practice innovations in hospitals and health systems. With a circulation of more than 43,000, AJHP is the most widely recognized and respected clinical pharmacy journal in the world.
About ASHP
ASHP represents pharmacists who serve as patient care providers in acute and ambulatory settings. The organization's nearly 50,000 members include pharmacists, student pharmacists, and pharmacy technicians. For more than 75 years, ASHP has been at the forefront of efforts to improve medication use and enhance patient safety. For more information about the wide array of ASHP activities and the many ways in which pharmacists advance healthcare, visit ASHP's website, www.ashp.org, or its consumer website, www.SafeMedication.com.
About Oxford University Press
Oxford University Press publishes over 400 academic and research journals covering a broad range of subject areas, two thirds of which are published in collaboration with learned societies and other international organizations. Oxford University Press has been publishing journals for more than a century and, as the world's largest university press, has more than 500 years of publishing expertise.
# # #
Posted September 3, 2019