 Direct advocacy was the business of the day as 120 ASHP members came to Capitol Hill on Sept. 11 and personally urged their congressional representatives to support legislation that helps pharmacists meet critical patient care needs.
This year's Legislative Day visits — 159 in all — emphasized the importance of face-to-face interactions with Congress in shaping policies that affect the pharmacy profession.
"By putting a human face to the issues, you help your legislators and their aides gain a better understanding and a deeper appreciation for how the policies that they are considering really impact our patients and the organizations that we all work in," ASHP President Kathleen Pawlicki said during a kickoff meeting before the group headed to the Hill.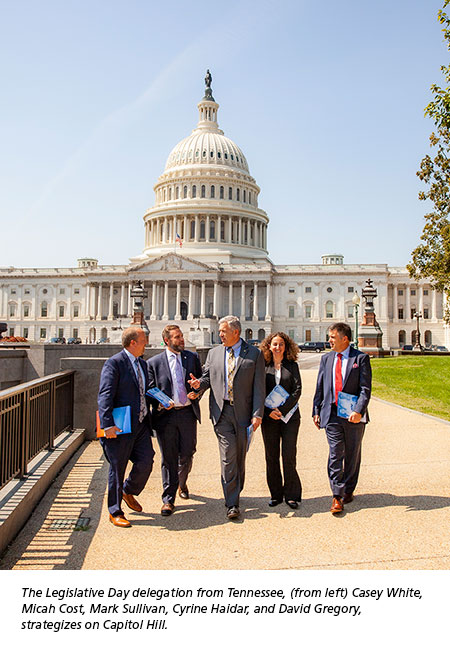 Mark Sullivan, Executive Director of Pharmacy Operations at Vanderbilt University Hospital and Adult Clinics, took that message to heart.
"I discussed our current challenges with heparin infusion drug shortages, the over 100 different shortages currently being tracked by Vanderbilt's drug shortage management team, the advanced role pharmacists are playing in oncology therapy management, and support for expanded provider status practice by our Vanderbilt Ingram Cancer Center Chief Medical Officer, Dr. Madan Jagasia," Sullivan said.
Sullivan was part of the Tennessee delegation that included Micah Cost from the Tennessee Pharmacists Association, David Gregory from Belmont University College of Pharmacy, Cyrine Haidar from St. Jude Children's Research Hospital, and Casey White from Cookeville Regional Medical Center. The group visited the offices of Sens. Lamar Alexander and Marsha Blackburn and Reps. Jim Cooper, Mark E. Green, David Kustoff, and John Rose.
Sullivan said the delegation expressed ASHP's concerns over reports of recent refusals by the Centers for Medicare and Medicaid Services to cover continuing medical education expenses that fund pharmacy residency programs.
To illustrate how pharmacy residents can advance public health issues of importance to Congress, Sullivan told legislators about a resident who improved Vanderbilt's pharmacy information system to greatly reduce the quantity of opioids prescribed to outpatients.
[This news story appears in the January 15, 2020, issue of AJHP.]
Rep. Brett Guthrie of Kentucky, the keynote speaker at the kickoff meeting, said members of Congress want advice from knowledgeable constituents.
"Getting to know people in our districts that have expertise is important," he said. "We're always looking for new people to meet that can have a direct impact on federal policy."
Sullivan said his department hasn't yet hosted a congressional visit. But he extended an invitation to his legislators to visit the hospital and learn more about what pharmacists do to help their patients.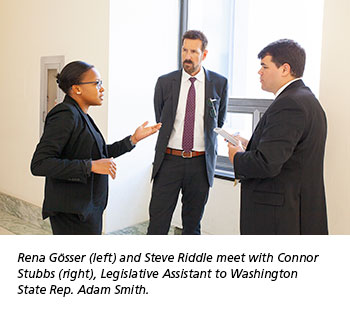 Rena Gösser, Medication Optimization Pharmacist for Population Health at UW Medicine in Seattle, said she also hopes to host her legislators at her worksite.
"I left business cards, and I'm going to send a follow-up email to encourage them to come visit and see some of the clinic settings and how we care for patients," she said.
She and Steve Riddle of Pharmacy OneSource/Wolters Kluwer Health were the sole members of the delegation from Washington State. They spent time with staff and advisors for Sens. Maria Cantwell and Patty Murray and Reps. Adam Smith and Pramila Jayapal.
Gösser said the discussions covered high drug prices, drug shortages, the need to expand pharmacists' ability to treat opioid use disorder, and other topics.
"We shared stories about patients rationing their insulin due to costs so they're able to squeeze a little more money towards rent or just basics like eating. Or being readmitted to the hospital because they can't afford the medication that they need to keep them out of the hospital," she said.
Gösser said she became hooked on advocacy after her first Legislative Day experience as a new practitioner in 2012. Although that event was overwhelming at first, she said ASHP staff "did great job of prepping us so that we felt we had the information and tools we needed to get the most out of our visit."
"I think sometimes as pharmacists we're a quiet bunch. We like to just put our head down and do what we know and take care of patients," she said. But she said advocating for patients and sharing their stories with policymakers is also "a pretty important part of being able to care for patients."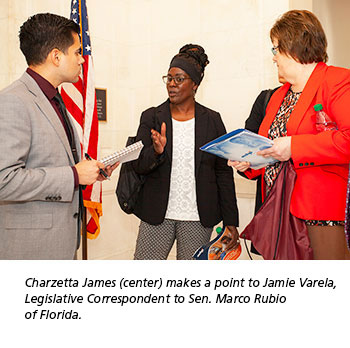 Pharmacy Consultant Charzetta James emerged energized and enthusiastic from her second Legislative Day with ASHP.
"We had a great time. I truly felt like the voice of the patient was heard on Capitol Hill on Wednesday," she said.
James and other members of the Florida delegation — Kathy Baldwin from Baptist Medical Center, Norman Hooten from the Orlando Veterans Affairs Medical Center, and Tara McNulty from WellCare Health Plans — visited the offices of Sens. Marco Rubio and Rick Scott and Reps. Gus Bilirakis, Al Lawson, John Rutherford, and Darren Soto.
James said the team shared stories of patients who were adversely affected by shortages of vitamin B12 injection and epinephrine. The team also explained how high drug costs affect patients and what pharmacists do to help patients obtain affordable medications.
She said the need to modify or eliminate the so-called X-waiver that limits the ability of healthcare providers to prescribe buprenorphine for the treatment of opioid use disorder was "the one topic that we had to educate the most about" during the visits.
James said legislators were concerned about the opioid crisis and were pleased to learn about what pharmacists do to reduce the overall prescribing and use of opioids.
James was also able to leverage a personal connection with one representative who had worked with her husband before joining Congress.
"He was really engaged, he had a lot of questions," James said. "He said, 'You just never know who's going to show up on Capitol Hill.'"
[This news story appears in the January 15, 2020, issue of AJHP.]
Posted September 16, 2019