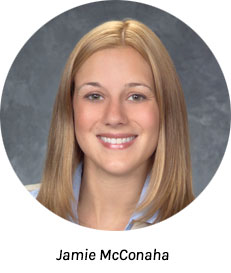 When the Duquesne University School of Pharmacy in Pittsburgh launched its Certified Tobacco Treatment Specialist (CTTS) training program in 2014, information about electronic cigarettes wasn't part of the curriculum, says Associate Professor of Pharmacy Jamie McConaha.
CTTS programs are accredited by the Council for Tobacco Treatment Training Programs, which doesn't mandate that the curriculum include information about electronic nicotine delivery systems or vaping, explained McConaha, who is course coordinator for Duquesne's accredited program.
"However, we were finding, years on, that [vaping] was getting more prevalent. And we were getting a ton of questions about it," she said.
When it became clear that tobacco cessation specialists needed to be able to talk to their patients about vaping, McConaha incorporated a one-hour lecture on the topic to the curriculum.
"Now, it's close to two hours," she said. "I feel like that lecture changes every time we give it. We're constantly updating it."
She said the course content includes information about vaping products on the market, terminology and slang about vaping, scientific data, and the need for pharmacists to ask patients about their use of vaping products and explain how they can affect patients' health.
"We talk a lot about the harmful effects that we're seeing with these products," McConaha said.
Health consequences of vaping have recently made headlines, as federal officials investigate an ongoing outbreak of serious lung injury associated with the use of vaping products.
According to the Centers for Disease Control and Prevention (CDC), the outbreak included more than 800 confirmed cases, including 12 patient deaths, from March 31 through September 24. Most cases are associated with the use of tetrahydrocannabinol (THC)-containing products, either alone or in conjunction with products that contain nicotine.
CDC recommends that people "consider refraining from using e-cigarette, or vaping, products, particularly those containing THC," while the investigation continues.
According to CDC, most of the lung injury reports involve men ages 18 to 34 years, and 16 percent of cases involve patients under age 18 years.
"I'm starting to get a lot more younger people who are vaping right now," said Rachael Hiday, Ambulatory Care Clinical Pharmacist at Indiana University (IU) Health Adult Academic Health Center in Indianapolis. She is one of more than 20 pharmacists who provide disease state management services, including tobacco cessation, at IU's network of primary care clinics.
"Every patient asks me that question, 'Should I switch to vaping?'" Hiday said. "I always suggest, 'No.'"
Indiana in September reported the state's first vaping-related death, which Hiday said reinforces the idea that vaping "is not a safe alternative to smoking."
She said her patients' biggest misconception about vaping is that it will help cut their nicotine consumption, compared with smoking.
Indiana prohibits smoking in most public places, including restaurants and other workplaces, which Hiday said limits patients' opportunities to smoke. But because the state doesn't restrict vaping in public places, she said some patients can vape "all day long, every single day."
Some states are starting to implement restrictions on vaping, mostly through the use of temporary emergency orders.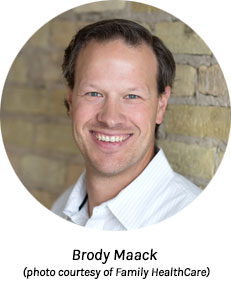 Brody Maack, Clinical Pharmacist at Family HealthCare, a federally qualified health center in Fargo, North Dakota, said vaping is a growing concern in his practice.
"We have seen a rise in vaping and a rise in different types of products being used. But almost all patients that we see are more than willing and do recognize the importance of quitting those electronic devices," he said.
Maack said most of his patients who vape are "dual users" of traditional and e-cigarettes or people who started with cigarettes and switched to vaping.
"I don't think we are seeing a lot of people who only vape interested in coming in to quit," he said.
The vaping market is dominated by San Francisco-headquartered JUUL Labs, which describes its vaping lineup as "switching" products that aren't intended for tobacco cessation.
Maack said when patients ask if vaping can help them quit tobacco products, he tells them there's little data on whether the electronic products are safe or effective for tobacco cessation.
"Whereas, we have other options that we do know are effective," such as varenicline, bupropion, and nicotine replacement therapy, he said.
Maack is one of two CTTS-credentialed pharmacists at the health center who have prescribing authority and are able to tailor the cessation regimen to their patients' needs, no matter what type of nicotine product they use.
The pharmacists provide tobacco cessation counseling and other services by referral from the health center's medical staff. Maack said tobacco cessation sessions usually last about 30 minutes, with follow-up sessions scheduled as often as the patient needs them.
"We don't charge any money for patients to see us," Maack added. "They can see us an unlimited number of visits for an unlimited amount of time, as long as it takes to help them quit and stay quit."
He said some of his most inspiring patients are part of the health center's "Baby and Me, Tobacco Free" program for pregnant women.
"They come to us a little bit embarrassed about their tobacco use and really concerned about the health of their unborn baby," Maack said. "To help them quit using tobacco — and then ultimately follow up with them all the way through until the postpartum period and actually get to meet their healthy baby and kind of get to know them through that process — it's really rewarding."
Maack said any pharmacist, whether CTTS credentialed or not, is capable of providing smoking cessation services. But he said his CTTS training, especially the motivational interviewing component, has been "worth its weight in gold" for driving behavior change in his patients.
He said he wasn't exposed to this training in pharmacy school.
McConaha said that's not the case for Duquesne's student pharmacists, because the department's once-voluntary CTTS-certification program last year became a required component of the school's pharmacy curriculum.
"Students take it in the spring of their second professional year," she said. "So now every student that graduates will have their CTTS certificate ... as long as they meet the requirements."
ASHP Policy 1625 describes ASHP's opposition to the use of tobacco, tobacco products, and electronic nicotine delivery systems. The policy also reiterates ASHP's longstanding support for pharmacists' involvement in tobacco cessation services.
[This news story appears in the February 15, 2020, issue of AJHP.]
Posted October 4, 2019