 ASHP's Opioid Task Force kicked off its work to address the critical role that pharmacists play in combating the nation's opioid crisis during a meeting held Oct. 2–3 at ASHP Headquarters in Bethesda, Maryland.
The 23-member ASHP Task Force, chaired by Past President Lisa Gersema, included policy and public health leaders, clinicians from pharmacy, nursing, and medicine who specialize in pain management, emergency medicine, and behavioral and mental health, community pharmacy, as well as the patient voice.
The two-day meeting culminated in the development of a series of draft recommendations that will undergo review and be published in AJHP in early 2020.
A vital component of ASHP's ongoing efforts to combat the opioid epidemic, the interdisciplinary ASHP Opioid Task Force is charged with identifying actionable solutions, tools, and resources through the engagement of pharmacists as medication therapy experts, clinicians, and providers on the interprofessional care team.
"The opioid crisis, which has impacted families and communities nationwide, is an issue that requires our urgent attention and collaboration," said ASHP CEO Paul W. Abramowitz, Pharm.D., Sc.D. (Hon.), FASHP. "ASHP has been working on several fronts for the past several years to address this problem. Through collective efforts such as our Opioid Task Force, we are committed to working together with other stakeholders on solutions that will help solve our nation's opioid epidemic."
The meeting focused on:
Identifying the roles that pharmacists play in initiating, building, and growing opioid stewardship.
Identifying best medication-related pain management prescribing practices that optimize the use of nonopioid therapies.
Identifying the public health roles that pharmacists play in their communities as related to the prevention and treatment of opioid use disorders.
Developing recommendations on a solutions-focused public policy agenda.
Identifying education, tools, and other resources to help hospitals and health systems address the opioid crisis, including in areas related to drug diversion, prevention, and mitigation.
During the meeting's first day, task force members with expertise in opioid stewardship programs outlined efforts to address opioid use disorder in their respective communities, including one program that resulted in a 74 percent reduction in high-dose opioid use.
Following the case study presentations, two workgroups focused on drafting policy and practice recommendations. The draft recommendations ranged widely in scope, from those that address prevention efforts, such as advocating that pharmacists be trained in mental health first aid and empowered to screen and identify patients at risk of substance use disorder, to recommendations for pharmacy practice, such as contributing to pain management and opioid stewardship teams. Task force members also worked on recommendations for care planning, diversion prevention, addressing research gaps, and more.
Task force members also discussed challenges on a number of fronts, including a need for greater awareness of multimodal interventions, using functional evaluation of pain rather than pain scales alone, and the need to more holistically address the root of the opioid problem. As healthcare professionals go through the process of re-educating patients, "we need to re-educate ourselves on what successful pain management represents," one task force member said.
Participants agreed that there is a continued opportunity for pharmacists to take the lead on patient education, which was a strong focus throughout the discussions, as well as on other emerging areas, such as prescribing, virtual care, and health equity for patients in need of pain management, opioid use disorder and other recovery services.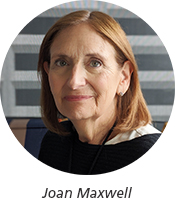 Representing the voice of the patient, Joan Maxwell thanked ASHP and the members of the task force for including "a patient at the table." She described a relative's opioid use disorder that developed after two failed back surgeries and said she sees an opportunity for more hands-on patient counseling to clearly communicate treatment plans involving opioids and other medications.
"I was wowed, I have to say," Maxwell said after the meeting. "I wish all patients could have the opportunity to be in the room with this kind of interdisciplinary team to see how committed everyone is to making things better. It's very inspiring."
Maxwell said she views the pharmacist's role in educating a patient who is prescribed an opioid as crucial to the patient's journey and could help people from becoming dependent on opioids.
"Everyone I know really trusts pharmacists. … They're the ones watching out for us."
Outcomes from the ASHP Opioid Task Force will be shared with the National Academy of Medicine (NAM) Action Collaborative on Countering the U.S. Opioid Epidemic, of which ASHP is a sponsor. ASHP serves on the Action Collaborative's Pain Management Guidelines and Evidence Standards Working Group and Prevention, Treatment, and Recovery Services Working Group.
ASHP will also share the final recommendations and any resources that are developed as a result of the task force's work with all members. Current resources include toolkits on pain management, controlled substances management, and opioid management.
ASHP members can stay engaged on this issue in a number of ways, including grassroots advocacy. The Mainstreaming Addiction Treatment Act, which will eliminate a barrier preventing pharmacists from prescribing and dispensing buprenorphine for medication-assisted treatment of opioid addiction, was introduced in Congress earlier this year. ASHP urges members to help pass this legislation by contacting your member of Congress and asking them to support it.
Posted October 8, 2019