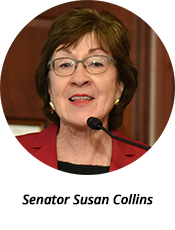 ASHP and other supporters of the Mitigating Emergency Drug Shortages (MEDS) Act welcomed Senate cosponsor Susan Collins of Maine to a November 5 Capitol Hill briefing about the bill and the effects of shortages on patient care.
"Five years ago it was rare for us to hear from a hospital, a patient, a supplier, a pharmacist, about this issue," Collins told the audience. Now, she said, "we are constantly hearing from people about drug shortages."
Collins described several major provisions in the MEDS Act, which was introduced in the Senate October 29 as S. 2723:
Drug manufacturers must disclose to FDA the cause and duration of shortages of certain critical medications.
Drug manufacturers must develop and report contingency and redundancy plans to maintain the availability of critical medications.
FDA would gain new authority to expedite facility inspections and drug application reviews to alleviate shortages.
The Department of Health and Human Services (HHS) and the Department of Homeland Security must work with stakeholders to assess national security threats related to the manufacturing of critical medications and the availability of active pharmaceutical ingredients used in the manufacturing of these products.
In addition, the bill requires HHS to explore incentives for manufacturers to enter the market for drugs in short supply and to encourage domestic production of active pharmaceutical ingredients and finished product formulations. Other provisions address shortage notifications for consumers and improvements to FDA's list of drug shortages.
ASHP on October 29 announced its support for S. 2723 and was one of the sponsors of the November 5 briefing. Collins noted that ASHP is one of more than 50 organizations that have backed the bill.
"The broad support ... is indicative of how serious the problem is," she said.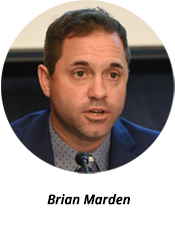 Collins constituent and ASHP member Brian Marden, Chief Pharmacy Officer for MaineHealth in Portland, said during the briefing that his health system is currently managing more than 40 drug shortages.
"Every day, our local hospital systems are challenged by not having enough drugs that they need to take care of patients," he said. "Managing shortages is exhausting, uncompensated, unbudgeted, frustrating, unproductive, never-ending — and yet absolutely essential to continuing to provide the best possible care for our patients and communities."
Marden said his MaineHealth colleagues have shared stories about problems faced by patients with bladder cancer who are affected by the ongoing shortage of bacillus Calmette-Guérin intravesical injection, the preferred therapy for some forms of the cancer. He said one patient suffered a severe skin reaction after treatment with an alternative medication.
Daniel Teich, Vice President of Pharmacy Purchasing and Contracting for Fairview Pharmacy Services in Minneapolis, said his team spends "at least 2-3 hours a day" dealing with drug shortages.
Teich said managing shortages involves staff from clinical leadership, information technology, physicians, and the communications team. He emphasized that changes to order sets and established practices disrupt patient care and are potentially unsafe.
He and other panelists said the MEDS Act won't entirely solve the problem of drug shortages but is a good first step in the process.
Tom Kraus, Vice President of ASHP's Government Relations Office, said the MEDS Act "addresses several policy challenges that ASHP believes are important to reducing the frequency and duration of drug shortages."
He urged pharmacists and pharmacy technicians to use the tool on ASHP's advocacy page to contact their members of Congress to voice support for the bill.
Posted November 7, 2019