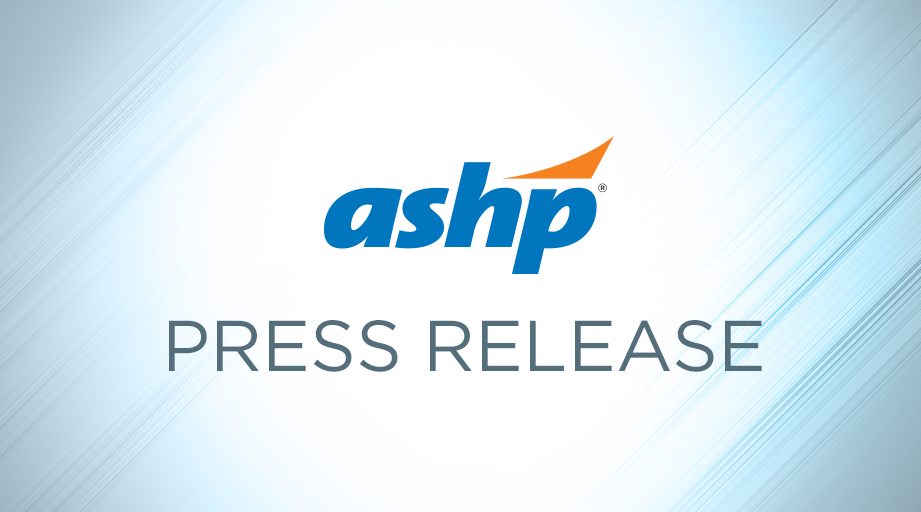 David F. Chen and Verna L. Reed recognized for exceptional service to ASHP
Two ASHP staff members today received the organization's 2019 CEO Award for Staff Excellence during the opening session of the Midyear Clinical Meeting in Las Vegas: David F. Chen, Senior Director of the Section of Pharmacy Practice Leaders, and Verna L. Reed, Director of Customer Relations and Materials Management.
The CEO Award for Staff Excellence acknowledges staff members who perform their job duties with distinction. In addition, recipients must have demonstrated exceptional initiative in contributing to ASHP and upholding its staff values of serving members and embodying a spirit of teamwork, respect, and excellence.
"This award recognizes ASHP team members for their dedication, initiative, and passion for our organization and our members," said ASHP CEO Paul W. Abramowitz, Pharm.D., Sc.D. (Hon.), FASHP. "David's and Verna's contributions to ASHP demonstrate a deep commitment to serving our members, advancing pharmacy practice in hospitals and health systems, and to achieving ASHP's vision that medication use will be optimal, safe, and effective for all people all of the time. These outstanding individuals exemplify the criteria for this award by continually going above and beyond in support of our mission."
David F. Chen, Senior Director, Section of Pharmacy Practice Leaders
Chen joined ASHP in 2004. He has consistently demonstrated his personal and professional investment in the future of ASHP as well as the future of pharmacy. Because of his natural strengths in identifying current and emerging issues, Chen frequently takes a leadership role in shepherding critical strategic initiatives within ASHP, drawing on his vast experience and network to ensure that ASHP is on the cutting edge of practice issues within the pharmacy profession.
These qualities are consistently on display in Chen's role as the Director of ASHP's Section of Pharmacy Practice Leaders where he works on a daily basis with many pharmacy leaders to identify significant trends and issues that impact our profession. In addition, Chen was a key figure in the successful implementation of ASHP's newest section, the Section of Specialty Pharmacy Practitioners that launched last year. Under his leadership, this Section has quickly grown to exceed 4,000 primary members in just its first year and will help enhance ASHP's leadership in this rapidly expanding practice area.
Verna L. Reed, Director, Customer Relations and Materials Management
As the Director of our Customer Relations team, Reed spends every day on the front lines with our members, and she consistently goes above and beyond to ensure that ASHP is providing experiences that meet and exceed member expectations. Reed has been instrumental in making numerous improvements to the registration process for ASHP's meetings and conferences. She designed new badges that helped streamline the registration process and helped further improve the on-site member experience at our largest events by creating new layout options for the registration area.
Other high impact examples of how Reed has enhanced customer relations include improving payment card industry (PCI) compliance and credit card processing, and leading the Customer Relations department's transition to IVR (Interactive Voice Response) to further secure private payment information and improve the payment process for all transactions received by ASHP. Most recently, Reed launched a Customer Experience Improvement Project. It connects customer relations analysts with other ASHP departments to apply new information from customer communications, trends, and data analysis to improve the customer experience.
About ASHP
ASHP represents pharmacists who serve as patient care providers in acute and ambulatory settings. The organization's nearly 50,000 members include pharmacists, student pharmacists, and pharmacy technicians. For more than 75 years, ASHP has been at the forefront of efforts to improve medication use and enhance patient safety. For more information about the wide array of ASHP activities and the many ways in which pharmacists advance healthcare, visit ASHP's website, www.ashp.org, or its consumer website, www.SafeMedication.com.
Posted December 9, 2019