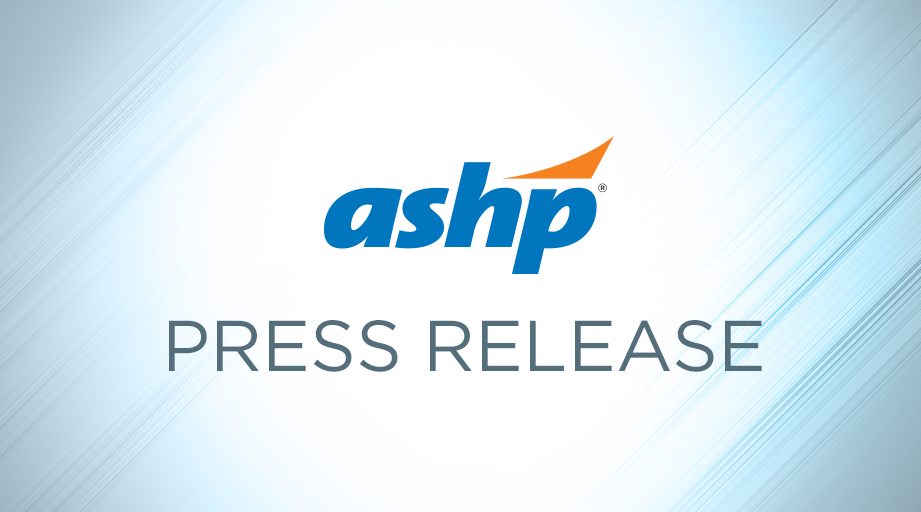 Pharmacist Group Recognizes Outstanding Contributions to Healthcare
ASHP recognized the achievements of an accomplished group of healthcare practitioners this week with its Board of Directors Awards and the ASHP-ABHP Joint Leadership Award.
"Each of our esteemed honorees has made contributions that have significantly improved the lives of patients and advanced healthcare in meaningful ways," said ASHP CEO Paul W. Abramowitz, Pharm.D., Sc.D. (Hon.), FASHP. "ASHP applauds the exceptional initiative, commitment, and vision demonstrated by this impressive group of leaders."
The following awards were presented during ceremonies at ASHP's 54th Midyear Clinical Meeting:
ASHP Board of Directors Award of Honor

Recipient:

Arjun Srinivasan, M.D., CAPT, U.S. Public Health Service (USPHS), Associate Director for Healthcare-Associated Infection Prevention Programs, Division of Healthcare Quality Promotion, National Center for Emerging and Zoonotic Infectious Disease, Centers for Disease Control and Prevention (CDC), Atlanta.

The ASHP Board of Directors Award of Honor recognizes individuals outside the pharmacy discipline who have made extraordinary national or worldwide contributions to the health field.

A nationally recognized physician leader, patient advocate, and research scientist, Dr. Srinivasan oversees several CDC programs aimed at eliminating healthcare-associated infections and improving antibiotic use. His team, in collaboration with the Institute for Healthcare Improvement, developed a tool to improve antibiotic prescribing and reduce errors in healthcare facilities. He previously led the CDC's healthcare outbreak investigation unit, which helps hospitals and other healthcare facilities track down bacteria to prevent them from infecting other patients.

ASHP Board of Directors Distinguished Leadership Award

Recipient:

RADM (retired) Pamela Schweitzer, Pharm.D., BCACP, Assistant Surgeon General and 10th Chief Pharmacist Officer, USPHS

The Board of Directors Distinguished Leadership Award recognizes contributions to excellence in pharmacy practice leadership in acute and ambulatory care settings.

RADM Schweitzer is the USPHS's first female Chief Pharmacist Officer. Throughout her career, she has developed lasting partnerships that improved the ability of federal pharmacists to serve the missions of their respective organizations. As CPO, Schweitzer was responsible for providing leadership and coordination of USPHS pharmacy programs and professional affairs for the Office of the Surgeon General and the Department of Health & Human Services.
ASHP Board of Directors Donald E. Francke Medal

Recipient:

Albert I. Wertheimer, B.S.Pharm., Ph.D., M.B.A., Professor, Nova Southeastern University, College of Pharmacy, Ft. Lauderdale, Fla.

The ASHP Board of Directors Donald E. Francke Medal award honors pharmacists who have made significant international contributions to advance pharmacy practice.

Dr. Wertheimer's work, which combines outcomes research and pharmacoeconomics, has helped patients around the world obtain safe and affordable medications and has contributed to reduced national health expenditures. He served for four terms as President of the International Pharmaceutical Federation (FIP) Academic Section, two terms as a FIP Vice President and Council member, and two terms as Chair of the FIP Social and Administrative Section.
ASHP–Association of Black Health-System Pharmacists Joint Leadership Award
Recipient:
John E. Clark, Pharm.D., FASHP, Assistant Professor in the Department of Pharmacotherapeutics and Clinical Research and Director of Experiential Education and Pharmacy Residency Programs at the University of South Florida (USF) College of Pharmacy in Tampa, Fla.
The ASHP-ABHP Joint Leadership Award recognizes individuals who have demonstrated exceptional leadership in efforts to reduce racial and ethnic disparities in healthcare.
Dr. Clark is a vocal advocate for the creation of culturally competent systems of care to address racial and ethnic disparities in healthcare. For more than 20 years, he organized a series of educational programs that explored health literacy, medication adherence, use of health information technology, and medication management of conditions such as diabetes, renal disease, prostate cancer, and HIV/AIDS.
About ASHP
ASHP represents pharmacists who serve as patient care providers in acute and ambulatory settings. The organization's nearly 50,000 members include pharmacists, student pharmacists, and pharmacy technicians. For more than 75 years, ASHP has been at the forefront of efforts to improve medication use and enhance patient safety. For more information about the wide array of ASHP activities and the many ways in which pharmacists advance healthcare, visit ASHP's website, www.ashp.org, or its consumer website, www.SafeMedication.com.
Posted December 9, 2019