 A fictional patient case from the December 11 Midyear Clinical Meeting session Medications and Increased Risk of Depression and Suicidality encouraged audience members to share their thoughts about managing therapy for a teenager with worsening signs of depression.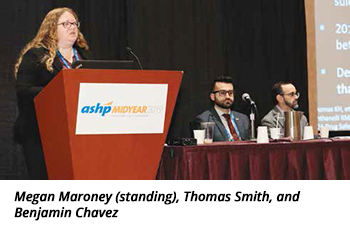 The case, presented by Benjamin Chavez, Director of Behavioral Health Pharmacy Services at Salud Family Health Center in Aurora, Colorado, involved a 16-year-old girl who received behavioral health services for a year with little improvement in her mood. She then started failing in school, losing weight, and not sleeping well.
Her primary care provider prescribed a 20-mg daily dosage of fluoxetine and asked the teen to come back four weeks later for follow-up — a plan the session attendees strongly disagreed with.
Several audience members said the starting dosage was too high for the teen and recommended initiating therapy at 5 or 10 mg per day instead. Attendees also pointed out that four weeks was too long for this young patient to wait for a follow-up appointment.
"Some member of the team should be checking [on her] in the first week," Chavez agreed. He then revealed that the teen in the case returned to the clinic after one week because she had passing thoughts of self-harm and appeared anxious and agitated.
All ended well for the fictional teen. A pharmacist was enlisted to help manage her care, and she was switched to a 5-mg daily dosage of escitalopram. Two weeks later, the patient was tolerating the new antidepressant and feeling better. Her dosage was increased to 10 mg per day, her depressive symptoms eased over the next few weeks, and her schoolwork improved.
When informally polled by Chavez, no one in the audience found antidepressant therapy unacceptable for this patient, even though the labeling for all antidepressants includes an FDA-mandated boxed warning about the risk of treatment-emergent suicidality in young people.
Chavez noted that this case challenges pharmacists to think about when to factor the risk of medication-related suicidality into treatment decisions and how to discuss the topic with patients.
FDA issued a public health advisory in 2003 about the risk of suicidality in pediatric patients treated with antidepressants for major depressive disorder (MDD). The agency then convened an advisory panel to evaluate data from clinical trials of antidepressants in pediatric patients for MDD and other psychiatric conditions.
The data indicated that suicidality occurred in about 4 percent of patients treated with an antidepressant and 2 percent of those given a placebo, but no completed suicides were reported. FDA subsequently required all antidepressant medications to carry a boxed warning about the risk of suicidality in young patients. The agency updated the warning in 2007 after reviewing additional data.
Megan Maroney, Clinical Associate Professor at Rutgers University's Ernest Mario School of Pharmacy and Clinical Psychiatric Pharmacist at Monmouth Medical Center in New Jersey, said reports published since FDA completed its reviews have had conflicting findings about the risk of antidepressant-related suicidality.
In general, she said, it appears that "the risk of suicidality is less than what we previously thought and overall, it's low."
Maroney noted that a large analysis of European drug surveillance data in adults found that suicidal adverse drug reactions, though rare, were most common during the first two weeks of therapy.
"So this seems to be a critical period in terms of monitoring for patients," she said.
Maroney also identified medications other than antidepressants whose labeling warns of treatment-emergent suicidality, such as antiepileptics, varenicline, interferons, isotretinoin, and leukotriene-modifying agents.
Thomas Smith, Associate Professor of Pharmacy Practice and Pharmacogenomics at Manchester University College of Natural Health and Sciences in Indiana, described FDA's most recent guidance for manufacturers to prospectively assess the emergence of treatment-related suicidality in the development process for certain new drugs.
But he cautioned that even if an approved drug wasn't associated with suicidality during initial clinical studies, it's possible for the risk to emerge after FDA approves the drug.
"If you discover these [adverse events] in patients, ... report them to MedWatch," he urged.
Posted December 18, 2019