 Whether unexpected or anticipated, the loss of a colleague can have a major impact on leaders, managers, and coworkers, yet there is no formal training for how to react in these tragic situations, presenters said during Working Through the Unimaginable: Dealing with Loss or Suicide on the Team, a session at the ASHP Midyear Clinical Meeting & Exhibition.
Each speaker shared personal stories of loss and how their department responded to the deaths of beloved colleagues when there was no precedent for what steps to take – from notification of coworkers to appropriate expressions of grief, all the while keeping patient care as a top priority.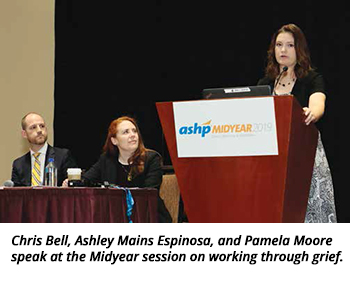 Chris Bell, Pharm.D., M.S., Pharmacy Director, System Inpatient Operations at the University of Kansas Health Systems, described his journey with losing a friend and longtime colleague who worked throughout his battle with pancreatic cancer.
His colleague Dave had made it clear he was going to fight the disease, Bell said, adding, "We had a lot of difficult conversations about what he wanted to do" as they worked through succession planning.
"I didn't know anyone else who had gone through something like this," he said. "You don't get training for something like this."
Prioritizing patient care while being respectful was a guiding principle, Bell said. He worked with his staff to ensure that his colleague was supported with time off and that he was physically comfortable while in the office. He also stayed in close contact with the family. When the text arrived that Dave had died, Bell went to the hospital to support colleagues.
"It was instinctual and probably one of the best things we did," Bell said.
Bell told attendees that it's okay to be sad in these cases, even if their loss isn't of a family member. "You still created something every day, you worked together, you solved problems … that family is real," he added.
Acknowledging the emotion that both you and your colleagues are experiencing is critical and powerful, Bell said. Leading through vulnerability fundamentally changed how he interacted with his team, he added, also recommending that anyone in a similar situation frequently check in with their staff to see how they are doing.
While Bell experienced anticipatory grief, the session panel also discussed unexpected loss. Pamela Moore, Pharm.D., PGY2 Residency Program Director, Pain Management and Palliative Care at Summa Health, shared how her department worked through the sudden loss of her friend and colleague Kevin.
Described by Moore as "our rock in the pharmacy," Kevin passed away while taking vacation time. His family held only a small church service, and with no memorial service, Moore helped organize an office gathering to remember Kevin. She reached out to the palliative care team chaplain, who joined the staff for the remembrance and helped them with deconstruction (telling stories about who Kevin was) and reconstruction (examining where to go from here).
For those who find themselves in similar situations, Moore recommended identifying a ritual – something that can provide structure – for the team to appropriate grieve and work through loss.
Audience members thanked the panel for sharing their stories and encouraged the speakers to continue to share the lessons they have learned with pharmacy colleagues.
Posted December 23, 2019