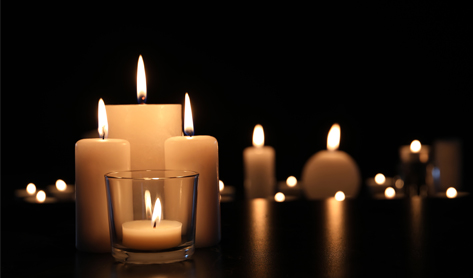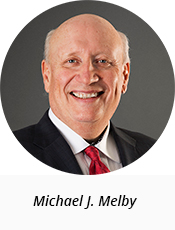 Michael J. Melby, director of innovation and activation at Indiana University (IU) Health Bloomington, died December 27, 2019, after a recurrence of melanoma. He was 63 years old.
"Michael will be greatly missed by so many friends, colleagues, and family members," said ASHP Chief Executive Officer Paul W. Abramowitz. "He was a great leader that helped advance pharmacy practice for the betterment of patients, and his time serving on the ASHP board of directors contributed to ASHP becoming the growing and thriving organization that it is today."
At the time of his death, Melby held a critical leadership position in the planning and construction of IU Health's cutting-edge future Regional Academic Medical Center, slated to open in 2021.
His responsibilities on the project included working with clinical leaders to foster transformational culture change in support of a community-focused advanced care model; planning for the seamless movement of staff and equipment to the new facility without disrupting patient care at the previous site; identifying and implementing technology for the new facility; and working with IU to integrate interdisciplinary education and patient care.
Melby's passion for the project is reflected in the self-penned obituary he prepared last summer while awaiting surgery.
"It will be my greatest disappointment to not see the first patient occupy the new facility. So much hard work and such masterful strategic planning has gone into the building that I am confident the facility will fulfill all of our community's dreams and aspirations," he stated.
Despite that regret, the obituary conveyed Melby's gratitude for what he called his "great trip" on "this little ball of earth."
"Many people have had a tremendous influence on my life, and I so appreciate every opportunity I have had to learn from them. I could not have asked for a better journey on this earth," he stated.
James A. Jorgenson, former chief pharmacy officer for IU Health and current chief executive officer for Visante, worked directly with Melby for three years, after IU acquired the Bloomington hospital. Jorgenson also collaborated with Melby for many years as faculty of the ASHP Foundation's Pharmacy Leadership Academy and various ASHP initiatives.
"Michael was the quintessential 'servant leader,'" Jorgenson said. "His people never worked for Michael; Michael always considered that he worked for them."
Jorgenson said Melby always approached his work "with the philosophy that he was doing something meaningful and making a difference."
"He ... will be missed by a lot of people personally and professionally," Jorgenson added.
Sharon Enright, owner and founder of EnvisionChange LLC, said Melby was the quintessential Renaissance person.
"He had a very deep and broad and diverse knowledge of so many subjects. He loved to learn," she said.
Enright and Melby worked together for many years as part of the Pharmacy Leadership Academy, where he served as faculty for the Leading Transformational Change and Innovation course.
"He ... had such an impact on our students," she said. "He would tell them that he expected them to dazzle us with their innovative thinking and their ability to grow that creativity."
Enright said Melby taught participants to change their perspective on problems by understanding and learning from obstacles instead of forcing solutions.
"It was a sharply different approach than is typically seen in pharmacy education. And [it] created amazing outcomes from the students," she said.
Enright also related her fond personal memories of Melby, including August nights when their families gathered to view the annual Perseid meteor shower.
Melby was born March 27, 1956, to Thomas and Joyce Melby of Appleton, Wisconsin.
After serving in the Navy, Melby received a bachelor's degree in pharmacy in 1982 from Ferris State College in Big Rapids, Michigan. He earned a master's degree in hospital pharmacy from the University of Wisconsin—Madison in 1985 and completed a residency there in hospital pharmacy administration.
In 1988, he moved to Grand Rapids, Michigan, working for Spectrum Health first as assistant director and then as director of pharmacy.
Seven years later, seeking warmer weather, he accepted the position of inpatient pharmacy manager at University Medical Center Tucson in Arizona. While there, he met his future wife, Maire Quilter.
In 2004, Melby moved to Indiana, serving as director of pharmacy for Hendricks Regional Health in Danville. Two years later, he was named director of pharmacy and clinical informatics at IU Health Bloomington. He rose in the ranks at the organization, and in 2016 he became director of innovation and activation.
Melby was also chief executive officer of HealthLINC, an informatics company, from 2014 to 2016.
In the obituary he wrote this past summer, Melby reflected on his illness, revealing that he was diagnosed with melanoma in 2002 and underwent surgery but required no radiation or chemotherapy.
"How ironic that the melanoma would return after 17 years and cause my demise," he stated.
Melby is survived by his wife, Maire and brothers Gary and Tom.
IU Health Foundation has established a fund in Melby's name to support the construction of the Regional Academic Health Center. To donate, send a check payable to IU Health Foundation, P.O. Box 7168, Indianapolis, Indiana, 46207. Please designate the gift by writing Melby Memorial—RAHC Cancer Center Building Fund #6644 in the memo line.
[This news story appears in the April 1, 2020, issue of AJHP.]
Posted January 22, 2020