 Student pharmacist Camille Schrier highlighted the fun side of science and broke stereotypes to capture the Miss America 2020 crown December 19 in Uncasville, Connecticut.
Unlike traditional candidates who sang or danced, "I did a science demonstration as my talent," said Schrier, who showcased the catalytic decomposition of hydrogen peroxide by potassium iodide to produce a colorful foaming reaction.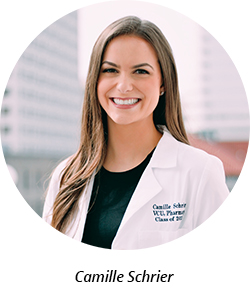 Schrier had done the same talent demonstration in June when she won the Miss Virginia competition. As Miss Virginia, she performed the chemistry demonstration during educational sessions in the community to get young people interested in pursuing a science, technology, engineering, and mathematics (STEM) career.
"And I always talk to them about being a pharmacy student, too," she said. "I think a pharmacist is talented. I think that people in science are talented."
Schrier earned a dual undergraduate degree from Virginia Polytechnic Institute and State University in Blacksburg. In 2018, she started her postgraduate studies at the Virginia Commonwealth University School of Pharmacy in Richmond.
She began a gap year after winning the state title. When her year of service with the Miss America Organization ends, she plans to resume her studies and pursue a career in the business side of the pharmaceutical industry.
"I chose pharmacy because I had worked in a pharmaceutical company for two years as an intern when I was an undergrad," Schrier explained. "I saw how needed it was to have people with a scientific and clinical background in those business roles."
Schrier said she'll log about 20,000 miles each month during her year of service as Miss America.
Part of her community outreach tour will involve speaking with young women about STEM careers. As the recipient of more than $73,000 in scholarship funding earned over the course of the competitions, she will advocate for the Miss America Organization and recruit candidates for the year ahead.
"That's something that's really important to me," Schrier said.
But her main project is "Mind Your Meds: Drug Safety and Abuse Prevention from Pediatrics to Geriatrics." The project aligns with a recent change in the Miss America Organization to emphasize participants' personal community service and social impact initiatives.
Schrier said she expects to visit schools and businesses and to appear before state legislatures.
"I want to be able to impact millions of people ... that I would never have interacted with had I not been Miss America," she said. "It really is an exceptional opportunity."
As Miss Virginia, she worked with children, playing a game to reinforce to them that medications aren't candy and that people shouldn't ingest something without knowing what it is.
"Those are kind of the things that I've been doing, and so I hope to be able to take those to a national level," Schrier said.
Although she hasn't yet finalized her "Mind Your Meds" campaign, Schrier said in January that it will include a focus on dispelling myths about naloxone. She hopes to convince people to obtain the opioid reversal agent so they can potentially save the life of a friend, relative, or community member who has an overdose.
"I carry naloxone with me," said Schrier, who is a certified naloxone trainer.
Schrier said she's never had to use naloxone on an overdose victim. But she has already used what she's learned in pharmacy school to help others, including a friend whose young daughter was ill and had been prescribed a liquid antimicrobial product that hadn't been properly stored.
"It wasn't in the fridge," Schrier explained. "It was discolored, it was broken down. It wasn't correct. And she didn't know, and she was giving it to her daughter. And those moments happen all the time, when you're a busy mom and you have sick child."
"This why the profession of pharmacy is so incredibly important," she said.
[This news story appears in the April 1, 2020, issue of AJHP.]
Posted January 21, 2020