 Some of the patients seen last year at a pharmacist-led employee health clinic in Alabama weren't really playing on their phones in the waiting room — they were participating in a study intended to elicit a detailed health history and identify areas for intervention.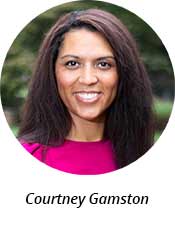 The study, led by Courtney Gamston, professor of experiential practice at Auburn University's Harrison School of Pharmacy, examined the use of a custom web-based intake form that requested standard information and also asked optional questions about the patients' health.
In some instances, the form used gamification elements, such as trivia questions, fun facts, and the chance to win a prize, to elicit more complete responses from patients.
Gamification is the use of gameplay elements, such as points, badges, and other rewards, in situations outside of gaming. In healthcare, gamification may be incorporated into apps that promote weight loss and wellness or help patients manage chronic conditions, such as diabetes.
"We were unsure of how willing patients would be to ... answer these additional questions, even though they were personalized to the individual. And so we brought in the elements of gamification to see if that would encourage them to complete more of those extra questions," Gamston said.
The optional questions were tailored to each patient on the basis of their age, sex, disease state, and other user-provided information. Gamston said the questions addressed health topics that may come up during a patient interview but are sometimes missed in asymptomatic patients and represent opportunities for interventions.
For example, a 60-year-old female patient might be asked if she had had a recent mammogram, colonoscopy, thyroid function test, or other screening test recommended by the U.S. Preventive Services Task Force. Patients with diabetes might be asked questions about their medications, and those who took many medications would be prompted about having an annual medication checkup, a service that the clinic provides.
Gamston said it's not uncommon for clinic patients to find and use lifestyle apps.
"We see them a lot of times with different weight loss apps, because we have a weight loss service," she said.
The Auburn clinic's project was funded through a new investigator grant Gamston received from the ASHP Foundation. She reported on the clinic's findings during a poster session at ASHP's 2019 Midyear Clinical Meeting in Las Vegas.
In the study, Gamston and colleagues compared the number of potential interventions gleaned from the responses of 166 patients who completed the web-based intake form with or without gamification elements. A retrospectively identified set of patients who did not complete the electronic intake form served as the control group.
In all, the team identified 329 potential interventions among patients who completed the electronic form from January through May 2019. The interventions included recommendations for screening as well as "a lot of opportunities to counsel about diet and exercise," Gamston said.
There was no difference in intervention rates between the nongamification group (1.8 interventions per patient) and the gamification group (2.1 interventions per patient). But the intervention rate for both groups was significantly higher than in the control group, which averaged 0.44 potential interventions per patient.
The intervention rate was also higher among patients who answered at least half of the optional questions compared with patients who answered fewer than half.
"Just having the automated forms ... really made the biggest difference with regards to how many interventions we were identifying," Gamston explained. She said the technology, which she likened to "smart forms," is still in use at the clinic.
Gamston said most patients complete the intake form at home before their clinic appointment, and the clinic staff has patient-specific "talking points" and recommendations ready to go when the patients arrive.
She said her research team is eying improvements to the electronic form, but the changes would likely require additional funding.
Gamston said she received substantial positive feedback from Midyear attendees about the project, including inquiries from pharmacists interested in testing the form at their own clinics.
She said most available technology of this type is designed for use only in inpatient settings.
"I'd like to see a few more things ... generalized to ambulatory care with pharmacy in mind," she said.
[This news story appears in the June 15, 2020, issue of AJHP.]
Posted March 3, 2020