 A family medicine practice in Ohio has embraced pharmacogenomic testing as a way to improve care for patients with behavioral health needs.
About 15–20 patients undergo the testing each month, said Staci Dotson, clinical pharmacist at Mercy Health in Lima.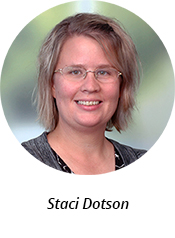 Dotson said the healthcare team includes three physicians and two nurse practitioners. She estimated that about 60 patients are seen in the clinic each day for a variety of health concerns.
The clinic relies on pharmacogenomic testing, in part, to help patients who can't get a timely appointment with a behavioral health specialist or for whom the family practice clinic is the only option for their behavioral health needs.
"We use it as a way to help those patients with mental health problems and come up with the best therapy for them," Dotson said.
Pharmacogenomic testing is also recommended for patients whose current behavioral health medication regimen isn't producing an adequate response.
Dotson said one of the biggest hurdles to implementing pharmacogenomics in primary care settings is probably the lack of information about the availability and capability of the tests.
"I think having providers that are open to it is a big thing," she added.
When a patient is identified as a candidate for pharmacogenomic testing, a medical assistant takes a buccal swab, which is sent to a laboratory for evaluation.
The clinic uses the GeneSight psychotropic test, which is marketed by Myriad Neuroscience of Mason, Ohio.
The test results provide information about how the patient metabolizes drugs, including an analysis of cytochrome P-450 isozyme system alleles.
Test results are also presented in color-coded columns and grouped by drug class, such as antidepressants, antipsychotics, and anxiolytics. The color coding denotes, on the basis of the patient's genetic profile, whether specific medications can be administered as directed in the labeling or if a moderate or severe gene–drug interaction is expected.
Dotson said she and the clinic's postgraduate year 2 ambulatory pharmacy residents review the laboratory reports and counsel patients about the test results.
"It was all kind of new to all of us, to sit down and look at some of these results and to see what they mean," Dotson said of the service, which has been in place for more than year. "We all think it's just such an awesome tool. And since we have medical residents here ... it allows my pharmacy residents to interact with the medical residents and kind of give the education to [them] as well."
The Food and Drug Administration's website lists more than 400 pharmacogenomic biomarkers described in the labeling for approved drug products, including about 75 products for which multiple biomarkers have been identified. According to the agency, pharmacogenomic information can be used to avoid adverse events, optimize drug dosages, and identify patients who don't respond to specific medications.
Dotson said pharmacogenomic testing provides peace of mind for clinic patients who have a history of drug allergy or intolerance.
"Sometimes we offer it to those patients, so they're not having to try three or four different medications," she said. "And it cuts down on their copay costs, too, if we can just do a genetic profile and see if there's something else that we can try first."
She said the test results often provide valuable insights about the appropriateness of selective serotonin reuptake inhibitors, such as sertraline, in patients with depression. The results also help the healthcare team fine-tune medication therapy for anxiety, which Dotson said is a fairly common condition among clinic patients.
"We're trying to avoid using benzodiazepines, so we're trying to find the best combination therapy," she said. Through pharmacogenomic testing, she said, the healthcare team can determine whether it's feasible to add buspirone, for example, to treat anxiety in a patient who is also taking sertraline for depression.
The testing doesn't bring new revenues to the clinic. But Dotson and colleagues, in data presented at ASHP's 2019 Midyear Clinical Meeting in Las Vegas, said that having pharmacists available to interpret the test results allows physicians to spend more time on complex patient care activities.
According to Myriad Neuroscience, the test is generally covered at no cost to Medicare and Medicaid patients. Coverage by private insurers varies.
[This news story appears in the June 15, 2020, issue of AJHP.]
Posted March 12, 2020