 As cases of COVID-19 steadily grow across the country, upending life at hospitals in current hotspots, healthcare professionals at the epicenter of the COVID-19 crisis are sharing advice from the front lines of the epidemic in efforts to help others effectively respond to a historic healthcare emergency.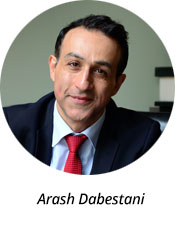 Arash Dabestani, senior director of pharmacy at NYU Langone Health, recently documented his recommendations in "Notes from the Epicenter of COVID-19," a collection of tips that have been shared on social media and in forums. Speaking to ASHP News, Dabestani emphasized the need for coordination and communication during these trying days ahead and expressed his hope that other areas "won't be hit as hard or as rapidly."
"We are managing and projecting drug use for the critically ill with a tremendous amount of coordination," he said. "The coordination between the operations [department], the clinical team and the procurement and sourcing team are unlike anything I have seen in my 25-year career as a pharmacist."
Existing systems are not set up to manage the current levels of fluctuation that are being seen in New York City, he said. Normally, supply chain management is a calculated and standardized process, and now "we're throwing a curve ball at it," he added.
Dabestani strongly suggests that hospitals bolster their procurement team and standardize a new process during this heightened time. At NYU Langone Health, staff have been on the phone with 15 to 20 manufacturers at the highest levels trying to get drugs, bypassing existing, established systems to expedite the delivery of critical medications.
"No one is really set up for that, including us. Bolster up the buying team because they will be busy around the clock procuring items," he said. "Many, many items have been put on allocation, requiring around-the-clock monitoring of the ordering system for availability, allocated quantity and immediate purchasing to secure your allocated quantity.
He also highly recommends that clinical teams readying for an onset of COVID-19 cases prepare at least two alternatives to every critical drug and establish a process to swiftly switch back and forth due to the erratic fluctuation of Covid-19 related drug utilization and medication availability.
"Allow yourself a flexible alternative table that gives you the ability, for instance, to alternate between fentanyl, propofol, midazolam, and ketamine – which are four different classes but have to substitute back and forth to meet the patients' needs."
In addition to adjusting procurement processes, the pharmacy department has also had to be flexible with staffing plans. This week, Dabestani learned the hospital would increase its capacity by 50%, which means staffing schedules will change as well. His message to staff? "All hands on deck … students, interns, managers, anyone across all campuses."
"We will incorporate management into tasks such as stocking cabinets and delivering medication," he said, adding that filling shifts has not been an issue because "everybody is working together."
In addition to his recommendation that a senior-level staff member be onsite at all times, he advises pharmacy directors and managers have a plan to ensure a fair and balanced rotation between frontline staff and those working remotely to minimize mental and physical exhaustion.
"Evaluate every single resource that is available to you," he said.
In terms of resources such as personal protective equipment (PPE), Dabestani said so far the pharmacy has not experienced having to have makeshift PPE because the hospital has firm guidelines that clearly outline the specific PPE that someone needs to wear to enter certain areas.
"If it requires an N95 mask, then only those people that have been test-fitted for N95 go in," he said. "That was an issue at the very beginning because we didn't have enough pharmacy technicians fitted for N95."
Another piece of advice from Dabestani is to "100% prepare for repurposing of existing units. That will happen when the epidemic reaches any hospital. I can't emphasize that enough."
He also worries about exposing others, and has advised colleagues to consider staying at a hotel during the work week if possible to minimize exposure to families. At first he was driving home daily and taking extensive steps for cleanup before entering his house, such as bagging dirty clothes and leaving shoes outside.
"The first week, just the act of cleaning up and being mindful of not walking in with my shoes, not taking a bite of your kid's food … having to think twice about things just so I could enter the house. That was overwhelming for me."
Booking a hotel was a worthwhile investment to stay sane and keep his family safe, he said.
As Dabestani and his team continue to combat the COVID-19 epidemic, the two main concerns that worry him are the drug supply and the possibility of an outbreak in the pharmacy.
"We have stretched a few rules and standards but have kept all the balls juggling in the air. We are still able to deliver appropriate medications," he said. "What keeps me up at night is when that ends. When we run out of meds and their alternatives – if we run out of propofol, that's going to be a problem."
For more information and free tools regarding the pandemic, including a recently released Assessment of Evidence for COVID-19-Related Treatments, visit ASHP's COVID-19 Resource Center and the new COVID-19 Community at ASHP Connect.
Posted April 1, 2020