 Pandemic Brings Unique Clinical Experiences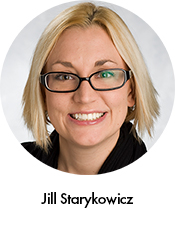 When Jill Starykowicz looks at the COVID-19 pandemic from her perspective as director of a postgraduate year 2 residency program in critical care, she finds teachable moments.
"This is ... a great learning opportunity for residents — to learn how to handle a variety of different cases ... and to manage a variety of drug shortage issues and alternative strategies," she said. "I'm fortunate to have residents' help with many services."
Starykowicz is a medical and cardiac intensive care unit (ICU) pharmacist at Advocate Lutheran General Hospital in Park Ridge, Illinois.
She said she's tried to give her residents autonomy and independence while also being available to discuss clinical questions that arise each day.
The format of patient rounds has changed in response to the pandemic. Instead of having several medical and pharmacy residents donning personal protective equipment and visiting each patient, a single resident will enter the room and present the patient case.
"And we have cameras in patients' rooms, where we can call the nurses, if they're already in the patients' rooms, and have them present for rounds and discussions," she said. "We've also tried remote rounds in a variety of conference rooms."
Starykowicz said the pandemic has caused her to think about her role in managing patient surges in the ICU.
With cases mounting, she's been scrutinizing the timing of medication administration and infusion rates to minimize drug waste and conserve infusion supplies.
"This is definitely requiring a lot more personalized attention to patients, from a pharmacy perspective," Starykowicz said.
She also ensures that automated dispensing cabinets are stocked with appropriate medications — both in her unit and in new ICUs that the hospital has opened for critically ill patients.
Starykowicz's clinical work has intensified with the pandemic, but her specific role on the multidisciplinary team is unchanged.
"This is my dedicated unit that I've always practiced in. But our unit, the medical intensive care unit, has shifted to COVID ICU management," she said.
Starykowicz said she's "very involved clinically" with other members of the ICU team as they review laboratory test results and discuss therapies tailored to each patient's needs.
Laboratory tests for COVID-19 patients typically include the monitoring of D-dimer, ferritin, C-reactive protein, and troponin levels, all of which can be abnormal in these patients.
"We'll look at trends," Starykowicz said. "We'll look at evaluation criteria for agents such as to tocilizumab, or whether or not we need to heparinize patients or be more aggressive with anticoagulation."
SARS-CoV-2, the virus that causes COVID-19, is a respiratory pathogen. But reports indicate the disease affects other organ systems.
"A lot of these people appear to me to be improving from a respiratory standpoint. But then all of a sudden their status can change," Starykowicz said. She added that it's essential to always have a "Plan B" and to prepare for the unexpected.
It's also essential to stay abreast of changes in treatment recommendations and guidelines. She noted that her hospital recently developed policies for the therapeutic use of plasma from patients who have recovered from COVID-19.
"I think the biggest challenge is just how much is changing in literature from day to day, week to week," she said. "Everyone is really putting a focus on being up to date, and reading the literature, and being mindful of all of these practice changes."
Advocate Aurora Health operates 28 hospitals in Illinois and Wisconsin. The organization on May 5 reported 4,428 active cases of COVID-19, 733 inpatient cases, and 459 deaths, most of them in Illinois.
A total of 2,269 patients have been discharged from the health system's hospitals since the start of the pandemic. Starykowicz said the patient care team takes heart from those numbers.
"There are many success stories where we had patients that have done well with our management that have been transferred out of the ICU," she said. "We take those as wins."
For more information and free tools regarding the pandemic, including our latest Assessment of Evidence for COVID-19-Related Treatments, visit ASHP's COVID-19 Resource Center and the COVID-19 Community at ASHP Connect.
Posted May 6, 2020