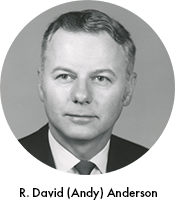 As ASHP Past President R. David "Andy" Anderson prepared for his 95th birthday this fall, he looked back on his career and the people who helped him along the way.
"My 65-plus years in hospital pharmacy, I should say, has been the greatest experience I could possibly ever have," Anderson said in advance of his Nov. 22 milestone birthday.
ASHP Chief Executive Officer Paul W. Abramowitz called Anderson "a truly exceptional individual and a treasured leader in hospital and health-system pharmacy."
"Andy has been and continues to be a mentor to a countless number of pharmacy professionals, and to this day he remains a strong advocate for the important roles pharmacists play as patient care providers," Abramowitz said. "To celebrate Andy's 95th birthday and to honor him for his many years of service to ASHP and our profession, the ASHP Foundation is launching a fundraising campaign that will be named in honor of Andy and his legacy of excellence and service, which continues to this day."
Anderson was an early proponent of the need for hospitals of all sizes to have a highly trained pharmacist on staff. He did his part by hiring Pharm.D.-level pharmacists to fill critical positions, overcoming pushback from hospital administrators.
"Many of them were telling me, 'Well I don't need a hospital pharmacist; a nurse can do it all,'" Anderson said. "I never felt that was satisfactory at all. So I kept after them."
Anderson is known for his pioneering work to make IV admixture and parenteral nutrition services essential components of hospital pharmacy — including at small facilities like Waynesboro Community Hospital in Virginia, where Anderson spent a dozen years before his retirement in 1988.
"We were doing the things that everybody should have been doing but weren't" at the time, Anderson recalled. "An awful lot of effort went into making lots and lots of changes for things that [pharmacy] had the responsibility for."
Retired ASHP vice president Charles E. Myers recalled that earlier in his career, when he was overseeing pharmacy residency programs at the Medical College of Virginia (MCV), he took residents on an annual excursion to Waynesboro Community Hospital to see Anderson's groundbreaking IV admixture operation.
"The rest of the world was talking about IV admixtures and unit dose," Myers said. "But Andy was doing it, and he was doing it in a little small place with very small staff." Myers said the residents were routinely stunned by the advanced pharmacy practices Anderson had developed at the community hospital.
Myers also recalled Anderson pushing the Joint Commission, back in the 1970s, to improve its then-"rudimentary" standard for pharmacy.
"Andy ... made it a point to get on an airplane, and go to Chicago, and meet with the chief executive officer of the Joint Commission to basically say to him, 'You need to do better.' And from that, there were improvements," Myers said.
Anderson was born in the coal mining town of Dante, Virginia, to Suda Lenora Ingram Anderson and Harvey Ellis Anderson.
As a teen, Anderson worked at the town's drugstore and soda fountain and took the pharmacist's advice to apply to the MCV School of Pharmacy in Richmond.
Anderson's studies were interrupted in 1944, when he was drafted into the U.S. Army and assigned to the 95th Infantry Division. He travelled in France, Luxemburg, Belgium, the Netherlands, and Germany, retuning to the United States when the war ended in Europe and receiving his bachelor's degree in pharmacy in 1947.
After graduating, Anderson was named staff pharmacist and assistant clinical professor of pharmacy at MCV Hospital. In 1951, he moved on to King's Daughters' Hospital in Staunton, Virginia, where he was the hospital's chief — and at the time the only — pharmacist. In 1955, he cofounded the Virginia Society of Hospital Pharmacists and was named the organization's first president.
While traveling to Ohio for an ASHP Institute — a precursor to today's Midyear Clinical Meeting and Exhibition — Anderson encountered hospital pharmacy pioneer Clifton J. Latiolais, director of pharmacy at Ohio State University Hospital in Columbus.
"He indicated to me that he was looking for an assistant director," Anderson said. That meeting eventually led to a job offer, with Anderson serving as assistant director of pharmacy and central supply services from 1960 to 1964.
"That was quite an experience. And I had no idea what I was doing" at first, Anderson recalled. He described his time in Ohio as an eye-opening adventure that showed him what pharmacy was capable of accomplishing.
He also came to appreciate the value of residency training for pharmacists, which blossomed at Ohio State under Latiolais. Anderson urged today's young pharmacists to pursue residency training.
"Find a good residency program ... and learn all you can," Anderson said. "There is nothing that you can do that is going to teach you as much as a residency program."
Anderson returned to Virginia in 1964 to take the position of pharmacy director at Waynesboro Community Hospital. Building on his work in Ohio, he developed Virginia's first comprehensive IV admixture program, the state's second unit dose drug distribution program, and the first clinical pharmacy program outside of a university hospital setting.
During his time at the hospital, Anderson was active in ASHP, serving as ASHP president (1971–72) — an honor he has said he'll be "forever grateful" for. Anderson was named the 1976 Harvey A.K. Whitney Lecture Award winner.
After retiring in 1988, Anderson became active in pharmacy consulting and global missionary work, traveling to Romania, Russia, Israel, and Egypt. His postretirement honors include a 2006 honorary doctoral degree from Shenandoah University in Winchester, Virginia. In 2016, Anderson was named a Fellow of ASHP and awarded an honorary lifetime membership.
Anderson's iconic Harvey A.K. Whitney Lecture Award address, The Peril of Deprofessionalization, warned against allowing pharmacy practice to be defined by its dispensing role. Instead, he stated, pharmacists should embrace the professional attributes embodied in "a systematic body of knowledge or theory, authority recognized by clients, broad community sanction of this authority, a regulative code of ethics, and a professional culture sustained by professional associations."
William A. Zellmer, 1996 Whitney Lecture Award recipient and former deputy executive vice president of ASHP, indicated that the 1976 address was just one example of his friend's persuasive voice.
"Andy's remarkable oratorical skill was frequently on display in his ASHP activities. With a commanding but relaxed presence, his poetic and emotional language, expressed in the distinctive voice of a Virginian, often moved an audience to action," Zellmer said.
William E. Smith, who led the pharmacy program at Long Beach Memorial Hospital in California for more than two decades, said Anderson is renowned for bringing out the best in those around him but minimizing his own accomplishments.
"He just downplays himself on what he's contributed to pharmacy and other people," Smith said.
He said Anderson was a major voice and force for pharmacy when he spoke at professional meetings.
"He would stand up on issues of importance or moral authority and in a tremendously articulate way speak to everybody in the room. And everybody listened," Smith said.
ASHP Past President Mick Hunt said that when he was starting out as a pharmacy director, he encountered Anderson at ASHP meetings during sessions on innovative pharmacy services presented by leaders at large hospitals. He said colleagues at smaller facilities wanted to duplicate those innovations.
"Enter Andy, who could give the perspective on how innovative services could be implemented in small hospitals," Hunt said. "To me, Andy's greatest contributions center on successfully implementing contemporary pharmacy services and convincing other small hospitals that they could achieve success as well — all done in a encouraging, confident, casual manner."
Stephen Allen, former chief executive officer of the ASHP Foundation, was a 24-year-old pharmacy school graduate working at Children's Hospital National Medical Center in Washington, D.C., when he first met Anderson in 1978. Allen called Anderson "the all-time most respected pharmacist I've encountered in my career."
"He liked what we were doing with our technician career ladder, and he invited me to the Virginia Society of Hospital Pharmacists to give my first professional presentation. He encouraged me at an impressionable time in my career, and we've been colleagues and buddies ever since," Allen said.
Allen, Hunt, Myers, Smith, and Zellmer are part of a group of ASHP past presidents, former ASHP staff, and Harvey A.K. Whitney Lecture Award winners who have maintained ties with Anderson and look forward to his birthday with fond anticipation.
"We're all excited about that because of the impact that Andy Anderson's had on all of us," Smith said.
Smith's professional relationship with Anderson began during Anderson's term as ASHP president. Their friendship solidified when Smith and his wife moved to Anderson's home state of Virginia in 1997 and began a tradition of visiting local wineries. The visits have become an important social outlet for Anderson and his friends, though the COVID-19 pandemic has affected the gatherings.
"Before this virus hit, we would get together and go spend the day visiting wineries or breweries and have dinner at Andy's favorite restaurant out in Waynesboro," Smith said. This year, he said, the friends switched to virtual gatherings on a variety of subjects.
He said the group has discussed favorite wines, beers, books, and travels. Pharmacy and politics are off-limits during the virtual events.
Smith's birthday message to Anderson captured the spirit of his circle of friends.
"Happy Birthday, Andy," he said. "Thank you for your friendship and encouragement over the past five decades."
[This news story appears in the December 15, 2020, issue of AJHP.]
Posted October 26, 2020