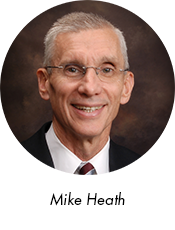 ASHP's special home for federal pharmacists at the Midyear Clinical Meeting and Exhibition will launch this year as the W. Mike Heath ASHP Federal Forum — a salute to the man who has long served as the heart of the annual event.
Heath, who served 31 years in the U.S. Army before retiring a decade ago with the rank of colonel, said he was surprised, honored, and humbled when he learned about the forum's renaming.
"For me, the success of the ASHP Federal Forum has always been the result of a team effort," Heath said. He credited the forum's success to the planning committee team and ASHP staff members who have orchestrated the event over the years.
"I share this recognition with all of them," Heath said.
ASHP Chief Executive Officer Paul W. Abramowitz called Heath "a longtime ASHP member, friend, and supporter."
"Mike is an inspirational leader who has had a positive influence on so many individuals, both inside and outside of the uniformed services. We are thankful for his many contributions to our country, ASHP, and pharmacy practice, and we are proud to have this important annual event that is dedicated to the individuals working in the federal services named in his honor."
Eric Maroyka, senior director of ASHP's Center on Pharmacy Practice Advancement and secretary of ASHP's Federal Pharmacy Consultants' Advisory Group, said the proposal to rename the forum was presented in May by U.S. Public Health Services Capt. Aaron Middlekauff and unanimously supported by the group's federal pharmacy chiefs. ASHP's Board of Directors later unanimously approved the recommendation.
"Colonel Heath has been the program manager and planner for the ASHP Federal Forum for over 10 years," Maroyka said. "He has always been a silent professional and mentor, giving of himself in service to others, and he always takes care of the people he works with."
The federal forum typically takes place Sunday at the Midyear and starts with a presentation of colors followed by a keynote address and educational sessions geared toward the needs of federal pharmacy professionals.
Reflecting on past forums, Heath said one of the most personally moving keynotes was delivered in 2009 by U.S. Army Capt. Samuel Brown, who was seriously injured by an improvised explosive device in September 2008 while deployed in Afghanistan. The theme for the 2009 forum was "Treating the wounds of war — excellence in pharmaceutical care for America's heroes."
"Sam's address ... was captivating and emotional. He spoke of his military service and the care that he had been receiving that will continue for many years to come," Heath recalled. "Sam's presentation that day brought it all home to everyone in attendance of the importance in providing the best patient care possible to those serving our country who put their lives on the line and serve in harm's way."
The forum has evolved over the years, including the 2014 inauguration of the Meet the Researcher poster session, which Heath said has become an annual highlight.
"These professional posters document exceptional research activities and positive clinical patient outcomes by federal pharmacists," Heath said.
This year's live poster session takes place virtually Dec. 6 and will feature presentations on a variety of clinical, leadership, and educational topics. Other portions of the W. Mike Heath ASHP Federal Forum will be presented in a prerecorded online home study format.
Heath is the chair of this year's forum.
Heath said the best part of being a federal pharmacist was working with civilian and uniformed colleagues in the Army, Navy, Air Force, Coast Guard, Public Health Service, and Department of Veterans Affairs.
"The opportunity to serve my country and also practice my profession in providing care to soldiers, their family members, and all patients, was truly the greatest honor and privilege of my life," he said.
Visit ASHP's 2020 Midyear session schedule to find out more about the W. Mike Heath ASHP Federal Forum and the full roster of educational sessions and special events.
Posted November 3, 2020