 Over the eight months that north Texans have been coping with the COVID-19 pandemic, healthcare systems in Dallas and the surrounding region have seen an ebb and flow of patient surges, but despite ever-changing patterns, the pharmacy department at Baylor, Scott & White Health has been prepared.
Recent weeks have seen Dallas County break new records for COVID-19 cases, resulting in new peaks in patient volume within the 52-hospital system, which has a flagship academic medical center in Dallas and is the largest nonprofit health system in Texas.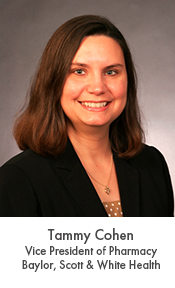 "We did have a peak in July and then saw a downward trend, then in the last several weeks we have seen an increase again in patients," said Tammy Cohen, vice president of pharmacy at BSW. "We definitely have lessons learned from the first few times going through the process."
Communication has been key to managing the pandemic within the pharmacy department, especially when COVID-19 treatments are extremely new, Cohen said. The senior pharmacy team meets regularly to talk through supply, operation, policy, and procedures, the latter of which have changed with conditions.
"We've refined our processes and communication. A lot of information is in the news and is being published in different places and if we can get the most current information out, we align not only our clinicians, but our operations team and our safety team, and everybody is moving in the same direction with validated information — to the degree that we can have it validated as it's coming out so quickly," she said.
Focus has also centered on ensuring appropriate staffing levels and making medications available to all who need them. This is done by identifying and regularly tracking key medications and appropriate alternatives for patients with COVID-19.
"Texas as a whole has seen an increase in cases so we want to make sure we're prepared, although not over-prepared because we know other parts of the country are in need as well," Cohen said. "Not hoarding, but not short — it's a constant balance."
Like other pharmacy leaders, Cohen had never experienced anything like what she and the pharmacy staff were going through. Early on, they observed how their peers in hard-hit areas such as New York were dealing with the pandemic.
"We were trying to prepare ourselves for what we didn't know was coming," Cohen said. "The anxiety of the unknown kept the team focused. We learned as much as we could from those hot spots to ensure we were on the right path because there was no playbook for this."
With staff on the front lines of the COVID-19 pandemic, well-being was also a concern.
"Throughout the entire pandemic, our teams have clearly experienced stress — a global pandemic will do that," Cohen said. "We are very fortunate in our organization in that employee well-being is extremely important and it starts at the very top."
Staff are frequently reminded about internal well-being resources and encouraged to take time away, she said.
Pharmacists and pharmacy technicians at BSW have also played a role in clinical trials, supporting studies across the system that are underway for COVID-19, including trials involving remdesivir inhalation solution.
The staff is also preparing to take a major role with the expected COVID-19 vaccine rollout now that pharmaceutical companies have reported promising results from clinical trials and at least one company has filed for emergency use authorization.
Cohen is leading the BSW vaccine preparedness effort, which consists of a multidisciplinary steering committee as well as a series of subcommittees including pharmacy. There are a number of considerations, guidelines, recommendations, and logistical questions that BSW and other health systems across the country are managing.
"We have to work through the storage, how we get it from the freezer to the patient, and all of those components," she said. "Another issue is how employees will be vaccinated. We're also working on putting together operational processes in place to deal with the unique factor of lots of people getting a vaccine that requires two doses."
As they learn more about vaccine candidates that are being produced, many healthcare workers have a sense of hope knowing that vaccines are coming soon, Cohen said.
"Of course, healthcare providers come with a solid science background so we want to make sure that it's safe, not just fast. Once we overcome that safety component, I think a lot of healthcare providers will breathe a sigh of relief and be excited about the vaccines coming. I think as a country, as a globe, we are ready to move past the COVID-19 time period."
Posted December 8, 2020