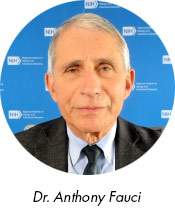 Dr. Anthony S. Fauci told Midyear attendees that the advent of effective COVID-19 vaccines is "spectacularly good news," but he cautioned that the pandemic's grim public health toll will accelerate before vaccines become widely available.
The long-time director of the National Institute of Allergy and Infectious Diseases (NIAID) — and featured speaker for the special Midyear session Wednesday Wisdom with Anthony Fauci — said he expects "a long, cold winter" of COVID-19. He said exposures during recent Thanksgiving gatherings and upcoming December celebrations are likely to further fuel an already explosive rise in infections.
"We already are in a substantial surge with an inflection that's very steep," he said. "We in the public health sector have warned people, if at all possible, to forestall and cancel travel. Yet when you look at the people at the airports, we've had record numbers of people traveling. ... They travel for the holidays, visit friends, visit family — those kind of things that are a perfect setup for the acquisition of and the spread of infection."
Cumulative U.S. COVID-19 cases neared 15 million on the Midyear's Dec. 6 opening day, with more than 280,000 deaths reported since the start of the pandemic. The month has brought sobering new records, with new daily case counts topping 200,000 and more than 100,000 people in the United States hospitalized for COVID-19.
"Unfortunately for us in the United States, we've been hit the hardest of any other country," Fauci said.
Fauci started his career at NIAID in 1968 and was named director in 1984, in the early years of the HIV epidemic. He said SARS-CoV-2 resembles HIV in that both viruses spawned global public health crises. But while HIV has taken nearly 40 years to exact its toll — more than 30 million deaths worldwide and nearly 40 million living with HIV — the highly infectious coronavirus has spread illness and death globally in less than a year.
"January 21 was the first recognized [COVID-19] case in the United States. And in a matter of months, it had immobilized the entire world," Fauci said. Not since the 1918 flu pandemic, he said, has an infectious disease left the nation "gripped with fear and concern and record-breaking numbers of deaths and hospitalizations."
Fauci said there's been some good news on the therapeutic front about drugs like dexamethasone and remdesivir for the treatment of advanced COVID-19 illness. And other drugs are under investigation.
"We're testing the monoclonal antibodies, the convalescent plasma, and some of the antivirals," Fauci said. He added that initial results from COVID-19 vaccine trials have exceeded "even our best expectations."
He said buy-in from pharmacists and pharmacies will be critical to successfully and equitably distribute vaccines when they are available.
Fauci's own connection to pharmacy dates to his boyhood, when he helped his father at Fauci Pharmacy in Brooklyn, New York.
"I used to take my Schwinn bike, with its little basket on it, and deliver the prescriptions and other pharmacy items to the customers in the neighborhood where my father's pharmacy was," he said. "I got my first exposure to the field of medicine and illness and people requiring medications. That likely had some impact on my thoughts about what I wanted to do with myself."
Fauci said pharmacists and their fellow frontline healthcare providers have been an essential component of addressing the pandemic. And he said he's buoyed by the work of these "heroes ... who put themselves at risk to their own health and safety to take care of people."
As the crisis continues, basic prevention steps — wearing a mask, physical distancing and avoiding crowds, and hand hygiene — are as important now as ever.
"The public health message is that we are all in this together," Fauci said. "What you want to be is a dead end for the virus. You don't want to be a vehicle that the virus uses to spread to someone else."
For more information and free tools regarding the pandemic, including the Assessment of Evidence for COVID-19-Related Treatments, visit ASHP's COVID-19 Resource Center and the COVID-19 Community at ASHP Connect.
Posted December 9, 2020