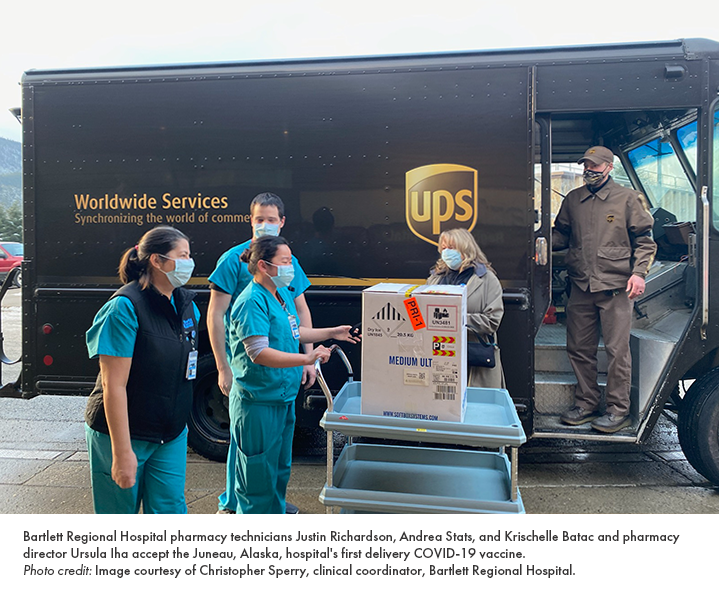 Vaccine's Arrival Cheers Hospital Staff
In a modern-day sequel to the 1925 diphtheria serum run to Nome, Alaska, UPS and Alaska Airlines stood in for sled dog relays to provide Bartlett Regional Hospital in Juneau its first doses of COVID-19 vaccine.
"We had doses in arms within two hours of when it landed in Juneau," said Ursula Iha, director of pharmacy at the 57-bed hospital. "I think everybody who was [onsite] yesterday who wanted one, got one."
The Dec. 15 delivery of BNT162b2, an investigational mRNA COVID-19 vaccine from Pfizer Inc. and BioNTech SE, is a bright spot in an otherwise brutal year for the pharmacists and other healthcare workers on the pandemic's front lines.
Iha said a group gathered around the infection prevention specialist who was the first staff member to be vaccinated.
"She was crying a little bit. It was so emotional; it was so exciting that hopefully there's a turn in the phase in the pandemic," said Iha, who was also vaccinated Dec. 15.
The hospital was allotted about 500 doses from the 975-dose tray, with the remainder earmarked for local long-term care facilities and first responders, Iha said. She noted that hospital has an ultralow freezer that serves as a vaccine storage "mini-depot" for doses allocated elsewhere.
Iha said news of the vaccine's imminent arrival came from a colleague who was dropping off a family member at the local airport and obtained the flight information for the vaccine shipment. That prompted Ita and two colleagues go to the airport so they could watch the plane land.
"We wanted ... to see this historic moment," she said.
The hospital began planning weeks ago for the complexities of handling COVID-19 vaccines. Once the emergency use authorization (EUA) for BNT162b2 was finalized, pharmacy technicians documented the procedure for safely storing, preparing, and administering the vaccine as described in the EUA.
Iha said the pharmacy team's biggest challenge is coordinating the timing of vaccine preparation, which is done in the pharmacy cleanroom, and getting those doses to the point of dispensing for immediate administration by nurses.
She said the hospital expects to be sent another tray of the vaccine in time for staff to receive the second dose of the two-dose schedule.
Other than very mild arm soreness, Iha felt no ill effects after being vaccinated. But the hospital has reported two instances of adverse reactions that occurred during the required postvaccination observation period.
One healthcare worker "showed signs of an anaphylactic reaction, with increased heartbeat, shortness of breath and skin rash and redness" 10 minutes after being vaccinated, the hospital announced. "She was given epinephrine and Benadryl, admitted to the hospital, and put on an intravenous epinephrine drip."
The statement called the reaction "serious but not life threatening" and also noted that the staff member, who is recovering, had "no known previous allergies or adverse reactions to vaccines."
A second staff member reported eye puffiness, lightheadedness, and scratchy throat 10 minutes after being vaccinated and was treated with epinephrine, famotidine, and diphenhydramine. The reaction was not considered anaphylactic, according to the hospital.
"I think it is very important that we continue to monitor adverse events, especially during this initial phase," Iha said. She emphasized that no one is being pressured to get vaccinated.
Overall, she said, staff members seem to be relieved that vaccine is available.
"We still are facing a lot of illness and a road to dealing with this pandemic. But I think at least now, there is the vaccine to help protect us frontline workers," she said.
COVID-19 case counts have been on a sharp upward trajectory since fall in Alaska and elsewhere in the country, and experts predict that the worst days lie ahead. Iha said the hospital's infection prevention specialist cautioned her colleagues to continue wearing masks and limiting exposure to the SARS-CoV-2 virus.
"We're in the darkest part of the winter, but the light is coming. And maybe we can have mask-burning parties for summer solstice — but not quite yet," Iha said.
For more information and free tools regarding the pandemic, including the Assessment of Evidence for COVID-19-Related Treatments, visit ASHP's COVID-19 Resource Center and the COVID-19 Community at ASHP Connect.
Posted December 18, 2020