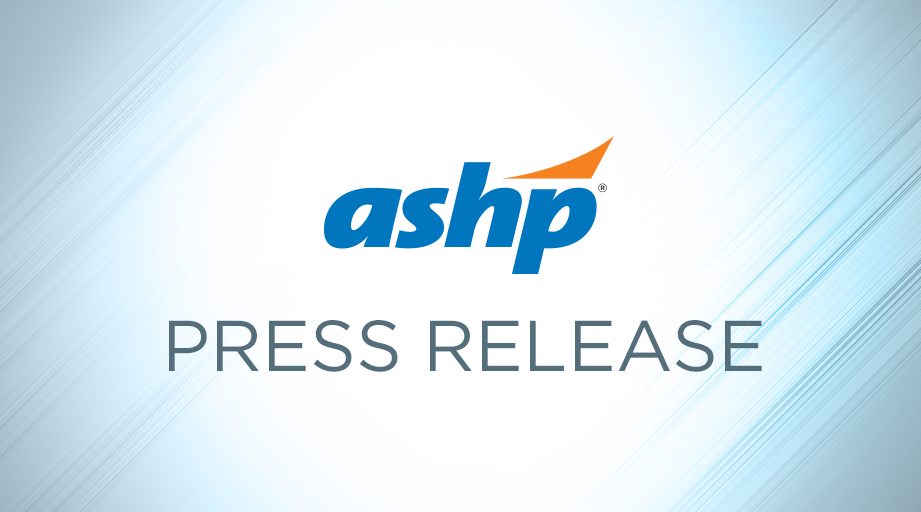 Pharmacy Departments and Student Pharmacists Have Pivotal Role in Vaccinations
ASHP (American Society of Health-System Pharmacists) is calling on President-elect Joseph R. Biden to activate federal resources, including the Department of Defense, the Public Health Service Commissioned Corps, and the Federal Emergency Management Agency (FEMA), to operate mass vaccination sites to supplement COVID-19 vaccination efforts already underway at hospitals and community pharmacies.
In a letter sent today and joined by more than 50 health systems and provider organizations , the professional organization representing nearly 58,000 pharmacists, pharmacy technicians, and student pharmacists, told incoming administration officials that effective deployment of federal resources is critical to meet the president-elect's goal of vaccinating 100 million people during his first 100 days in office.
"The slow ramp up in vaccinations has demonstrated that using federal organizations to operate mass vaccination sites, in addition to vaccination efforts at hospitals and community pharmacies, will be necessary to ensure that anyone who wants the vaccine can get it, as doses become available," said ASHP CEO Paul W. Abramowitz, Pharm.D., Sc.D. (Hon.), FASHP.
ASHP also urged the Biden team to expand the vaccinator workforce by utilizing pharmacy, nursing, and medical students and retired healthcare workers who are trained and willing to support the vaccination effort.
Pharmacists, pharmacy technicians, and student pharmacists are already playing pivotal roles in administering COVID-19 vaccines through health systems, pharmacies, long-term care facilities, health departments, and on college campuses around the country, according to two surveys ASHP conducted in late December.
Health-system pharmacists and other pharmacy staff responding to a member survey reported that the pharmacy departments' roles in vaccination include overseeing receipt, storage, and handling of vaccines (88%); overseeing coordination and administration of the vaccine to staff (54%); and monitoring adverse events and submitting Vaccine Adverse Event Reporting System reports (41%). Hospitals are looking to the pharmacy workforce to expand their pool of immunizers, with nearly 40% of respondents reporting vaccine administration as one of their primary roles during the vaccine rollout. In more than a third of facilities, the pharmacy is involved in decisions about who is prioritized for vaccination, serving as a hub for vaccine distribution to other locations in the state or health system (30%), and data entry into immunization databases (27%).
"Leveraging a highly qualified and empowered pharmacy workforce in all care settings is a vital step to expanding patient access to the COVID-19 vaccine, " said Abramowitz. "Pharmacists, pharmacy technicians, and student pharmacists serve as knowledgeable and accessible immunization providers in their communities, successfully collaborating with public health officials and other providers to ensure that there is broad protection from worsening and future outbreaks of the disease."
Health-system pharmacists are very willing to be vaccinated. Nearly 90% of pharmacists indicated they had either already been vaccinated (32%) or would be vaccinated as soon as its available (56%), while 11% indicated they would defer vaccinations to a later time, and only 1% indicated they did not intend to receive a vaccine.
Pharmacy staff have been prioritized for vaccinations at many facilities due to their role in administering vaccinations and patient care. ASHP members indicated that all pharmacy staff are prioritized for immediate vaccination at 19% of facilities represented, while some pharmacy staff have been prioritized at half of the facilities, with early vaccination slots going to pharmacy staff working in direct COVID-19 patient care areas (90%), working in direct non-COVID-19 patient care areas (50%), and those administering vaccines (32%).
Efforts expand to pharmacy learners with schools and colleges of pharmacy significantly involved in the distribution of the vaccine. In a survey of the deans of schools and colleges of pharmacy, all of the 42 responding schools and colleges of pharmacy indicated they have been asked to provide student pharmacists as volunteers for COVID-19 immunizations. Students are being tapped to assist local health systems (55% of deans reported), community pharmacies (14%), health departments, including support for rural vaccination efforts (17%), long-term care facilities (5%), and in campus immunization efforts (29%).
The responding schools reported that at least half of their student pharmacists are certified immunizers, and 62% indicated that at least three-quarters of their pharmacy students also meet additional criteria established by the Department of Health and Human Services to administer COVID-19 immunizations.
To accommodate increasing demand for student volunteers, some schools and colleges of pharmacy have designed a centralized process to prioritize requests, established guidelines for outside partners requesting student support, and developed specialized rotations around vaccination efforts.
For more information about ASHP's pharmacy survey findings, vaccine rollout recommendations and resources, visit ASHP's COVID-19 Resource Center.
# # #
About ASHP
ASHP represents pharmacists who serve as patient care providers in acute and ambulatory settings. The organization's nearly 58,000 members include pharmacists, student pharmacists, and pharmacy technicians. For 79 years, ASHP has been at the forefront of efforts to improve medication use and enhance patient safety. For more information about the wide array of ASHP activities and the many ways in which pharmacists advance healthcare, visit ASHP's website, ashp.org, or its consumer website, SafeMedication.com.
Posted January 19, 2021