 The Illinois Council of Health-System Pharmacists (ICHP) and the Michigan Pharmacists Association (MPA) greeted 2021 with new executive leadership, as ICHP welcomed Christopher Crank as executive vice president (EVP) Jan. 1 and Mark Glasper officially became chief executive officer (CEO) of MPA Jan. 18.
"On behalf of ASHP, I would like to congratulate Chris and Mark and welcome them to the family of ASHP state affiliates that exist in every state, the District of Columbia, and Puerto Rico," said ASHP CEO Paul W. Abramowitz.
"We have had long-standing and highly productive relationships with ICHP, MPA, and MPA's practice section, the Michigan Society of Health-System Pharmacists," Abramowitz added. "We look forward to continuing to foster and grow these strong bonds and history of collaboration as Chris and Mark assume their respective leadership roles. I have had the pleasure of meeting both Chris and Mark, and I am confident that they will be exceptional partners in our combined efforts to advance patient care and pharmacy practice."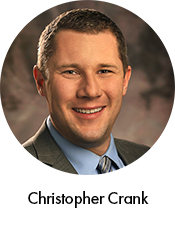 Crank became EVP designee in August, succeeding retiring EVP Scott Meyers.
"My goal is to have an impact," Crank said. "I want to make a difference. And I look forward to working with all the other state affiliate leaders as well as continuing to work with ASHP."
As EVP designee, Crank introduced himself to ICHP's membership and promoted the well-being and resilience of pharmacists — a critical issue as the state grapples with the COVID-19 pandemic and vaccine rollout.
"It's hard," Crank said. "Healthcare workers are struggling right now."
In addition to the pandemic, he said some of ICHP's greatest challenges in the months ahead involve retail pharmacy operations, such as contract limitations imposed by pharmacy benefit managers (PBMs), threats to the federal 340B Drug Pricing Program, and outdated reimbursement models.
"We have a fair number of hospitals that have retail pharmacies," Crank noted. "We're paid for product, not for service. So I think that's something that all the states are going to have to overcome; we need to be paid for what we do, not the product."
Crank received a master's degree in health systems management from Rush University in Illinois and earned a Pharm.D. from the University of Iowa College of Pharmacy. Before coming to ICHP, he served six years as director of pharmacy services at Rush Copley Medical Center in Aurora. Previously, he served three years as associate director of clinical pharmacy services at Rush University Medical Center.
Crank became an ICHP member in 2006 and proved to be an enthusiastic supporter of the organization's advocacy efforts. He was a member of ICHP's Government Affairs Division, whose work he described as "looking at proposed legislation, rule changes, what's going on in the state of Illinois, and how it's going to impact pharmacy."
Crank was later named director of the division. He also served a term as ICHP treasurer.
He represented Illinois in ASHP's House of Delegates during 2019–20.
Crank said his involvement in ICHP has fostered a great relationship with the organization and allowed him to network and share ideas with pharmacy colleagues throughout the state.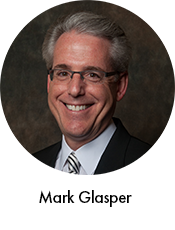 He said he also looks forward to representing ICHP on the Board of Governors for the Pharmacy Technician Certification Board (PTCB), where he joins MPA's Glasper, ASHP CEO Paul W. Abramowitz, PTCB CEO William Schimmel, and the executives from the American Pharmacists Association and the National Association of Boards of Pharmacy.
Glasper was similarly enthusiastic about joining with PTCB's leadership as part of his new role at MPA.
"MPA is one of the founding fathers of the pharmacy technician movement," he said. "I'm honored to carry on the tradition of growing and sustaining PTCB for generations to come."
Glasper, who succeeds retiring CEO Larry Wagenknecht, has a long career as a leader in association management. He comes to MPA from the Kentucky Pharmacists Association, where he served three years as executive director and CEO. Under Glasper's leadership, the organization successfully advocated to reform PBM practices in the state's Medicaid program.
Glasper is a graduate of Ohio State University. His previous leadership roles include serving as executive director of the Opticians Association of Ohio and the Ohio Society of Association Executives. He said his work at these and other professional associations has led him to appreciate and admire each group's members.
"They are passionate about the work they do, including those who take on volunteer roles with the association," Glasper said. "Pharmacy is that way too. I'm in awe of what pharmacists do on a daily basis to serve their patients and their communities."
Glasper named scope of practice expansion and PBM reform as two key advocacy issues for MPA. He lauded a Dec. 10 Supreme Court decision that essentially bars PBMs from reimbursing Arkansas pharmacies for generic drugs at a rate below the product's wholesale cost. This action, he said, creates an advocacy opening for other states to reform a PBM practice that adversely affects pharmacies.
"Legislative and regulatory issues will always be at the forefront of challenges for the profession. That's why we focus our efforts to address PBM reform and reimbursement for pharmacist services. As a critical member of the healthcare team, pharmacists need to be treated fairly and compensated justly for the work they do," he said.
Glasper said he was drawn to MPA because it is well-respected, thanks to Wagenknecht's leadership, the engagement of the organization's Executive Board, and the work of dedicated volunteers and members.
"Nothing is more important to an incoming association executive than to have members who understand the importance of having a member-driven organization," he said.
Glasper noted that MPA represents all pharmacy settings in the state and is poised to efficiently advocate for its membership on issues that affect their practice.
"MPA is up for the fight. We will be a champion for pharmacy in Michigan as well as a partner to all of the national pharmacy associations, including ASHP, as they fight for pharmacy issues at the federal level," he said.
[This news story will appear in an upcoming issue of AJHP.]
Posted January 22, 2021