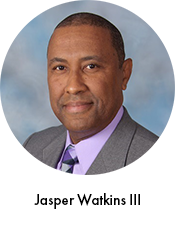 Retired U.S. Army pharmacist Jasper Watkins III started a new chapter in his life Dec. 23, 2020, when he was sworn in as commissioner for Gwinnett County, Georgia, representing District 3 as a Democrat.
Watkins, a nuclear-trained pharmacist, served 25 years in the Army before retiring as a lieutenant colonel and settling in Grayson, Georgia.
After a lifetime of moving from place to place, he embraced the opportunity to engage with his new community. He joined local civics organizations and was active in the American Legion and the Veterans of Foreign Wars.
"I said to myself, ... I need to be more involved into what goes on day to day. Because now this is my new life," he said.
During his run for office, he worked with a small group of friends and focused on securing grassroots support. And he fell back on his perspective as a pharmacist to reframe local issues and connect with community members.
"I told people that Gwinnett County was a prescription. And as a pharmacist, I had to fill it. And I needed to make sure that the 'five rights' were in place," Watkins said, referring to the concept that the right patient must receive the right drug, at the right dose, via the right route, at the right time.
"I equated each of the five rights with what I needed to do with the community," Watkins explained.
For example, he said the right drug corresponded to the right economic development, and the right route related to transportation infrastructure.
The right time referred to the need to address social justice issues like healthcare reform and access to care — components of what Watkins called "the big elephant in the room" of racial inequity and distrust.
"These are the right times for these things to come about," he said. "You can only sit around and see things not right for just so long."
Watkins said that as a Black man with experience in the military, the pharmacy profession, his church, and local civics organizations, he has his feet in multiple worlds with different degrees of diversity. He said his background as a military officer — and especially a pharmacist — helps him connect with his community.
"When they would find out that I'm a pharmacist, a registered pharmacist, their demeanor — the way they approached me — would change. It was more of a trusting type of relationship, a bond," he said.
Watkins' ties to ASHP go back decades and include a year as the organization's first patient safety officer in residence, the result of a joint collaboration between ASHP and the Army.
He also has ties to his chosen home state. He was pharmacy director for Benning Martin Army Community Hospital in Ft. Benning, Georgia, where he led pharmacy services and medical resupply for New Orleans in the immediate aftermath of Hurricane Katrina.
Watkins ran unsuccessfully for district commissioner in 2016. That narrow loss taught him the importance of going out into the community to meet people and develop grassroots support.
"Even though I lived in the county, I was unknown to most people," Watkins said of his first campaign.
The five-member Board of Commissioners has full legislative and executive authority over its jurisdiction within the bounds of state and federal law.
"We're kind of the backbone of the county," Watkins said. "We control taxes, how taxes are levied. We manage and control the budget. We are in charge of the infrastructure. We're in charge of economic development, public safety. We actually control how voting is determined in the county, the aspect of where people can vote. And we control land development, so, zoning."
Watkins said he's excited about being an accessible servant leader who listens to the concerns of his community and works to make things better.
"I can be the change," he said.
[This news story appears in the May 1, 2021, issue of AJHP.]
Posted February 11, 2021