 The American College of Healthcare Executives recently named Taking Action Against Clinician Burnout: A Systems Approach to Professional Well-Being as the recipient of the American College of Healthcare Executives' prestigious James A. Hamilton Book of the Year Award.
The consensus report was produced through the work of National Academy of Medicine's (NAM) Action Collaborative on Clinician Well-Being and Resilience and includes system-level goals and recommendations to help healthcare organizations reduce burnout within their workforce. ASHP, which has been a formal sponsor and member of the action collaborative since 2017, nominated M. Lynn Crismon, Behrens Centennial Professor of Pharmacy and immediate past dean of the University of Texas at Austin College of Pharmacy and professor of psychiatry at the University of Texas Dell Medical School, to serve on the NAM committee that developed the award-winning report.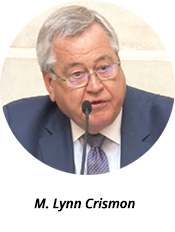 "I think that we were all very surprised and excited that what we considered to be a very important piece of work was receiving recognition by a national organization like the American College of Healthcare Executives," said Crismon, the only pharmacist on the committee. "If [they] feel like this book merits their outstanding healthcare Book of the Year Award, that means they are really taking the recommendations seriously to heart and hopefully they're committed to change. Unless change begins at the top of an organization with the C Suite and the board of trustees, it's not likely to be taken seriously, and it's not likely to get the resources that need to be invested in order to make the positive changes that we need going forward so that we can achieve a quadruple aim of improving care, decreasing costs, improving population health and improving clinician well-being."
The publication was released by the National Academies of Sciences, Engineering, and Medicine in 2019 after completion of an intense 11-month consensus study examining scientific evidence regarding the causes of clinician burnout, the consequences of burnout for clinicians and patients, and interventions to support clinician well-being and resilience. Crismon said he was thankful to ASHP for the committee nomination and called it "an honor to serve in this capacity."
Looking back on the committee's findings, Crismon said one aspect of the report that is significant for the pharmacy profession is that it places a strong emphasis on interprofessional collaboration, which leads to improved patient care and clinician well-being as well as better communications among healthcare workers. In addition, clinician engagement was addressed as an important contributor to well-being.
"There was a huge emphasis in the consensus report on really getting clinicians actively involved in the development of policies and procedures in terms of the way they perform their work," he said. "It's much more effective to empower clinicians to develop policies that they will follow than it is to dictate those policies to them."
The COVID-19 pandemic has brought burnout concerns into focus, as healthcare professionals nationwide have been on the front lines of the COVID-19 response. Using the adage, "never let a good crisis go to waste," Crismon said he hopes this crisis will lead to improvements in the delivery of healthcare and clinician well-being.
"COVID very dramatically brought all the flaws and the problems and challenges in U.S. healthcare to the surface and made them very clear," Crismon said. "Many people including myself are hoping we've learned from the COVID experience and hope that in the post-COVID period it will lead to healthcare redesign in terms of more efficient healthcare systems."
Earlier this month, NAM announced a two-year extension of the action collaborative and ASHP affirmed its commitment as a formal sponsor.
Stay tuned for a conversation with Crismon on the ASHPOfficial podcast.
For resources on well-being, resilience, and avoiding burnout, please visit wellbeing.ashp.org. A recent ASHPOfficial podcast discusses actionable steps to advance workforce well-being and resilient organizations. Additionally, the ASHP COVID-19 Resource Center has a dedicated webpage with tips for workforce safety and well-being during the pandemic. ASHP members can access the Headspace meditation and mindfulness app for free. Visit the ASHP Be Kind to Your Mind webpage for more information.
Posted February 22, 2021