 Texas Freeze Brings Unexpected COVID-19 Vaccination Challenges
The mid-February deep freeze that caused power outages throughout Texas left Memorial Hermann Health System with an urgent need to get doses of COVID-19 vaccine into peoples' arms before the product expired.
"We had to vaccinate because the vials were open," said Binita Patel, vice president of pharmacy services for the Houston-area health system. "Once they're out of the refrigerator, for Pfizer's vaccine, you only have five days, so you can't wait."
As a state-designated COVID-19 vaccine hub — one of six in Harris County — Memorial Hermann Memorial City Medical Center receives a substantial share of available vaccine each week.
Hub sites serve locales and populations that have suffered the most from COVID-19. The sites quickly burn through vaccine by operating large-scale vaccination clinics.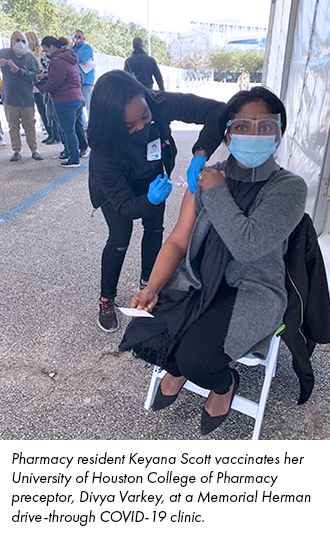 "There is an expectation that the hub will receive weekly allocations," Patel said. "That's why Texas only has 85 hubs. Because they can guarantee that those hubs will get allocations to be able to then manage the clinics every week."
Patel said the health system operates eight hospital-based occupational health COVID-19 vaccination sites, three ambulatory clinic sites, and three mass vaccination drive-through sites. Through March 15, the organization had administered 237,102 doses to 145,735 staff and local residents.
The freeze left parts of the health system without water or power for four days amidst the ongoing COVID-19 vaccination campaign.
"It was a disaster," said Paulette Bickham, system director of pharmacy operations. "We'd just had three days of a lot of patients. We had just finished our mass vaccination event that Sunday. And the power and stuff started going out Monday."
Memorial Herman Health System delivers care at more than 270 sites in southeast Texas, including 17 hospitals in the Houston area. In addition to the power outages, the lack of running water at some sites was a serious problem.
"It was like camping without the gear," Patel said. "There wasn't running water in two of our major counties, which meant that we also got support from the counties to deliver water. We needed it for hand washing, hand hygiene, to use the toilets."
Although the emergency prompted the state to pause COVID-19 vaccine distribution, one allocation arrived during the power outage. That contributed to a supply that briefly exceeded the clinics' capacity to vaccinate.
Patel said the organization quickly launched a "share the hub" campaign for employees to identify and recruit family members and friends who met the state's vaccination eligibility criteria. That effort helped use up vaccine doses that might otherwise have expired.
Bickham said that despite the hardships in the community — her own home was 27°F inside — people remained determined to get vaccinated.
"For those days that the power was out, we'd had vaccination clinics set up; people registered and showed up," Bickham said. "We were able to get everybody rescheduled for the end of the week so that they could get their vaccine, and as soon as we opened back up everybody was there waiting."
Patel said the COVID-19 vaccination campaign targets about 20 Houston-area ZIP codes representing communities that are underserved or hard-hit by COVID-19.
"We're partnering with the federally qualified health centers, along with key civics leaders in the community, to then bring those patients into what we call our neighborhood clinics," Patel said. The outreach includes multilingual education and targeted marketing to help reach vulnerable people, including those who are hesitant to be vaccinated.
She noted that pharmacy and physician staff work together to lead the vaccination endeavor. The pharmacy department's responsibilities include inventory management, staffing, operations, external communications with the state, and internal communications with the organization's executives.
Patel and Bickham agreed that the health system's ability to vaccinate large numbers of people in a short time has been the most notable success of the overall COVID-19 vaccination effort. The first mass vaccination clinic was held at a stadium in January.
"We vaccinated 16,000 people in four days," Patel recalled.
The drive-through clinics have been especially popular with the community. Patel said Memorial Hermann announces these events to the public, focusing on people age 65 years or older. Eligible community members set up an appointment time online; once onsite, they check in, confirm their registration, and drive inside the vaccination tent. They remain in their care while being vaccinated and during the postvaccination monitoring period.
"Everyone is comfortable; they're in their cars, and they get through very quickly," Bickham said. "Most people, even with the 15-minute monitoring time, they're through in less than 30 minutes."
She said clinicians walk around the observation area and attend to anyone who becomes ill and needs help.
"If the adverse event is something more than what they think they can handle, then we do have an ambulance and things like that onsite," Bickham said.
Pharmacists, she said, have been integral to the success of the vaccination clinics.
"Our pharmacists ... have been vaccinators, they've drawn up vaccines for vaccinating patients. We're observing patients. So we work in pretty much every area," Bickham said.
In addition to having firsthand experience with the COVID-19 pandemic and the recent Texas weather disaster, Bickham is a veteran of Hurricane Katrina in New Orleans. She said she's impressed by the resilience and dedication of the clinicians who put their patients first in desperate times.
"Everybody is totally engaged, everybody is totally on board, everybody is going the extra mile, even though their homes may be damaged," Bickham said. "One of my pharmacy leads here today, she had $100,000 worth of damage in her home. But she's here today. ... And I could not make her go home."
She said she's proud of the pharmacy team and the lead role her colleagues have taken in the vaccination campaign and the overall pandemic response.
"We are working in our wheelhouse. This is what we do," she said. "We're here for the community, and we'll see it through until everybody's vaccinated."
For more information and free tools regarding the pandemic, including the Assessment of Evidence for COVID-19-Related Treatments and patient-level COVID-19 vaccine monographs in English and Spanish., visit ASHP's COVID-19 Resource Center and the COVID-19 Community at ASHP Connect.
[This news story will appear in an upcoming issue of AJHP.]
Posted March 16, 2021