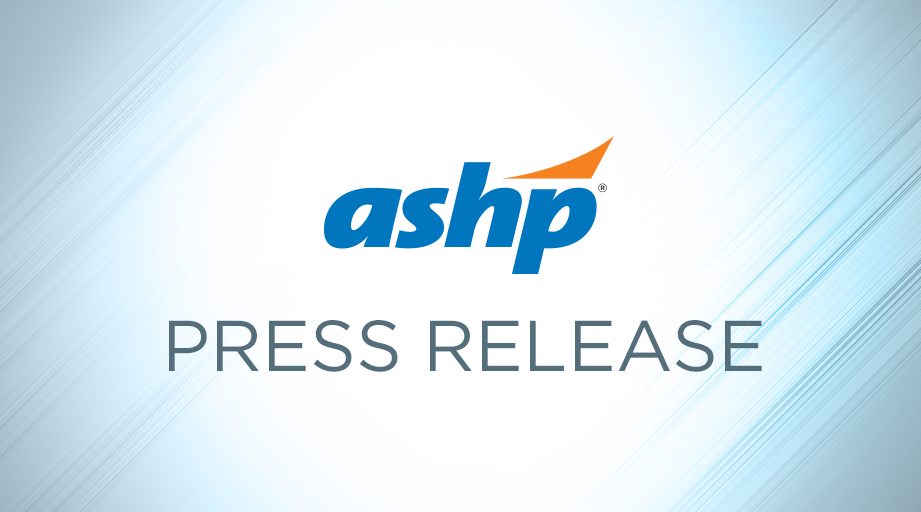 As the number of authorized COVID-19 vaccines expands and vaccine supply availability increases, mass immunization efforts offer promise in expanding vaccination capacity and increasing vaccination rates — a critical step toward ending the COVID-19 global pandemic. ASHP (American Society of Health-System Pharmacists) today published a new resource that outlines the essential elements of successful mass immunization programs and emphasizes evidence-based and best practices in the safe handling and preparation of vaccines for mass administration.
"We must establish a broad network of mass immunization programs alongside conventional immunization sites to help achieve rapid COVID-19 immunity," said ASHP Chief Executive Officer Paul W. Abramowitz, Pharm.D., Sc.D. (Hon.), FASHP. "Hospital and health-system pharmacists have gathered immense insights into what is required as we advance mass COVID-19 immunization efforts across the country. In addition, pharmacists have a deep understanding and expertise regarding the therapeutics, handling, preparation, distribution, and monitoring of all vaccines, drugs, and biologics. This tool uses those insights, experiences, and expertise to offer a clear framework to help communities marshal the necessary resources to establish and successfully run mass immunization programs. These pharmacy leaders and health-system pharmacy departments stand ready to contribute their expertise and leadership to all aspects of safe, effective, equitable and efficient COVID-19 vaccine use. "
Drawing from the experiences of health-system pharmacy leaders from across the country who each have coordinated vaccination sites responsible for the administration of up to 10,000 vaccines a day, ASHP recommends the following as essential elements of a safe, effective, and efficient mass immunization effort:
Leadership: Centralized, interprofessional leadership is critical for mass immunization campaign success. Successful command center structures include pharmacist, physician, and nursing leadership, as well as leaders from operations, medical informatics, logistics, facilities, environmental services, and security.
Planning: Scaling mass immunization programs requires deliberate and iterative planning. Planning for several successful mass immunization programs began months prior to vaccine availability. Process mapping exercises completed by process engineers to optimize patient registration and throughput will increase efficiency. Pharmacy leadership supports the planning of vaccine storage and accountability, ancillary supplies, vaccine preparation, and medication waste.
Communication, Coordination, and Collaboration: External communication amplifies awareness of successful mass immunization efforts. A public relations team can ensure the public is aware that the mass immunization site is active and share resources for scheduling appointments. Many pharmacists practice in ambulatory and community settings and regularly engage in public health initiatives.
Regulatory and Reporting Compliance: The mass immunization program must comply with state or local health department requirements related to vaccine reporting and personnel credentials. Site leaders familiar with state health department reporting for inventory tracking and vaccine administration reporting through Immunization Information Systems will streamline the flow of data. Compliance also includes ensuring vaccinators and other personnel are appropriately credentialed for their respective roles at the vaccination site requiring leadership to be aware of rules and expectations from state and local health departments, state licensing boards, and U.S. Department of Health and Human Services amendments to the Public Readiness and Emergency Preparedness Act.
Supply Chain Management: Vaccine and ancillary supply accountability, storage, and security will avoid loss or waste of scarce resources. Maximizing the number of vaccinations requires strict control of vaccine inventory to prevent loss and waste. Pharmacy leaders can support efforts to train and supervise personnel who handle and prepare vaccine doses.
Vaccine Safety: Safe vaccine handling and preparation practices will promote efficiency and reduce the risk of harm. Vaccine doses should be prepared in a dedicated location away from patient administration areas, restrooms, or other environmental factors that may impact air quality. Vaccine safety includes monitoring after vaccine administration, including an on-site observation period and the v-safeSM after vaccination health checker.
Staff Resources: Personnel should be trained and assigned roles according to their qualifications. Staff should also receive resources to support organized workflows.
Learn more about each of the recommendations and supporting evidence in Essential Elements of a Successful Mass Immunization Program.
About ASHP
ASHP represents pharmacists who serve as patient care providers in acute and ambulatory settings. The organization's nearly 58,000 members include pharmacists, student pharmacists, and pharmacy technicians. For 79 years, ASHP has been at the forefront of efforts to improve medication use and enhance patient safety. For more information about the wide array of ASHP activities and the many ways in which pharmacists advance healthcare, visit ASHP's website, ashp.org, or its consumer website, SafeMedication.com.
Posted March 18, 2021