 What data support the effectiveness of COVID-19 vaccines against emerging variant strains? When can children under age 16 years get vaccinated? Should I get vaccinated if I need allergy shots?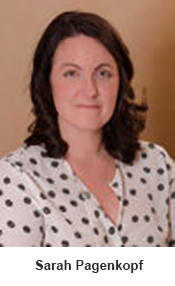 Those were some of the questions listeners had for Sarah Pagenkopf, director of pharmacy for Fort HealthCare in Fort Atkinson, Wisconsin, at the end of her April 27 webinar. The presentation was part of a series sponsored by the Fort Atkinson Club Community Center, a nonprofit organization serving the Wisconsin town's approximately 12,500 residents.
In an interview before the webinar, Pagenkopf said she was excited to have the platform to dispel myths and fears and help her neighbors learn about the importance of COVID-19 vaccination.
"I think that as a healthcare system and as a community, we have to increase vaccine confidence and share why it's so important," Pagenkopf said.
According to the Centers for Disease Control and Prevention (CDC), unfounded fears about COVID-19 immunization include myths that the vaccines impair fertility, alter the recipient's DNA, and cause COVID-19, and that vaccinated people shed virus that can harm those around them.
CDC reported May 18 that nearly 60% of U.S. adults have received at least one dose of a COVID-19 vaccine.
According to the Wisconsin Department of Health Services, nearly 4.8 million COVID-19 vaccine doses were administered in the state through May 14, and about 44% of eligible state residents had received at least one dose.
But the number of doses administered per day started falling in mid-April.
Pagenkopf said that dynamic is evident at her health system, where COVID-19 vaccine availability has shifted from scarcity to near surplus.
As a result, she added, Fort HealthCare wants to make vaccination more readily available in workplaces and other sites that are convenient for patients, instead of "asking people to come to us" to get vaccinated.
Pharmacy has been in the thick of the pandemic response for months.
"When the pandemic started, the pharmacy team very quickly mobilized," Pagenkopf said. Her staff absorbed the available information about COVID-19 supportive care and, later, specific therapies, while also managing an uncertain supply of critical medications.
When it was time to develop a vaccination plan, the organization's chief executive officer gave the task to Pagenkopf, who said this was a natural fit.
"I have a pharmacy team that's always very involved with vaccine therapies and promoting preventive maintenance with flu vaccines and pneumococcal vaccines and shingles vaccines," Pagenkopf explained.
She said the pharmacy staff helped to prepare registration information for COVID-19 vaccinations and coordinated the health system's education and training on vaccine storage, handling, and compliance with emergency use authorizations.
"We also lead on administration education, with the help of our nursing partners," Pagenkopf said. "We partnered with our community ... and helped set up mass vaccine offerings where nurses were administering vaccine, supported by a team of pharmacists, pharmacy techs, and even our physical therapy team and others."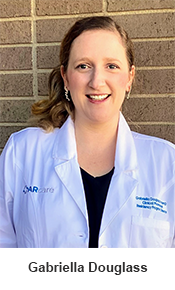 Pharmacists in Arkansas are also helping to vaccinate their communities, said Gabriella Douglass, associate professor at Harding University College of Pharmacy in Searcy and director of the postgraduate year 1 (PGY1) community pharmacy residency program at ARcare in Augusta.
ARcare is a federally qualified health center that operates a network of pharmacies, clinics, and other care sites in Arkansas, Kentucky, and Mississippi.
About 1.7 million COVID-19 vaccine doses were administered in Arkansas through May 6, according to the state health department.
Douglass said her pharmacy staff administered about 2,300 of those doses onsite and through travel clinics, school events, and even a pair of home visits.
During the early weeks of the vaccine rollout, ARcare's community pharmacies were the main source of vaccination for Augusta-area residents, said PGY1 community pharmacy resident Pranav Amin.
He said the pharmacy started with a waiting list of "about 800 to 1,000 people" who were eager to get vaccinated.
Now that the health center also has access to vaccines, the pharmacists recommend vaccination to all clinic patients, including those who are initially hesitant.
"There's several people in the clinic that ... were interested after we educated them on the benefits of giving the vaccine," Amin said. "We were able to get them on the signup sheet to be administered the vaccine."
Douglass said the organization's COVID-19 vaccination efforts benefit from the trusting relationships built with patients in the small community.
"We know them, they know us — the pharmacists, the technicians, everybody involved in the process," Douglass said.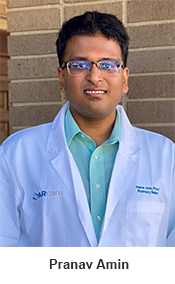 She said it's satisfying to connect with patients, understand their concerns, and counter misconceptions about the vaccines.
"Also, for me, it's been a testament of explaining to them why I got the vaccine ... in the hope of a better future for our families, for our communities, for our children," Douglass said.
One of her most uplifting encounters was a patient she helped to register with the CDC's v-safe program for monitoring COVID-19 postvaccination adverse events.
"It was powerful, because I saw this patient that was not just interested in her own well-being but also knowing that she wanted to be a part of the system where she would provide information that might help others," she said.
Douglass said she hopes pharmacy's time in the spotlight as essential vaccinators will lead to a larger role for her team in areas like hepatitis B vaccination.
Pagenkopf predicted that once the pandemic fades, there will be a huge national need for catch-up vaccinations for people of all ages whose preventive care has fallen behind schedule.
Although COVID-19 vaccines were not initially authorized for administration within 14 days of any other vaccines, the Centers for Disease Control and Prevention on May 14 released interim guidance stating that the vaccines may be given without regard to the timing of other vaccinations.
"I think there'll be plenty of vaccine opportunities for this community beyond COVID once things start opening up a little bit more and people start feeling more confident about leaving their homes and going out and being with loved ones again," Pagenkopf said.
For more information and free tools regarding the pandemic, including the Assessment of Evidence for COVID-19-Related Treatments and patient-level COVID-19 vaccine monographs in English and Spanish, visit ASHP's COVID-19 Resource Center and the COVID-19 Community at ASHP Connect.
Posted May 21, 2021