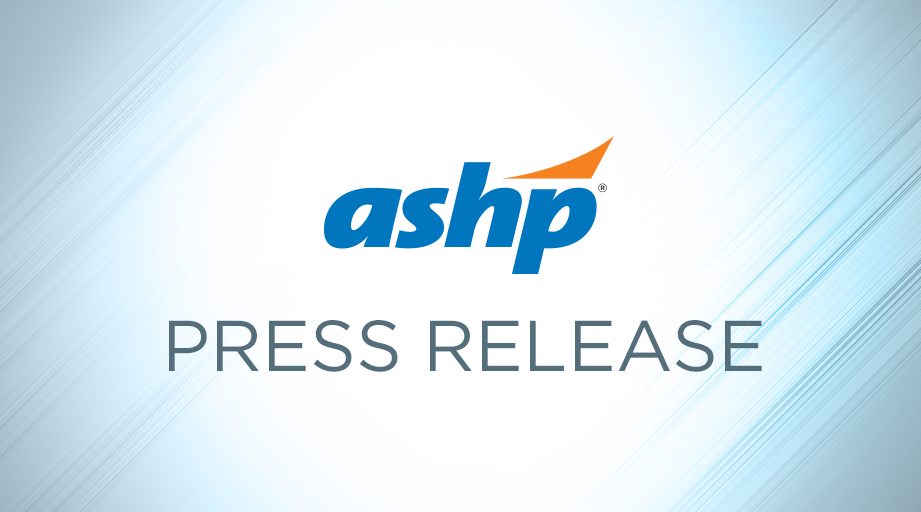 Twenty-Seven Pharmacists Designated Fellows in 2021
Twenty-seven members of ASHP recently received the title "Fellow" of ASHP in recognition of the excellence they have achieved in pharmacy practice.
The ASHP Practitioner Recognition Program rewards excellence in pharmacy practice by granting recognition through the FASHP designation. Members who have achieved FASHP status have successfully demonstrated sustained commitment or contributions to excellence in practice for at least 10 years, contributed to the total body of knowledge in the field, demonstrated active involvement and leadership in ASHP, and have been actively involved in and committed to educating practitioners and others. The program has recognized 984 Fellows since it began in 1988.
The 2021 Fellows are as follows:
Jason Babby, Pharm.D., M.B.A., BCPS, DPLA, Mount Sinai Health System, New York, NY
Jennifer M. Belavic, Pharm.D., M.B.A., BCPS, Omnicell, Inc., Cranberry Township, PA
Angela L. Bingham, Pharm.D., BCCCP, BCNSP, BCPS, FASPEN, FCCP, Philadelphia College of Pharmacy, University of the Sciences, Philadelphia, PA
Katherine E. Burenheide Foster, Pharm.D., M.S., FCCM, Stormont Vail Health, Topeka, KS
Rachel N. Chandra, Pharm.D., M.P.H., Dayton VA Medical Center, Dayton, OH
Sandra Cuellar, Pharm.D., BCOP, FHOPA, University of Illinois at Chicago College of Pharmacy, Chicago, IL
Cyrine E. Haidar, Pharm.D., BCOP, BCPS, DPLA, St. Jude Children's Research Hospital, Memphis, TN
Amanda C. Hansen, Pharm.D., M.H.A., FACHE, Cleveland Clinic, Cleveland, OH
Amanda J. Hays, Pharm.D., M.H.A., BCPS, CPHQ, DPLA, BD, St. Louis, MO
Jessica N. Hill, Pharm.D., BCACP, BCPS, RWJBarnabas Health, West Orange, NJ
Christi A. Jen, Pharm.D., BCPS, FAzPA, HonorHealth Deer Valley Medical Center, Phoenix, AZ
Peter N. Johnson, Pharm.D., BCPPS, BCPS, FCCM, FPPA, University of Oklahoma College of Pharmacy, Oklahoma City, OK
Allison R. King, Pharm.D., Children's Mercy Hospital, Kansas City, MO
Lee A. Kral, Pharm.D., The University of Iowa Carver College of Medicine, Iowa City, IA
Christopher J. Lowe, Pharm.D., BCPS, Indiana University Health, Indianapolis, IN
Bryan C. McCarthy, Jr., Pharm.D., M.S., M.J., Lifespan, Providence, RI
Melissa A. Ortega, Pharm.D., M.S., Tufts Medical Center, Boston, MA
Lance J. Oyen, Pharm.D., M.B.A., BCPS, DPLA, FCCM, FCCP, Mayo Clinic, Rochester, MN
Kuldip R. Patel, Pharm.D., Duke University Hospital, Durham, NC
Adam D. Porath, Pharm.D., BCACP, BCPS-AQ Cardiology, Renown Health, Reno, NV
Jennifer J. Robertson, Pharm.D., BCPS, St. Jude Children's Research Hospital , Memphis, TN
Jason J. Schafer, Pharm.D., M.P.H., AAHIVP, BCIDP, BCPS AQ-ID, Jefferson College of Pharmacy, Philadelphia, PA
Erika E. Smith, Pharm.D., FACHE, Froedtert Health, Milwaukee, WI
Lisa M. Voigt, Pharm.D., BCCCP, BCPS, Otsuka Pharmaceutical Development and Commercialization, Princeton, NJ
Kersten Weber Tatarelis, Pharm.D., BCPS AQ-ID, Advocate Aurora Health, Arlington Heights, IL
Karen M. Whalen, B.S.Pharm., BCPS, St. Joseph's Health, Syracuse, NY
C. Whitney White, Pharm.D., BCPS, Birmingham VA Medical Center, Birmingham, AL
For information about the ASHP Practitioner Recognition Program or to request an application, contact [email protected]. Information, program criteria, and forms are also available on ASHP's website. The deadline for receipt of 2022 applications is October 1, 2021.
About ASHP
ASHP is the collective voice of pharmacists who serve as patient care providers in hospitals, health systems, ambulatory clinics, and other healthcare settings spanning the full spectrum of medication use. The organization's nearly 58,000 members include pharmacists, student pharmacists, and pharmacy technicians. For 79 years, ASHP has been at the forefront of efforts to improve medication use and enhance patient safety. For more information about the wide array of ASHP activities and the many ways in which pharmacists advance healthcare, visit ASHP's website, ashp.org, or its consumer website, SafeMedication.com.
# # #
Posted July 6, 2021