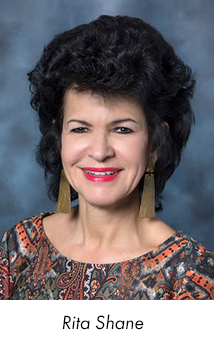 Rita Shane long ago decided not to sit on the sidelines and wait for others to press for policy changes that improve patients' lives. To get the results she wanted, she chose to get involved in the process herself.
"I wanted to be able to leverage evidence to educate policymakers and share examples of patient harm that would occur unless changes to existing laws were made," recalled Shane, vice president and chief pharmacy officer for Cedars-Sinai in Los Angeles, California, and this year's William A. Zellmer Lecture Award recipient.
Shane used this strategy in collaboration with the University of California, San Francisco, School of Pharmacy to gain pharmacy board approval for tech-check-tech programs in California. She also had firsthand experience with preventable patient harms when her father had a significant adverse drug event due to a medication history error in 1998.
"He was hospitalized for a brain surgery and, when he was transferred to another facility, they inadvertently took him off an important drug. The change in medication agitated him, so he ended up in restraints and developed a serious infection," Shane explained.
After her father's death, Shane made it her personal mission to spare others from this type of preventable harm by fixing the root cause of the problem — the failure to obtain a complete medication history.
Twenty years later, California enacted Senate Bill 1254. The legislation, which Shane helped write, requires that pharmacy staff obtain medication histories for high-risk patients admitted to hospitals.
Through that and other advocacy experiences, Shane learned the value of information-sharing, cultivating allies at the state and national levels, and persistence to maintain momentum on issues critical to patient care and pharmacy practice advancement.
"I don't give up easily," she said. She's also drawn colleagues into advocacy and provided resources and mentorship along the way.
Shane said one of the common themes of advocacy is the need to align laws, regulations, and policies that enable pharmacists and pharmacy technicians to use their training and skills as members of the patient-centered healthcare team. California's medication history and "tech-check-tech" legislation — both supported by Shane's clinical and advocacy work — are policy successes that enable pharmacy professionals to enhance their patient-care role.
Responding to emerging issues, like white bagging, also demands a strong advocacy push by pharmacists.
White bagging is an arrangement between payers and selected pharmacies to ship a patient's medications directly to the site of care, whose staff must then take whatever steps are needed to prepare and administer the products. This bypasses processes to ensure medication integrity and also puts patients at risk for treatment delays and harm.
Shane said white bagging, once an occasional problem, is now a key policy adopted by insurers for managing complex high-cost medications, especially those administered by infusion or injection.
Shane has appeared before her pharmacy board and is working to educate lawmakers about risks and harms associated with white bagging. The issue and related concerns about payer-mandated biosimilar use are vital advocacy topics for the pharmacy profession nationwide.
Shane encourages all pharmacists to work with pharmacy boards, hospital committees, and legislators and to share with them stories that make the case for policy change that boost medication safety.
"Everyone has a story about something that's gone wrong with medications," she said.
Shane will deliver this year's William A. Zellmer Lecture virtually Tuesday, Oct. 5 at 7–8 p.m. EDT. The lecture will focus on how passion, persistence, and patience have shaped Shane's personal advocacy journey and the importance of leveraging evidence and expertise to effect positive changes. Registration is open to all.
[This news story will appear in an upcoming issue of AJHP.]
Posted September 20, 2021