 Rita Shane's Oct. 5 William A. Zellmer Lecture showcased how passion, persistence, and patience have shaped her personal journey as a pharmacist advocating for patients and the profession.
"My advocacy journey is all about patient safety," said Shane, who is vice president, chief pharmacy officer, and professor of medicine at Cedars-Sinai Medical Center in Los Angeles and associate dean of clinical pharmacy at the University of California, San Francisco, School of Pharmacy.
Shane recounted how her passion for advocacy came to the forefront in 1998, when her father was seriously ill. His condition deteriorated after he was moved to a new facility, which did not obtain an accurate medication list and omitted a critical medication from his care plan.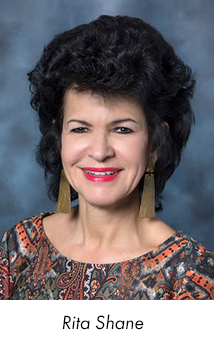 "I said to myself, ... before I retire, I'm going to do something about medication lists," Shane recalled.
Twenty years later, California passed Senate bill 1254, which required hospitals to obtain a complete medication history for high-risk patients. That accomplishment — along with the successful 13-year push to authorize "tech-check-tech" in California hospitals — illustrates the persistence and patience that characterize Shane's advocacy journey.
She said her response to colleagues who were convinced that tech-check-tech would never pass in the state was: "I will never give up."
"I really believed we would get to a win as long as we were able to deal with the perceived threats" and ensure patient safety, she explained. To make their case, Shane and her colleagues conducted a new study bolstering existing research on the topic — a further example of patience and persistence.
An important lesson learned while shepherding through tech-check-tech legislation was the need "to think about how to communicate more effectively, more succinctly, and in a way that would be easily understood by stakeholders," Shane said.
So when she and her colleagues were advocating for the medication history legislation, they created an infographic illustrating the problem, its associated harms, and the solution to the problem. This one-page document presented the issue in a way that caught the attention of policymakers and stakeholders.
Another lesson learned during her advocacy journey is the importance of sharing stories and cultivating relationships with stakeholders who can push forward practice changes that benefit patients. Stakeholders may include other clinicians, patient advocates, pharmacy board members, professional organizations, and hospital leaders.
"I am a firm believer in professional relationships," Shane noted. And she emphasized that it's critical to build these relationships on a foundation of respect.
"That has been pivotal not only in my advocacy work but ... over the course of my career," Shane said.
Finally, Shane told her listeners that effective advocacy requires curiosity and awareness.
"When I think about the journey, it starts with really paying attention and monitoring what's going on," Shane said. "I would encourage you to do that or have someone in your organization that does. It's important to gather evidence, and if the evidence doesn't exist, then it's important to determine how to collect some data [illustrating] the scope of the problem."
Shane's latest advocacy challenge is to reverse payer-mandated policies on white bagging and biosimilars that circumvent institutional medication use processes and expose patients to treatment delays and possible harm.
White bagging, which often requires the pharmacy to compound complex drug therapy using medications obtained from payer-specified pharmacies, is particularly worrisome to Shane.
"We've spent decades improving sterile compounding to prevent harm. And yet we're compounding medications where we can't ensure their integrity or whether cold chain storage was preserved," she said.
Shane noted patients are often unaware that their medications were obtained outside of the control of the organization administering the therapy. This, she said, may conflict with regulatory and accreditation standards on patients' rights.
She urged the audience to make their voices heard on issues like these that matter to patients and the profession.
"Sometimes words make a difference," Shane said. "Each of you has a good understanding of all of the work that we have been able to do over the course of the last 50 years demonstrating, without a doubt, how much we impact patient safety."
The annual William A. Zellmer Lecture Award was inaugurated in 2010 by ASHP and the ASHP Foundation. The award honors Zellmer's contributions to policy development, advocacy, planning, and communications during his career with ASHP. The award recognizes exceptional leadership in advancing healthcare-related public policy that has improved the safety and effectiveness of medication use through the engagement of pharmacists.
Posted October 6, 2021