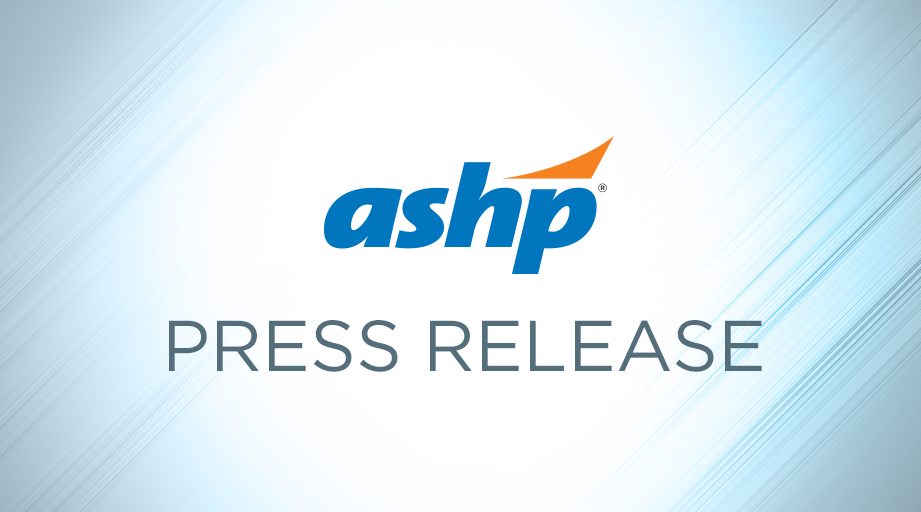 Pharmacists likely to take larger role in patient care, technology, emergency preparedness
Health-system pharmacists responded to COVID-19 disruptions to healthcare by expanding their role in patient care, and these pandemic-related changes will impact the profession in years ahead, according to the 2022 ASHP/ASHP Foundation Pharmacy Forecast Report, released today at the American Society of Health-System Pharmacists (ASHP) Midyear Clinical Meeting & Exhibition.
"The Pharmacy Forecast is a unique and vital strategic planning tool to help pharmacy leaders and practitioners better serve their patients and to continue to position their pharmacy departments for success now and in the future," said ASHP Chief Executive Officer Paul W. Abramowitz, Pharm.D., Sc.D. (Hon.), FASHP. "This year's Forecast report reflects the ongoing challenges associated with COVID-19, and the related opportunities for pharmacy professionals to continue to enhance their leadership and advance their practices in service to their patients and communities from the bedside to the home and all points throughout the continuum of care."
According to the Pharmacy Forecast, COVID-19 experiences may affect healthcare, medication use, and the pharmacy profession in the next five years in the following ways:
Pharmacists' role grows in emergency preparedness
Health system and pharmacy leaders must be prepared for future disasters and emergencies, including natural or man-made events, such as pandemic outbreaks or terrorist attacks that may result in organizational and community-wide disruptions. While continuing to participate in their health systems' emergency-preparedness plans, pharmacy leaders must also be embedded in preparedness planning with local, regional, and national interdisciplinary public health teams. Within health systems, pharmacy leaders will need to create contingency staffing plans to "right size" staff in response to significant health-system patient volume shifts.
The 2020 Public Readiness and Emergency Preparedness (PREP) Act allowed pharmacists to expand their roles in providing vaccinations, administering COVID-19 tests, and organizing and overseeing mass vaccination programs. Pharmacy leaders and pharmacy organizations should advocate to expand and continue changes made possible by the PREP Act.
More strategies to solve supply chain issues are explored
Early in the pandemic, it was unknown how many patients would be hospitalized with COVID-19 and which treatments would be effective — circumstances that exacerbated ongoing drug shortages. Further analysis of the shortages and disruptions to the pharmaceutical supply chain are needed to improve production forecasting and create dynamic allocation strategies to ensure medications are distributed appropriately by a hospital and region. In-house or regional continuous manufacturing processes could mitigate future drug shortages; or health systems may be able to collaborate with manufacturers to develop demand surge strategies like demand contracting and regional warehousing.
Equitable access to digital tools expands
The COVID-19 pandemic has pushed to the forefront the need for more accessible and effective communication technologies. However, the lack of technological access and literacy negatively affected underserved populations during COVID-19 vaccine distribution. Voice-assisted technology is already being incorporated in healthcare — for example, in diabetes management, medication management, and refill reminders. Pharmacy leaders should advocate for equitable access to digital tools to ensure underserved populations benefit from technological advances.
Digital health and artificial intelligence play growing role in medication management
The pandemic accelerated the use of telehealth, increasing the likelihood health systems will use digital health solutions and artificial intelligence to optimize medication management. Pharmacists are likely to be called upon to lead efforts to streamline digital health solutions into current workflows to take advantage of potential gains while also mitigating unintended consequences of new technology. Pharmacists will also manage chronic conditions from remotely generated health data.
New care models get traction
The pandemic required changes in how care is delivered. For example, health-system pharmacists helped deliver vaccinations to patients' homes, at drive-thru locations, and to schools. In addition, pharmacists and health systems pivoted to manage patients with chronic illnesses remotely when in-person visits were too risky. New care models, including hospital at home, will continue to develop and evolve. Health systems will increasingly be required to offer advanced care in the home, and pharmacy leaders will be expected to participate in the design and implementation of remote patient care technology.
"One of the most salient lessons of the COVID-19 pandemic is the need for pharmacy leaders to make investments in areas that will allow their organization to effectively respond to disruptions caused by unforeseen events like a global pandemic while also supporting the health system's overall preparedness efforts," said Joseph T. DiPiro, Pharm.D., editor of the Pharmacy Forecast. "Topics covered in the most recent edition of the Pharmacy Forecast examine the areas that present the greatest challenges for healthcare organizations and offer critical insights for pharmacy leaders as we work to advance health outcomes, healthcare delivery, and pharmacy practice."
Report authors developed the Pharmacy Forecast through a "wisdom of the crowd" process that started with a list of pressing issues generated and refined by an advisory committee and then fielded as a survey to 387 pharmacy leaders from around the country. Complete responses were submitted by 311 pharmacists representing a variety of leadership roles, hospital sizes, and geographic regions. The report provides wide-ranging insights on topics from providing value, disparities in care, preparedness, and workforce issues.
The Pharmacy Forecast is published online ahead of print and will appear in print in the January 15, 2022 issue of AJHP. The Pharmacy Forecast report was supported by a donation from Omnicell to the ASHP Foundation David A. Zilz Leaders for the Future fund.
About ASHP
ASHP is the collective voice of pharmacists who serve as patient care providers in hospitals, health systems, ambulatory clinics, and other healthcare settings spanning the full spectrum of medication use. The organization's nearly 58,000 members include pharmacists, student pharmacists, and pharmacy technicians. For 79 years, ASHP has been at the forefront of efforts to improve medication use and enhance patient safety. For more information about the wide array of ASHP activities and the many ways in which pharmacists advance healthcare, visit ASHP's website, ashp.org, or its consumer website, SafeMedication.com.
About the ASHP Foundation
The ASHP Foundation was established in 1968 by ASHP as a nonprofit, tax-exempt organization. As the philanthropic arm of ASHP, the Foundation shares ASHP's vision that medication use will be optimal, safe, and effective for all people all of the time. Our mission is to support ASHP by advancing the professional practice of pharmacists and the pharmacy workforce by funding research and education that improves health outcomes through optimal, safe, and effective medication use. To learn more about the Foundation's programs, visit ashpfoundation.org.
Posted December 6, 2021