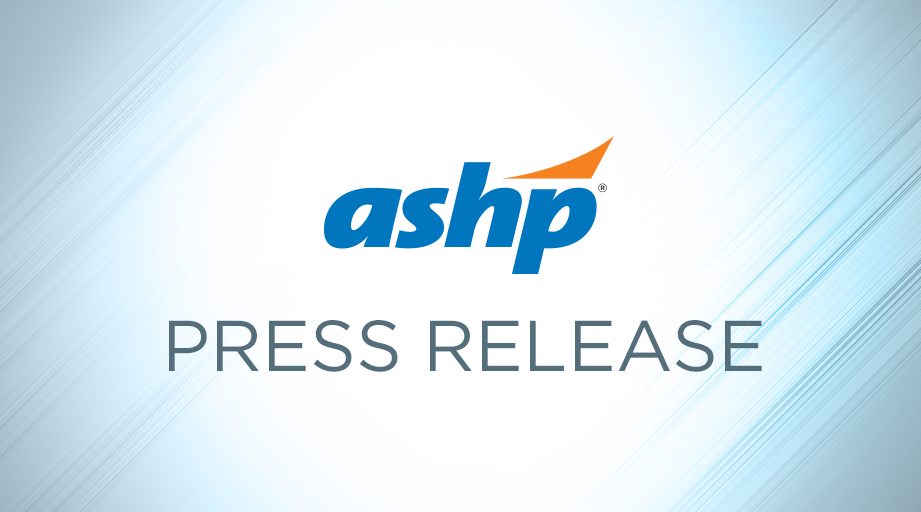 ASHP (American Society of Health-System Pharmacists) has named the University of California San Diego Health (UC San Diego Health) as the first organization to be recognized as an ASHP Certified Center of Excellence™ in Medication-Use Safety and Pharmacy Practice. The certification formally recognizes UC San Diego Health's high-performing pharmacy department for its commitment to superior patient care.
"The ASHP Center of Excellence certification allows hospitals and health systems to demonstrate attainment of the highest levels of excellence in pharmacy practice, medication safety, and overall pharmacy patient care services," said ASHP Chief Executive Officer Paul W. Abramowitz, PharmD, ScD (Hon), FASHP. "We are thrilled to honor the exceptional work of UC San Diego Health's pharmacy department through their designation as the nation's first ASHP Center of Excellence in Medication-Use Safety and Pharmacy Practice. ASHP looks forward to continuing to work with UC San Diego and the many other hospitals and health systems that are seeking this important recognition."
Organizations pursuing designation as a Center of Excellence undergo a formal review process to assess performance in key areas, including patient care services, medication-use safety, and pharmacy operations. The pharmacy department's level of performance is evaluated using the ASHP Standard for Certification as a Center of Excellence in Medication-Use Safety and Pharmacy Practice. The standard reflects contemporary best practices in pharmacy for hospitals and health systems.
"Preparing our document package and the on-site survey process for the ASHP Center of Excellence certification was a great review and assessment of our pharmacy services. It also identified several improvements that will further enhance our pursuit of excellence," said Charles E. Daniels, BSPharm, PhD, chief pharmacy officer and associate dean and clinical professor, UC San Diego.
UC San Diego Health offers comprehensive pharmacy services to patients. The academic health system serves as a primary teaching site for UC San Diego Skaggs School of Pharmacy and Pharmaceutical Sciences IPPE and APPE students, UC San Diego School of Medicine students, and other professional programs in the health sciences.
UC San Diego was surveyed for the ASHP Center of Excellence certification Sept. 27-Oct. 1, 2021. The organization was recommended for certification by the ASHP Pharmacy Practice Accreditation Commission on Nov. 18, and the ASHP Board of Directors granted the certification on Jan. 20, 2022.
To learn more about the ASHP Center of Excellence certification, visit ashp.org/COE
About ASHP
ASHP is the collective voice of pharmacists who serve as patient care providers in hospitals, health systems, ambulatory clinics, and other healthcare settings spanning the full spectrum of medication use. The organization's more than 60,000 members include pharmacists, student pharmacists, and pharmacy technicians. For 80 years, ASHP has been at the forefront of efforts to improve medication use and enhance patient safety. For more information about the wide array of ASHP activities and the many ways in which pharmacists advance healthcare, visit ASHP's website,ashp.org, or its consumer website, SafeMedication.com.
About UC San Diego Health
UC San Diego Health, the region's only academic health system, is dedicated to delivering outstanding patient care through commitment to community, groundbreaking research, and inspired teaching. UC San Diego Health is comprised of UC San Diego Medical Center in Hillcrest and Jacobs Medical Center, Sulpizio Cardiovascular Institute, Moores Cancer Center, Shiley Eye Institute, and the Altman Clinical and Translational Research Institute, all in La Jolla, as well as primary care and same-day services at clinics throughout Southern California. UC San Diego Health Medical Center is home to the area's only Regional Burn Center and one of only two Level I trauma centers in the county. Its specialty care for serious and complex conditions is consistently ranked among the nation's best by U.S. News & World Report and other organizations. Learn more at Health.ucsd.edu.
Posted February 16, 2022