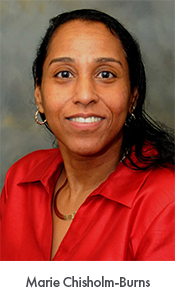 After a decade as dean of the University of Tennessee Health Science Center (UTHSC) College of Pharmacy, Marie Chisholm-Burns is expanding her horizons as executive vice president and provost for Oregon Health & Science University (OHSU).
The appointment is effective July 1. Chisholm-Burns will continue as dean of pharmacy at UTHSC through late June.
"I feel great about it," Chisholm-Burns said of this new stage of her career. "I look forward to supporting everything that touches the success of our students — whether it's wellness and health, whether it's academics — and to providing good healthcare for the citizens of Oregon and beyond."
The OHSU Office of the Provost is responsible for carrying out the university's academic mission by working with deans, faculty, and others to enhance academic excellence, promote student welfare, and build OHSU's academic profile.
"It's all about working with all stakeholders to train the best healthcare professionals, so they can improve the health of others," Chisholm-Burns said.
She added that she looks forward to broadening her reach in this executive-level position, and she hopes the appointment inspires others to aim high in their careers.
She's also eager, as provost, to work with OHSU's Area Health Education Center program. The centers support the development of a high-caliber healthcare workforce that is diverse and transformative and improves care throughout the state, including areas with underserved and rural populations. Chisholm-Burns said she gained an appreciation for the healthcare needs of rural areas early in her career, while she lived in a small Georgia community.
She is also the founder and director of the Medication Access Program (MAP), an outreach initiative that improves medication accessibility for solid-organ transplant recipients. Her efforts as MAP director helped cement the commitment to diversity, equity, and inclusion (DEI) in healthcare that Chisholm-Burns displayed through transformational initiatives at UTHSC.
Chisholm-Burns said she's excited to apply her DEI expertise at OHSU and to foster the creation of an inclusive healthcare workforce and a welcoming, accessible environment for patients in her new state.
"Diversity improves healthcare," she noted. "It's important, and our citizens need that."
Chisholm-Burns hails from Long Island, New York. She earned a bachelor's degree in pharmacy and a PharmD degree from the University of Georgia, a master's degree in public health from Emory University in Atlanta, Georgia, a master's degree in business administration from the University of Memphis in Tennessee, and a PhD in health sciences from the University of South Dakota in Vermillion.
She started her career in pharmacy education at the University of Georgia College of Pharmacy in Athens and Augusta University Medical College of Georgia.
After 13 years at the University of Georgia, Chisholm-Burns joined the University of Arizona in Tucson, where she served as professor and head of the Department of Pharmacy Practice and Science. She was also appointed professor of surgery in the college of medicine and professor in the college of public health.
In 2011, she was selected as UTHSC pharmacy dean. She is also a distinguished professor, with tenure, at the colleges of pharmacy and medicine.
Chisholm-Burns has been an ASHP member for most of her career and is currently chair of the inaugural Section of Pharmacy Educators Executive Committee. She has been a member or leader of several other ASHP and ASHP Foundation committees and has been recognized with the organizations' Award of Excellence, the Pharmacy Practice Research Award, the Award for Sustained Contributions to the Literature, and the ASHP/Association of Black Health-Systems Pharmacists Joint Leadership Award. Other pharmacy organizations that have recognized her accomplishments include the American Association of Colleges of Pharmacy, the American Pharmacists Association, and the American College of Clinical Pharmacy.
Chisholm-Burns has written and coauthored several important reports in AJHP, such as a landmark review of the economic effects of pharmacist-provided direct patient care on health outcomes. Her other major contributions to AJHP include thought-provoking articles on race and women's roles in pharmacy.
Although her career has expanded beyond pharmacy, Chisholm-Burns remains rooted in the profession and its connection to health education overall.
"Pharmacy touches everything," she said. "The medication delivery systems really connect us all, whether it's in a college of pharmacy, medicine, dentistry, nursing, or public health."
Posted February 22, 2022