 When Medicaid reform legislation took shape in Kentucky, pharmacy advocates quickly responded to provisions that threatened hospitals' 340B Drug Pricing Program reimbursement, says Philip J. Almeter, chief pharmacy officer for UKHealthCare in Lexington.
The legislation, which passed last year, converted Kentucky's Medicaid managed care plans to a hybrid model. The state retained the Medicaid managed care organizations but replaced their vertically aligned pharmacy benefit managers (PBMs) with a state-appointed PBM, creating a system that resembles a Medicaid fee-for-service (FFS) model but with unique, protective 340B language.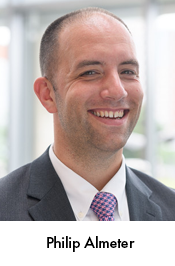 Almeter said the initial draft legislation would have allowed the state Medicaid program to limit 340B reimbursement to the actual acquisition cost of covered drugs, resulting in lower drug costs for the Medicaid program through decreased reimbursements to 340B-covered entities.
"Stated more directly, the FFS carve-in model effectively forwards a covered entity's 340B savings to the state Medicaid agency," Almeter and colleagues wrote in a Jan. 10 early release report in AJHP. The report describes how pharmacy stakeholders successfully worked within the system to protect hospitals' 340B funding.
"The intent that we had was to provide a peer-reviewed blueprint for a model that works," Almeter said of the publication.
California has already converted its Medicaid managed care plans to an FFS model that lacks protection for hospitals' 340B discounts, and New York is scheduled to roll out a similar model next year. Almeter urged pharmacists in other states to pay attention to this emerging threat to the 340B program.
"In the states, change happens quickly," he said in an interview. "And just because your state isn't doing anything doesn't mean that your state isn't looking at your neighboring state that's doing something and saying, 'Hey, we should do that.'"
In Kentucky, the draft statute included provisions to reform PBM practices. Almeter said pharmacy stakeholders focused on this part of the legislation to introduce language that protects hospitals' 340B services.
"We didn't have another model to go off of, and we were trying to create something that had never been done," Almeter explained. "I kind of thought of it as the great Kentucky experiment."
Almeter said 340B covered entities, the Kentucky Hospital Association, the Kentucky Society of Health-System Pharmacists, and the Kentucky Primary Care Association collaborated to shape the legislation.
The final statute, which went into effect in July 2021, required the state Medicaid agency to contract with a single, state-appointed PBM to administer the pharmacy benefit. This displaced the multiple commercial PBMs that handled pharmacy benefits under the old Medicaid managed care model.
To prevent the new PBM from implementing reimbursement practices that were detrimental to 340B covered entities, the law mandated that reimbursement methodologies "shall not discriminate against pharmacies owned or contracted by a health care facility that is registered as a covered entity pursuant to 42 U.S.C. sec. 256b, to the extent allowable by the Centers for Medicare and Medicaid Services."
Almeter said the intent of the antidiscrimination language is to prevent the Medicaid program from including 340B actual acquisition costs in the "lowest of logic" reimbursement formula — generally the default for FFS Medicaid. He said billing Medicaid at the 340B actual acquisition cost would eliminate covered entities' savings from the program; for high-touch specialty medications, Medicaid's low dispensing fees would cause pharmacies to lose money on Medicaid prescription fills.
After the legislation was passed, stakeholders in Kentucky waited and watched as the PBM was selected and the regulatory components were built, intervening when necessary to ensure the system was developed as intended. The Centers for Medicare & Medicaid Services approved the plan, and Almeter said it was apparent within a month after the July 1, 2021, implementation date that hospitals were retaining their 340B discounts.
"It sort of quietly got done," Almeter said.
The 340B program, created through a 1992 law, requires drug manufacturers that participate in the Medicaid Drug Rebate
Program to honor statutorily defined ceiling prices for covered outpatient medications purchased by 340B covered entities. The difference between the ceiling price and the amount a covered entity bills the Medicaid program is intended to stretch scarce federal resources in ways that support comprehensive services for eligible patients.
Policymakers, manufacturers, and others have increasingly questioned hospitals' use of 340B discounts. Almeter said recent Medicaid FFS conversions may represent attempts by state legislators to use 340B discounts "to fill budget holes."
But he said a state's reduced Medicaid costs under traditional FFS pharmacy models come at a price to other parts of the safety net.
For example, he said that if reduced reimbursement forces cutbacks in 340B pharmacy availability — especially specialty pharmacy operations — patients may be forced to receive their medications through distant mail-order specialty pharmacies. He said these operations may not provide the high-touch care and personalized services that best benefit patients.
Almeter added that when specialty pharmacy services are managed outside of the patient's state, the local economy can suffer as hospitals retrench in response to reduced funding.
"You're taking those [pharmacy] jobs — and that evidence-based model that's better care — out of your state, and you're sending it to mail-order hubs throughout the country," he explained.
In California, the state legislature authorized payments of about $100 million to offset the loss of 340B program discounts for community health centers, which are also affected by the Medicaid FFS conversion. A coalition representing the health centers claims that the funding is insufficient. The group is fighting the FFS conversion in federal court but has not succeeded in halting the FFS implementation.
Almeter said he's hopeful that the Kentucky experience benefits 340B pharmacy stakeholders in other states that are considering Medicaid reform — and he said pharmacists are listening.
"Since this came out, I've had some advocates reach out to me and say, 'How did you do this?'" Almeter said.
Posted March 9, 2022